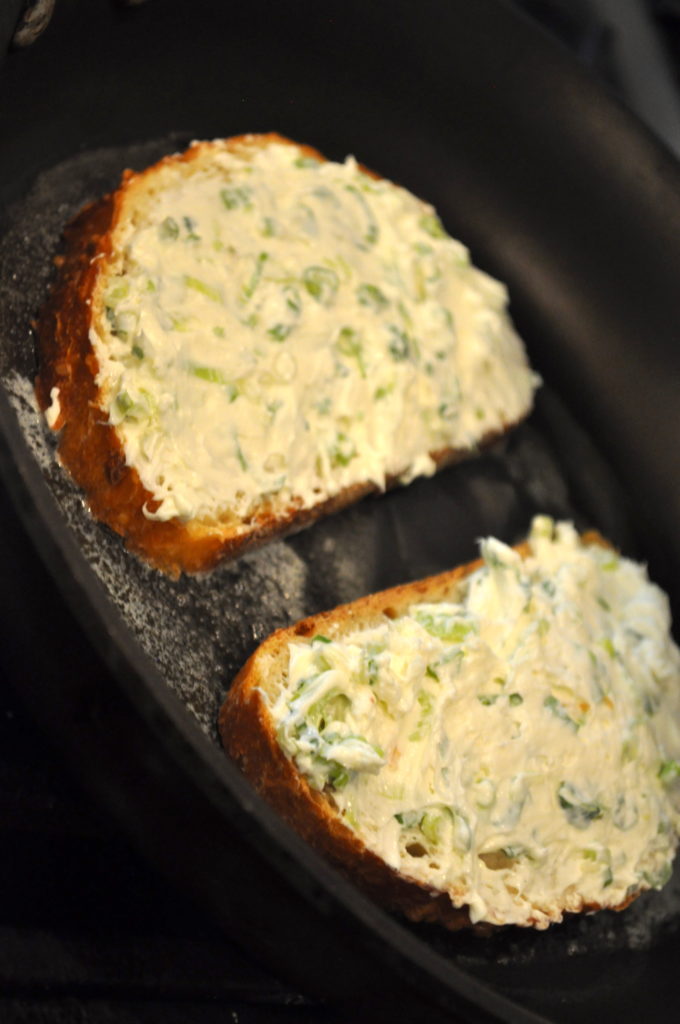 Y'all. I now wake up in the middle of the night with ideas for food to feature on the blog. I write them down so I won't forget because unfortunately, I've forgotten some.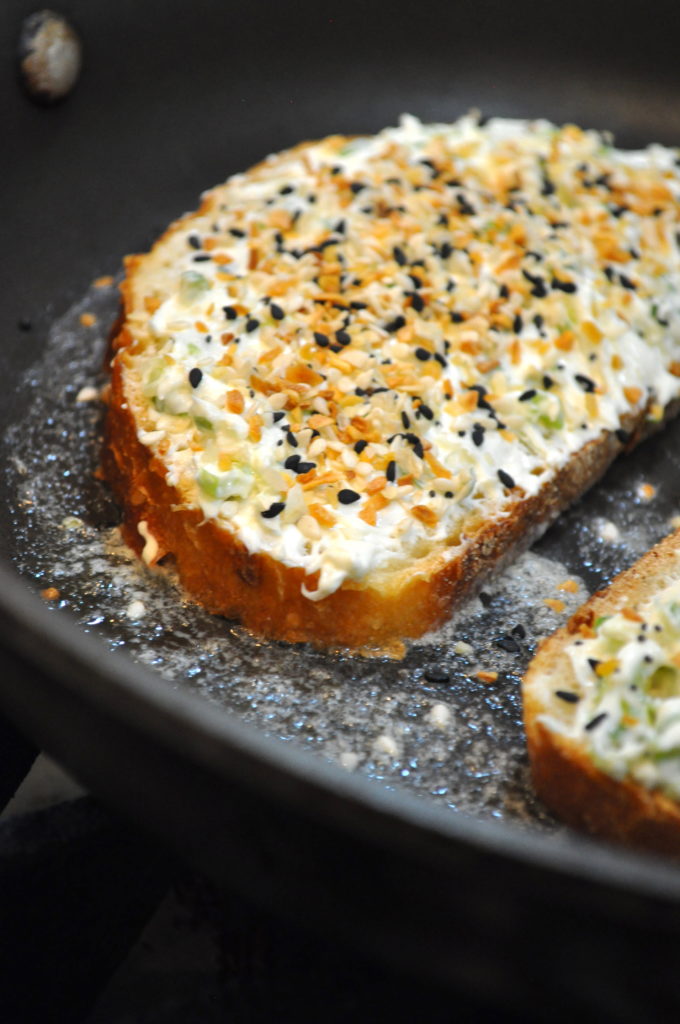 ::super sad face::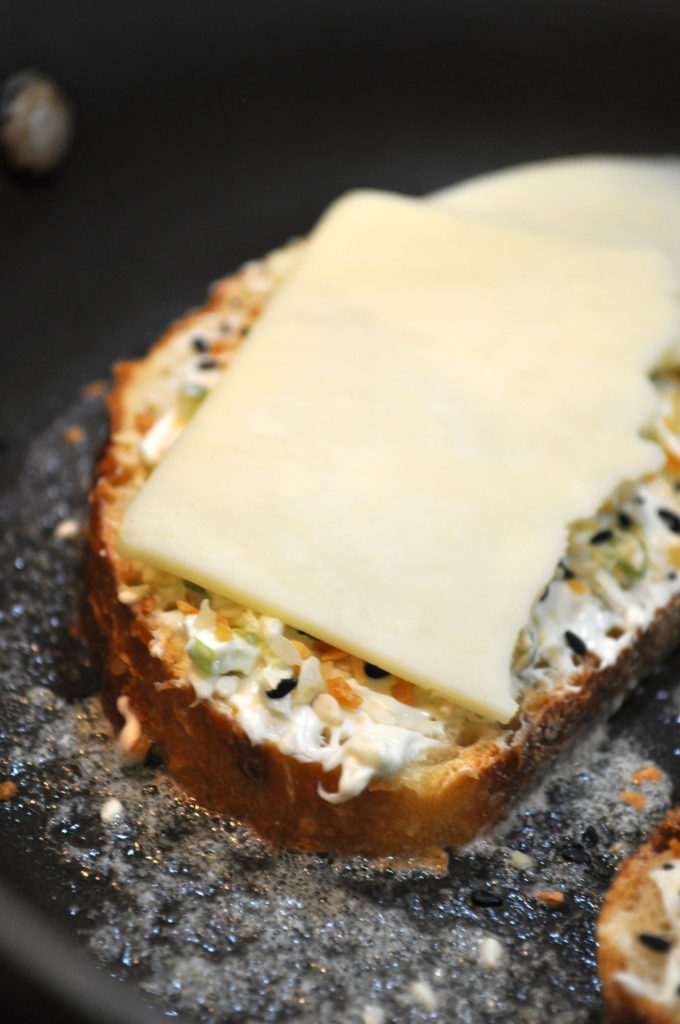 I jotted this one down at 3:27AM a few weeks ago and HAVE MERCY. I'm so glad this one didn't slip away into the idea ether. I honestly don't know if I can go back to eating bagels. What's better than a toasted bagel with all the fixin's? All the fixin's on a grilled cheese.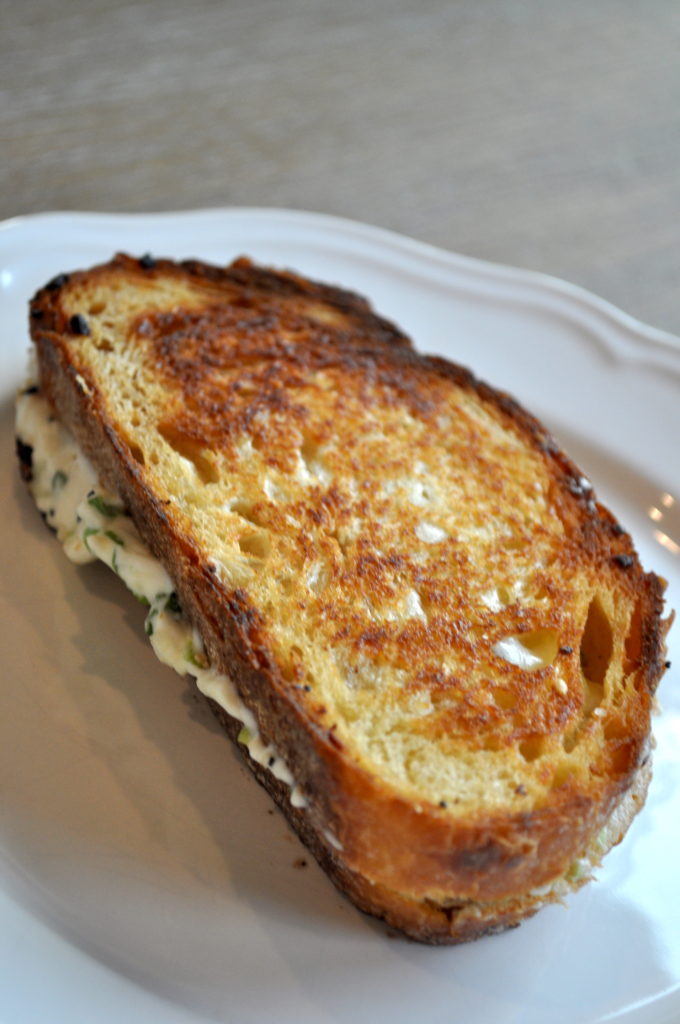 I whipped up a little schmear of whipped cream cheese with green onions in it because those sad dehydrated chives in the storebought cream cheeses give me a serious case of the vapors.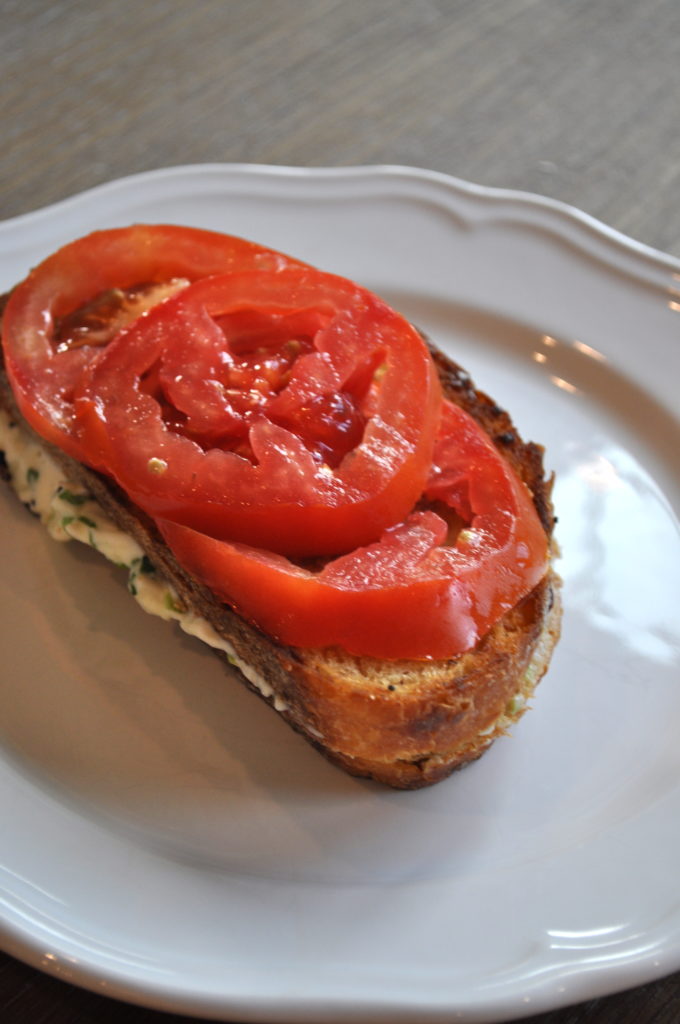 I slapped that schmear on some three cheese bread along with some everything bagel seasoning and mozzarella and smeared the outside with a little butter. I cooked it on medium low until it died and went to crispy, melty, ooey-gooey heaven.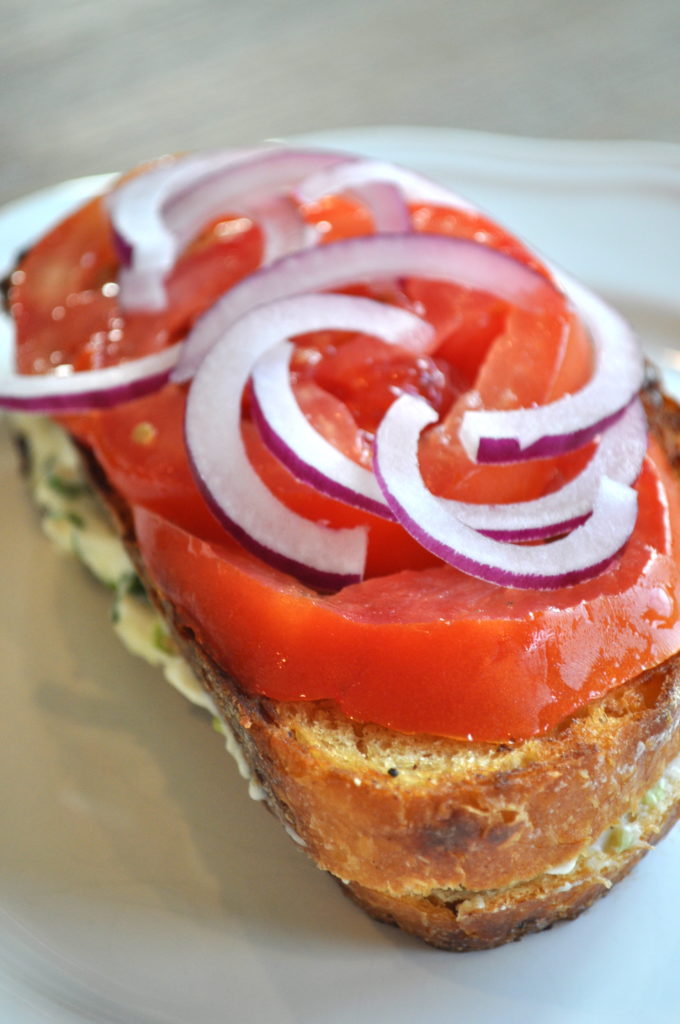 Now listen. I don't think this millennium has given us anything quite so great as everything bagel seasoning. Spoiler alert: I use it on, well, everything. Eggs, chicken, steamed broccoli. You name it I've tried it. But this has been my favorite application. I used a ton of it because last I checked this is America and I do what I want.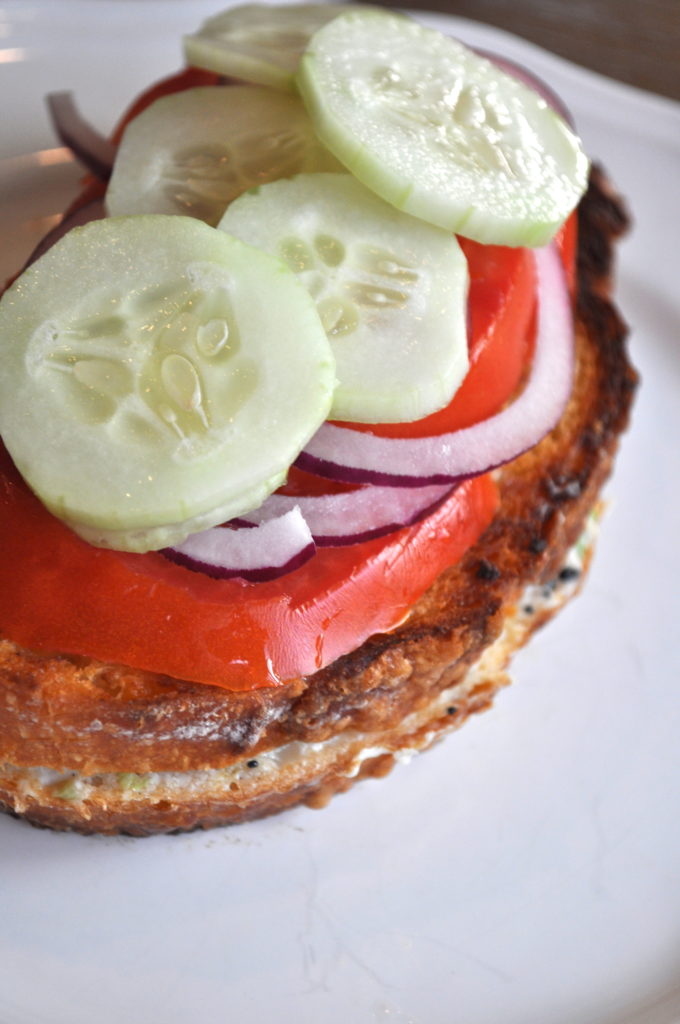 I topped it with a metric sheesh ton of toppings and dove in head first. It's so, so very good. Our son spent the night somewhere else last night so I whipped these up for me and the Mr. They were a success! Maybe not date food though. Your breath will be quite funky and you may burp from the cucumbers. Charming. They don't call me The Messy Mrs for nothing. Do as I say and not as I do. Make them on a night it's more acceptable to have funky breath, if such a night exists in your world. I'm sure your world is far more refined than mine.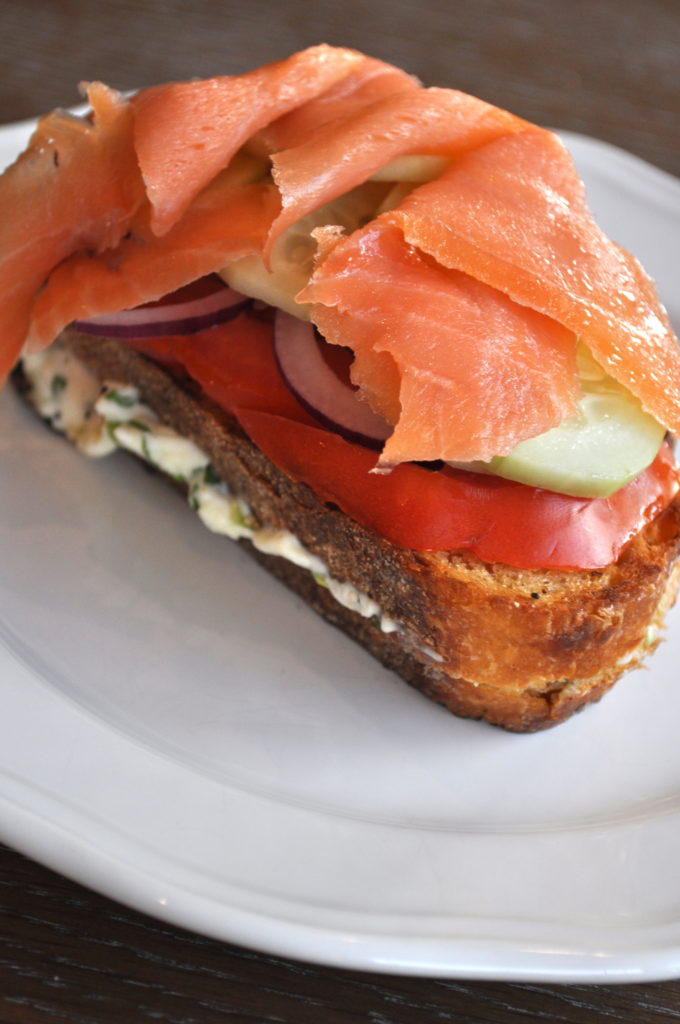 Make them today. Tomorrow. Whenever. Forever.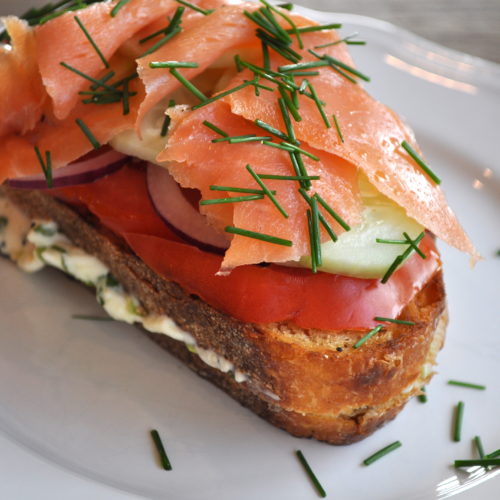 Ingredients
For the grilled cheese:
4

slices

three cheese seminola bread

(tested with La Brea)

⅓

cup

whipped cream cheese

3

green onions

(thinly sliced)

2

Tbsp

everything bagel seasoning

2

slices

mozzarella cheese

2

Tbsp

salted butter

(tested with Kerrygold)
Toppings:
1

tomato

(sliced)

½

small

red onion

(very thinly sliced)

1

small

cucumber

(peeled and sliced)

4

oz

smoked salmon

1

Tbsp

chives

(cut into ½" pieces)
Instructions
For the grilled cheese:
Mix together cream cheese and green onions together in a small bowl.

Divide and spread cream cheese mixture on 2 slices of the bread. Sprinkle everything bagel seasoning over the cream cheese. Add mozzarella over the everything bagel seasoning.

In a large nonstick skillet, melt half of the butter over medium-low heat. Add in pieces of bread with cream cheese mixture. Top with remaining pieces of bread. Cook until lightly golden, about 4 to 6 minutes.

Flip. Add remaining butter. Cook until lightly golden, about 4 to 6 minutes. Remove sandwiches and plate on 2 plates.
To top:
On top of the sandwiches, stack tomato, then onion, then cucumber. Top vegetables with salmon. Garnish with chives. Serve immediately.
Nutrition
Calories:
523
kcal
|
Carbohydrates:
40
g
|
Protein:
27
g
|
Fat:
29
g
|
Saturated Fat:
16
g
|
Cholesterol:
88
mg
|
Sodium:
1999
mg
|
Potassium:
665
mg
|
Fiber:
5
g
|
Sugar:
10
g
|
Vitamin A:
1630
IU
|
Vitamin C:
17
mg
|
Calcium:
322
mg
|
Iron:
3
mg