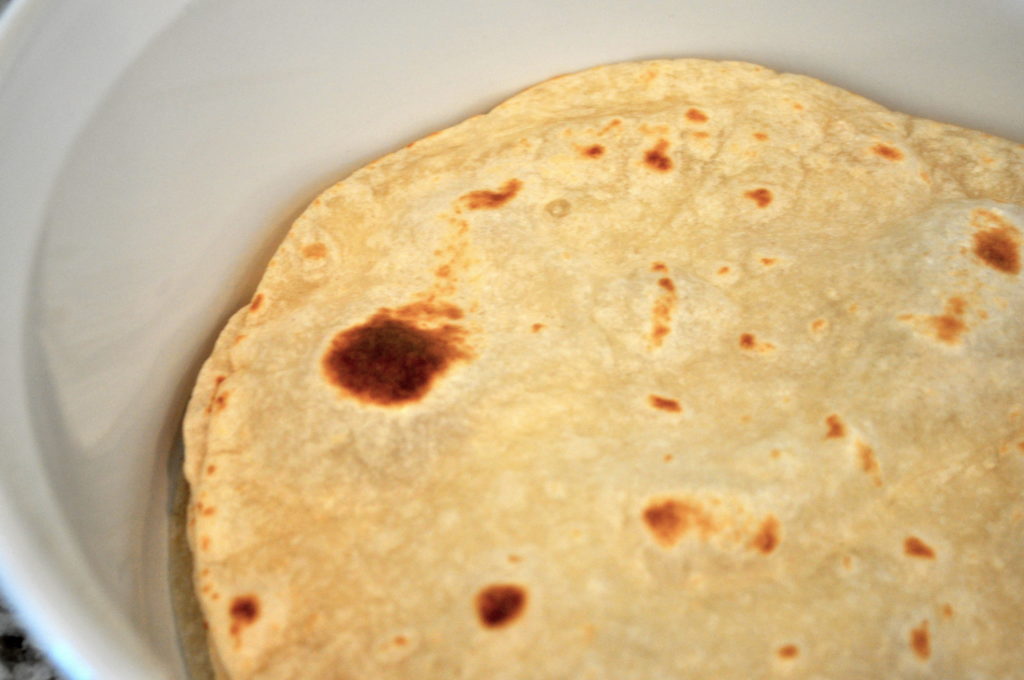 I'm one of those "grab what you've got and throw it in a pot" kind of cooks. I experiment a lot and just throw random stuff together. I think I've been that kind of cook since I was a child. So the hardest part of blogging has been the measuring. I can't give you a recipe that says "enough garlic that it smells right". That was my typical system before blogging. Before blogging, my family would ask "hey, can you make that chicken thing again?" And I'm all "uh what chicken thing? I've fed you guys approximately a zillion different chicken dishes over the years." They have no clue what was in it. I have no clue what they're asking for. So we never have that "chicken thing" again. RIP chicken thing. Let's all have a moment of silence.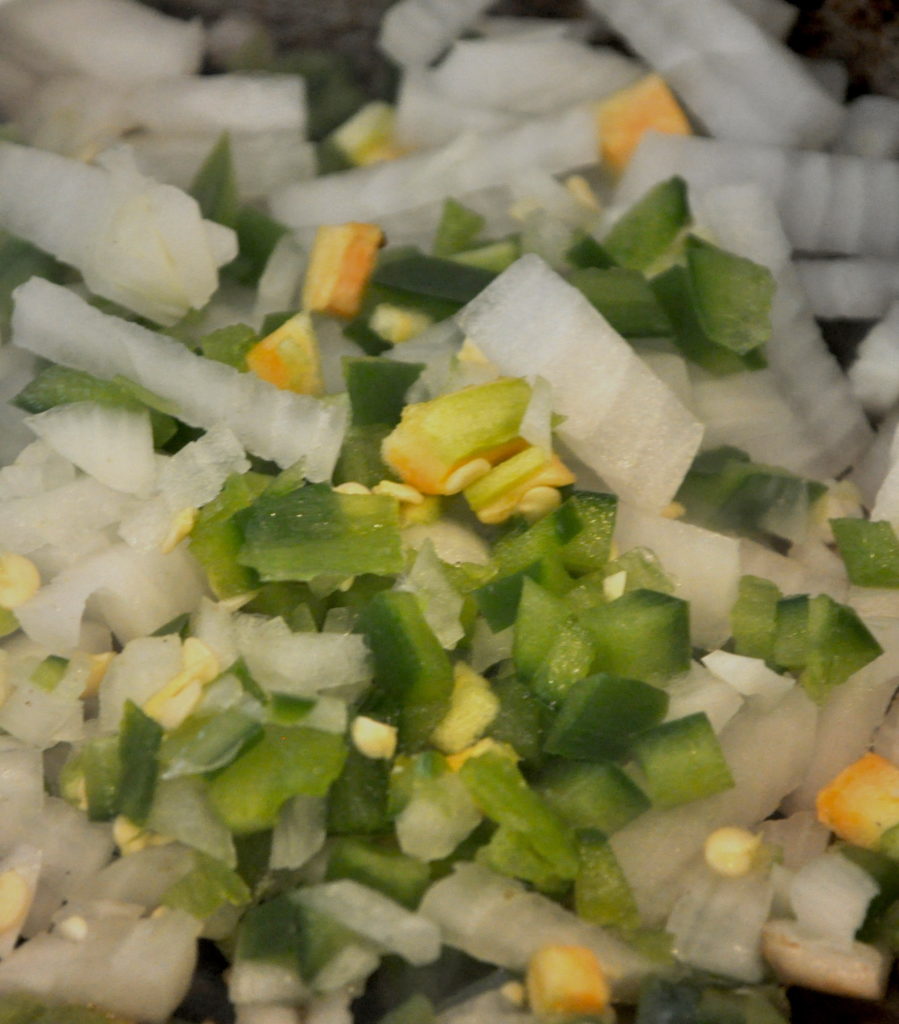 I AM SO GLAD I MEASURED FOR THESE ENCHILADAS BECAUSE OMG. OMG.
OH. MUH. GOSH. I want to make this again and again. I have the ingredient list because I DID THE DAMN THING. I MEASURED. I WROTE IT DOWN.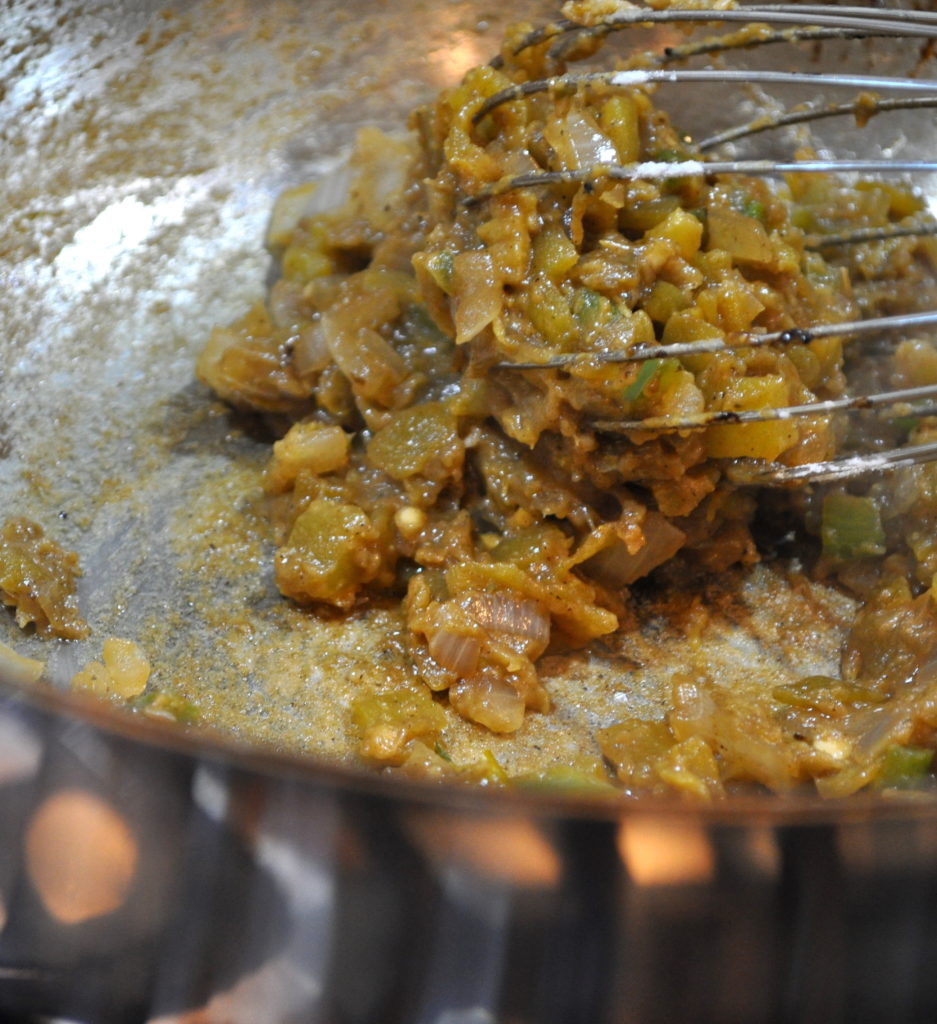 This is like if enchiladas and the most comfortable comfort food had a baby. These are a Tennessee girl's enchiladas verde so don't write me and tell me I did it wrong without tomatillos or whatever.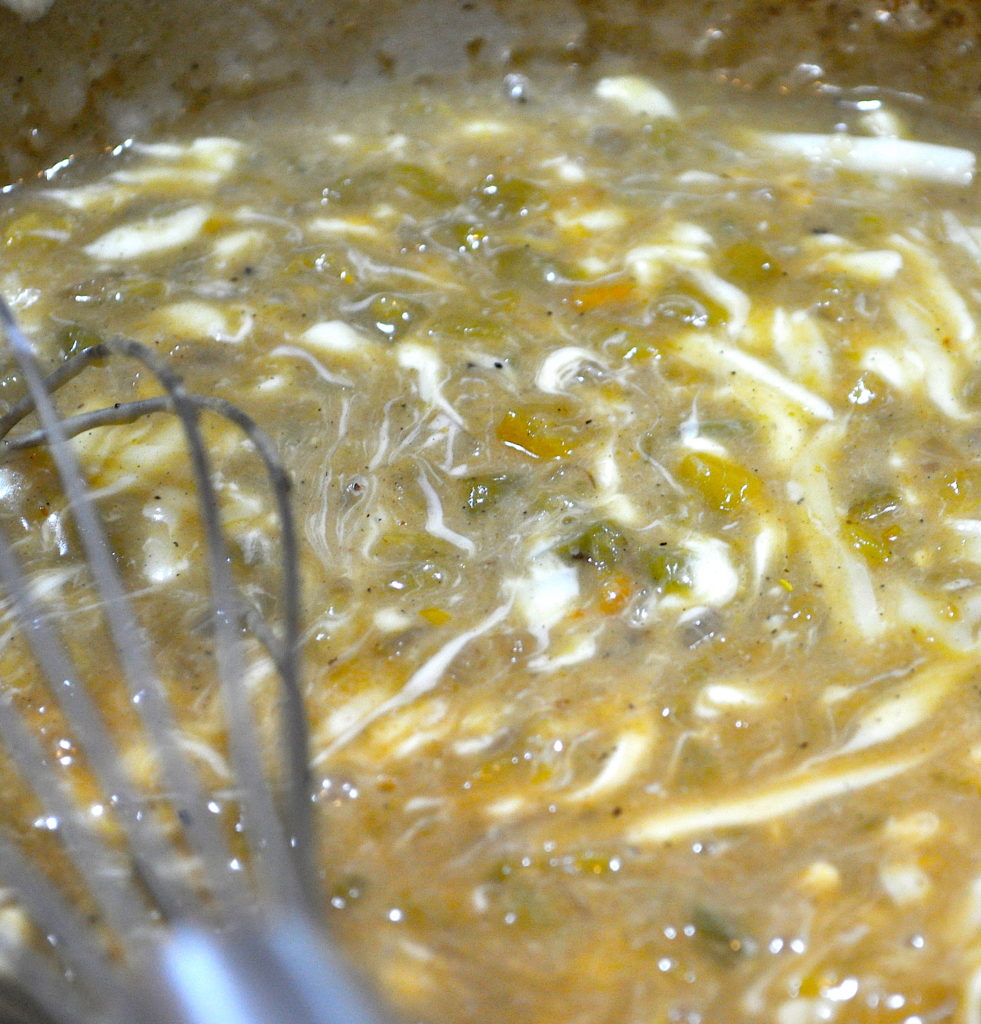 I never said they were authentic. I said they are delicious. I make tomatillo enchiladas, but these were more experimental and honestly… they hit the spot better for me.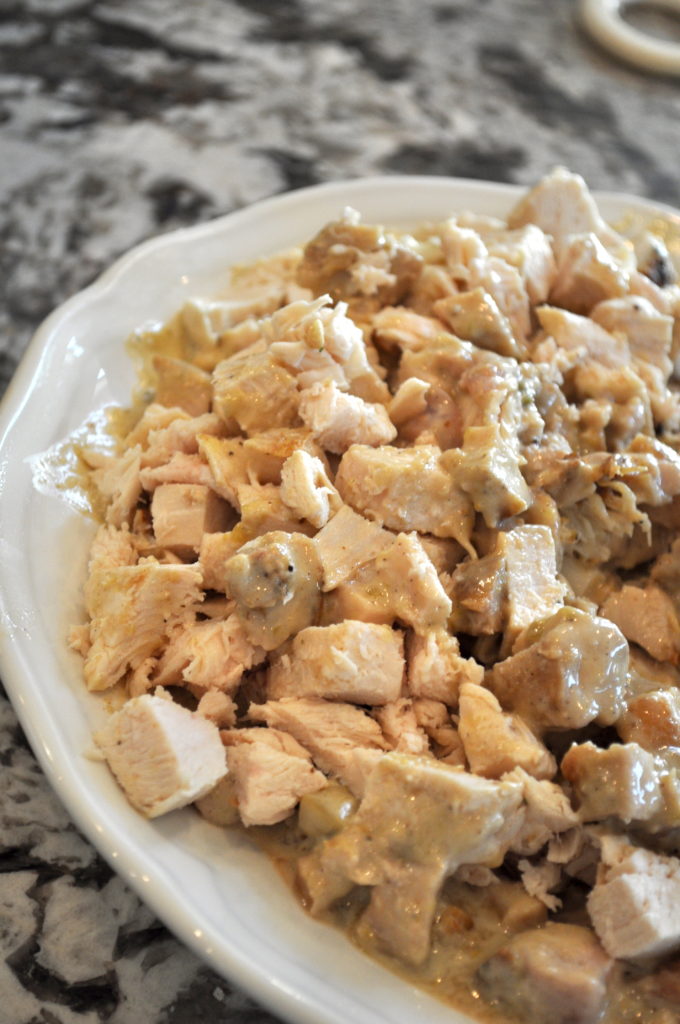 The sauce that gets poured over top is delicious enough to be the dominant flavor in the dish, so a little of it gets stirred into some chicken and POOF! You've got filling!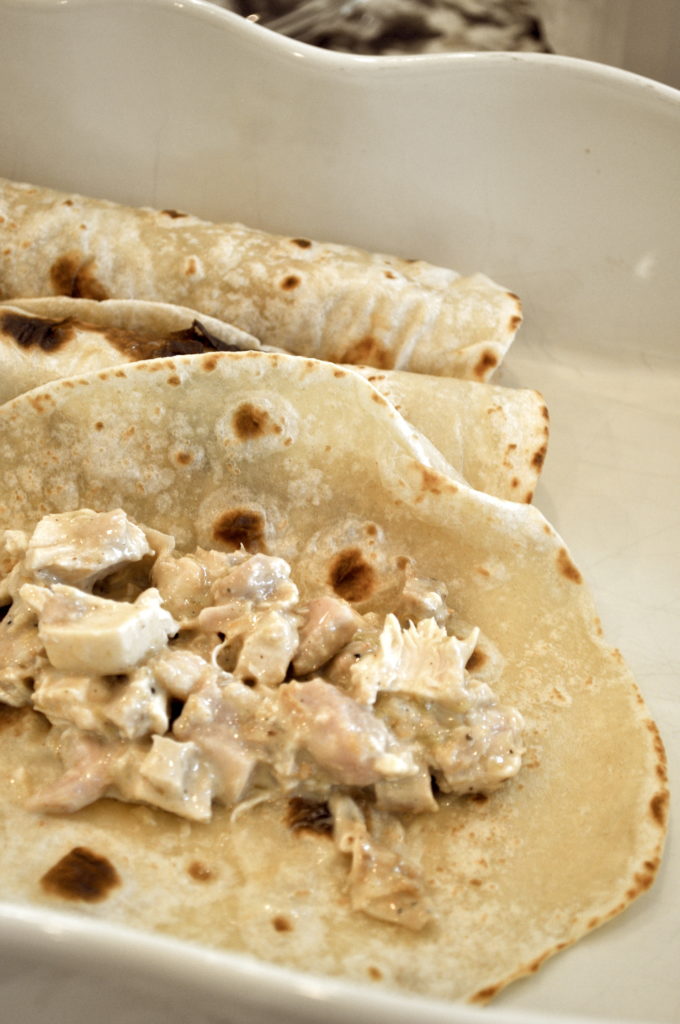 Arrange it on up in your dish.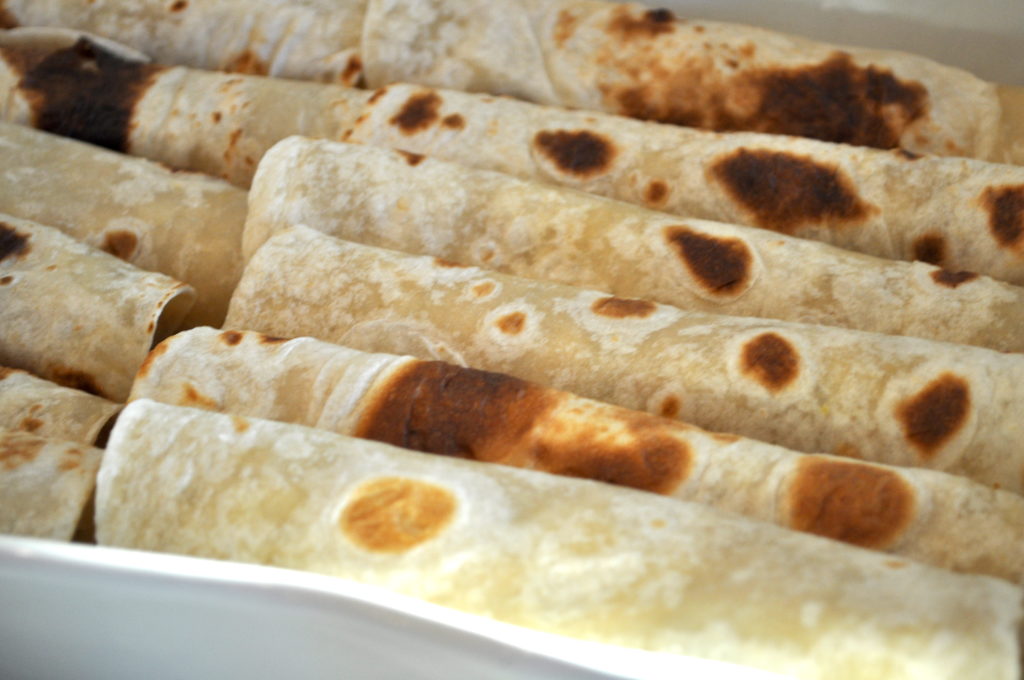 Pour that sauce over top and then sprinkle with cheese.
Bake 'em.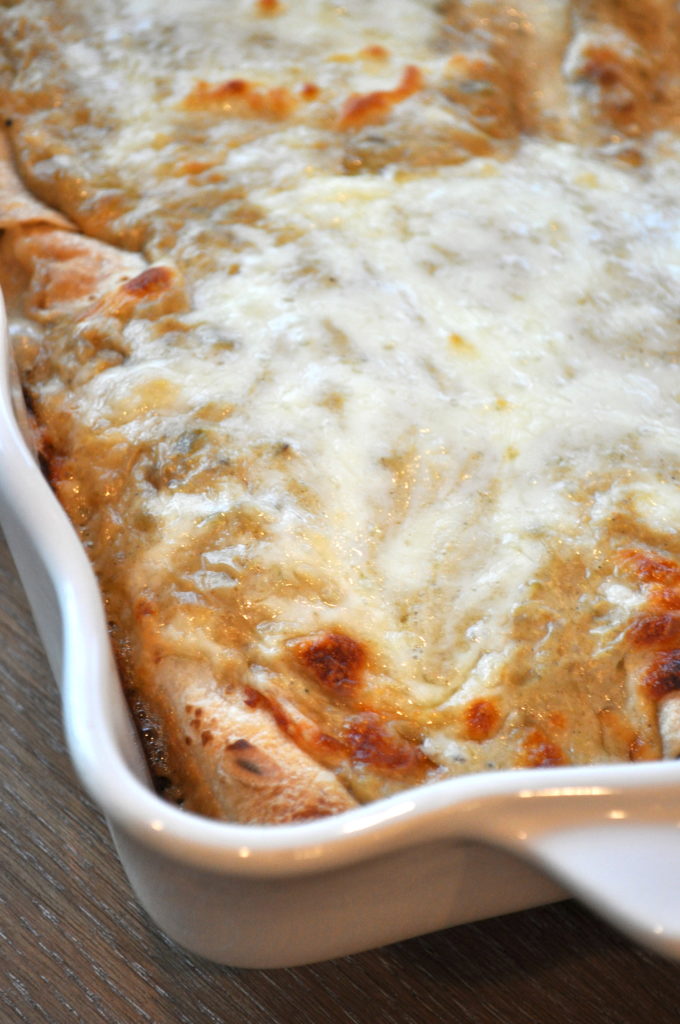 It's perfectly seasoned. It's got a bit of spice, it's creamy, it's got a freshness and a zip from the fresh pico on top that is just errthang.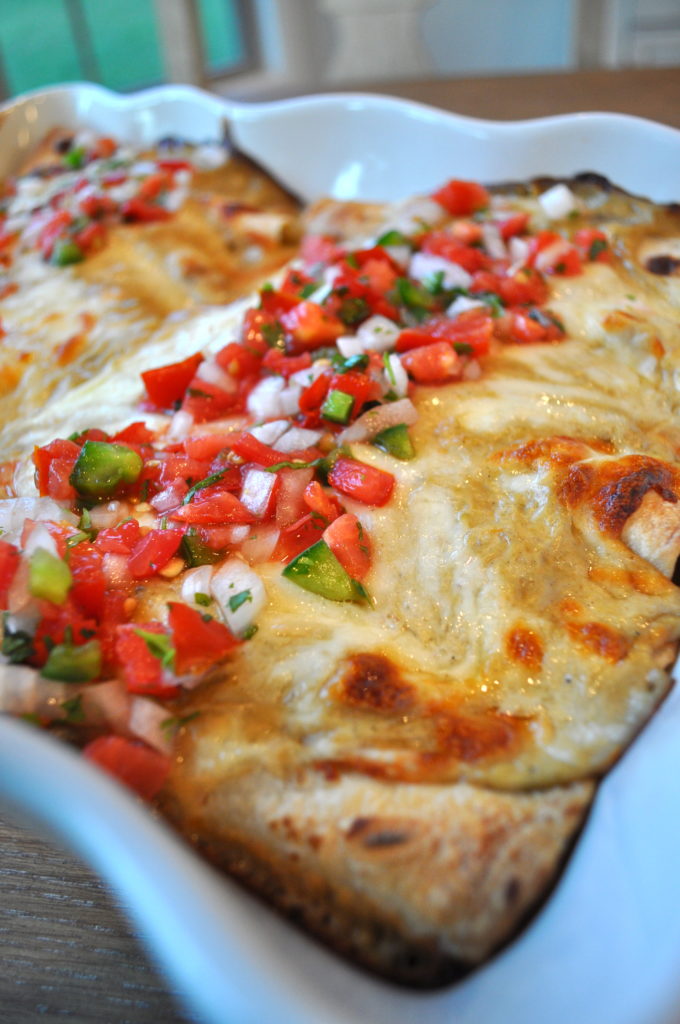 Make 'em. Eat 'em. Love 'em.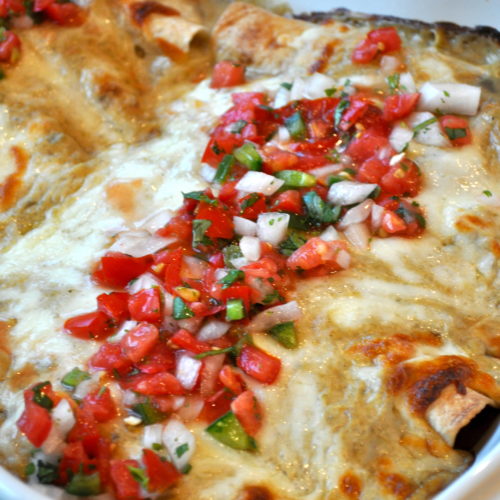 Ingredients
12

fajita size flour tortillas

2

pounds

boneless skinless chicken

(cubed or shredded)
For the Sauce:
3

Tbsp

unsalted butter

½

sweet onion

(chopped)

1

jalapeño pepper

(chopped)

1

tsp

salt

½

tsp

black pepper

½

tsp

cumin

4

cloves garlic

(minced)

8

oz

canned green chiles

3

Tbsp

flour

1½

cups

water

2

chicken bouillon cubes

2

cups

monterrey jack cheese

(shredded)

1

cup

sour cream
Topping:
1

cup

monterrey jack cheese

(shredded)

½

cup

pico de gallo

(recipe in notes)
Instructions
For the sauce:
Add butter to chef pan, stockpot, or dutch oven and heat over medium heat.

Add onions and jalapeño to butter and cook for 3-4 minutes, stirring often, until onions are translucent. Add in cumin, salt, pepper, and garlic and cook, stirring often, for 30 seconds.

Add green chilies and cook for 2 minutes, or until mixture is warmed through.

Sprinkle flour over mixture and cook for 1-2 minutes or until all raw flour is gone.

Add in water and bouillon cubes. Cook for 6-8 minutes or until bouillon is dissolved. Stir in cheese and cook until melted.

Remove sauce from heat and blend mixture with an immersion blender. Stir in sour cream.
To assemble and bake:
Stir in 1¼ cup sauce into the chicken in a mixing bowl.

Add chicken filling down the center of each tortilla, rollup, and place seam side down in a 9×13 baking dish.

Top all the rolled up enchiladas with a sprinkle of cheese down the center of them. Bake for 20 minutes, or until cheese is melted. Remove from oven. Let set for 5 minutes before topping with pico de gallo and serving.
Notes
I prefer to blend up my sauce for a smoother texture. I used an immersion blender. If using a regular blender, work in batches. A huge hot batch in an enclosed space is asking for a messy explosion. It helps with little ones to blend because they won't detect that onion in their dinner.
For the pico: In a small mixing bowl, combine 3-4 finely diced small tomatoes (try for homegrown or farmer's market tomatoes over grocery store tomatoes), 1/2 sweet onion (finely diced), 1 jalapeño (minced), the juice of one lime, as much minced cilantro as desired, a bit of salt and a pinch of sugar. Let flavors marry for at least 10 minutes before serving.
I like to use uncooked tortillas over the ones already cooked in the package. They're just better. I tested with Tortilla Land brand. Use cooked ones if you prefer.
Nutrition
Calories:
671
kcal
|
Carbohydrates:
31
g
|
Protein:
51
g
|
Fat:
37
g
|
Saturated Fat:
20
g
|
Cholesterol:
182
mg
|
Sodium:
1777
mg
|
Potassium:
785
mg
|
Fiber:
2
g
|
Sugar:
6
g
|
Vitamin A:
1058
IU
|
Vitamin C:
20
mg
|
Calcium:
539
mg
|
Iron:
3
mg