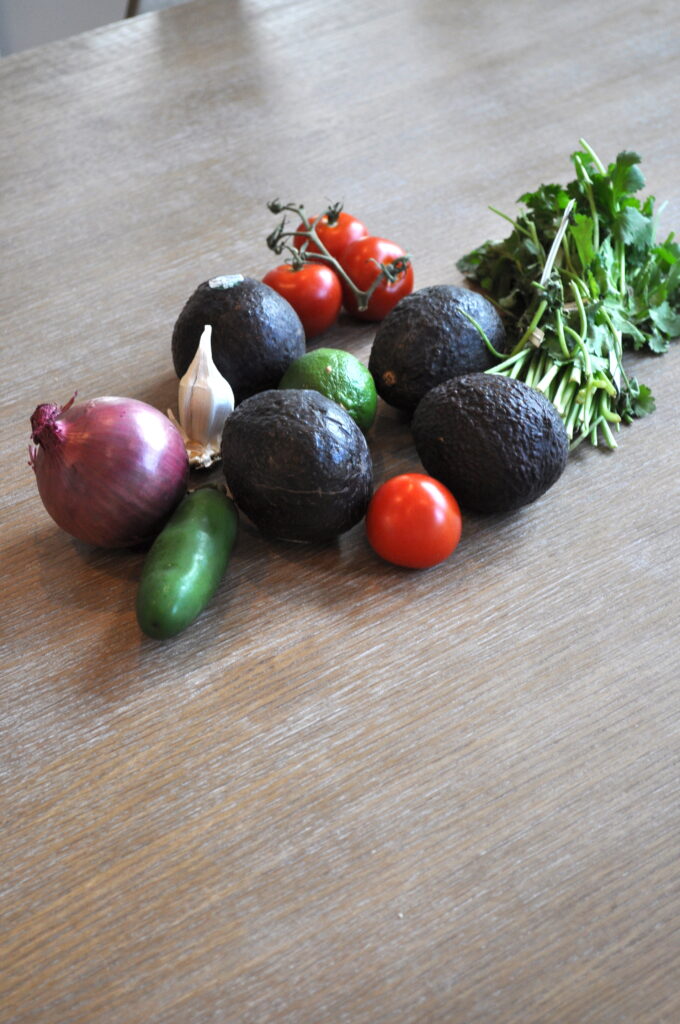 Confession: I don't eat just any guacamole. If I wanted plain ole avocado mush, I'd buy a jar of baby food. AMIRIGHT?! I want some guac I bite into and scream "HOLY GUACAMOLE". This one fits that bill.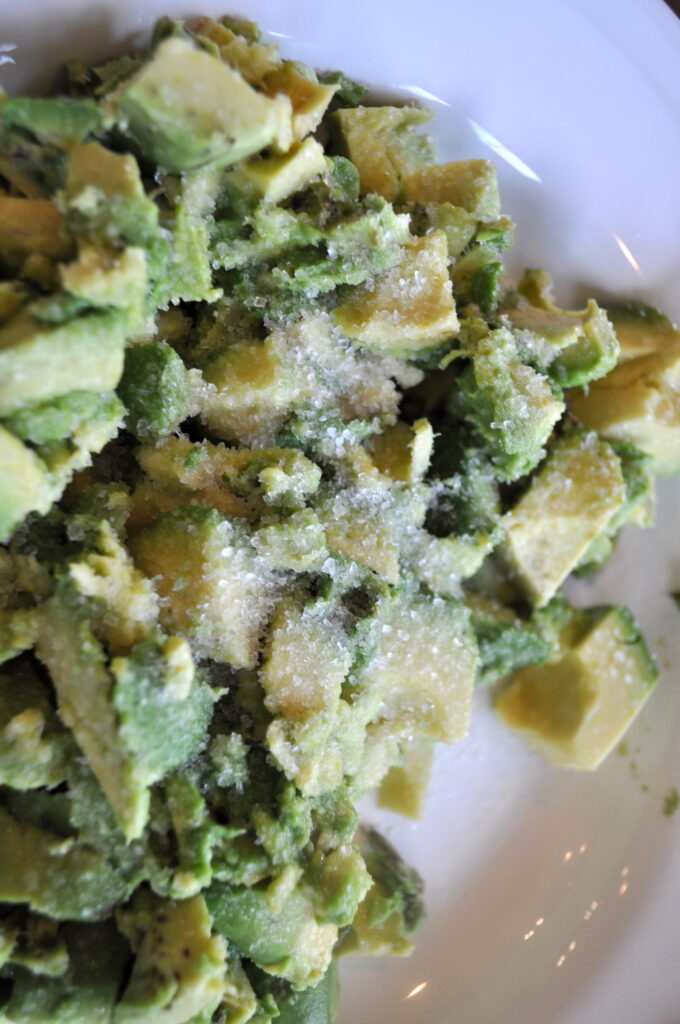 The first secret to mine is pick ripe avocados. If you're an avocado novice, FRET NOT. I gotchu, boo. You're going to want to start by taking a good hard look at them. If the skin is green, they ain't ready. If the skin is completely black, they're probably overripe. If they're a deep purply-black, they're in that nice Goldilocks zone: JUST RIGHT.
See above photos to teach you to do my foolproof double check on them if you're still not sure. Pop off the stem on the end. If the flesh is very light green, they're ready for slicing but not for mushing. If the flesh is black, they're overripe. If it's in between, golden or light tan, that's magic time, BABY.
Next, definitely don't overly mush your avocados. You want little clumps of texture in it. This little silicone fork is my secret weapon to getting perfect texture EVERY SINGLE TIME.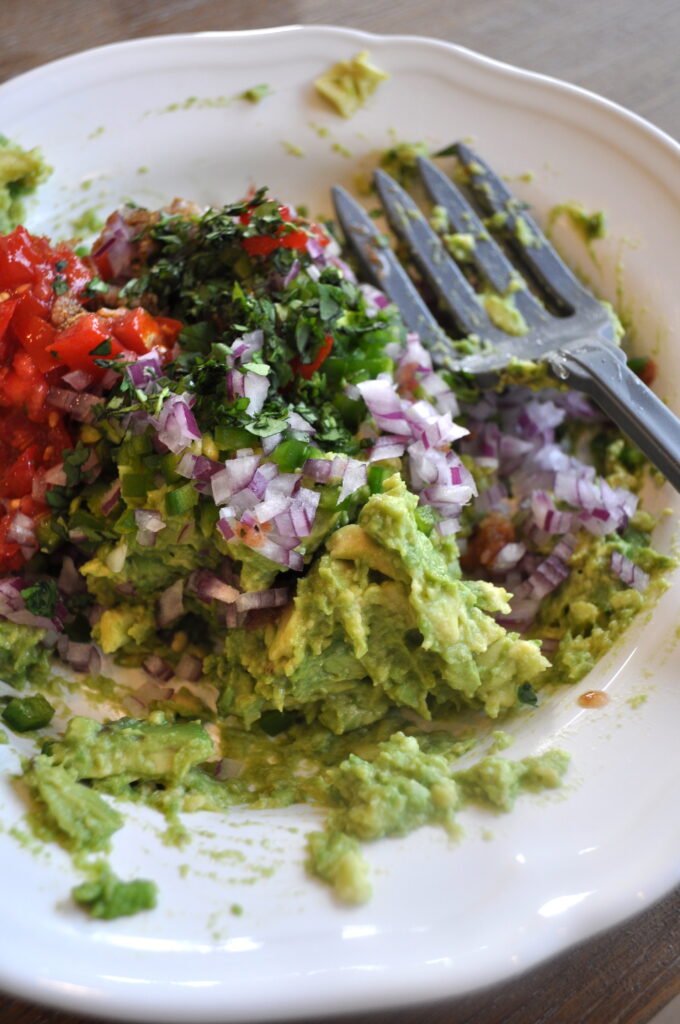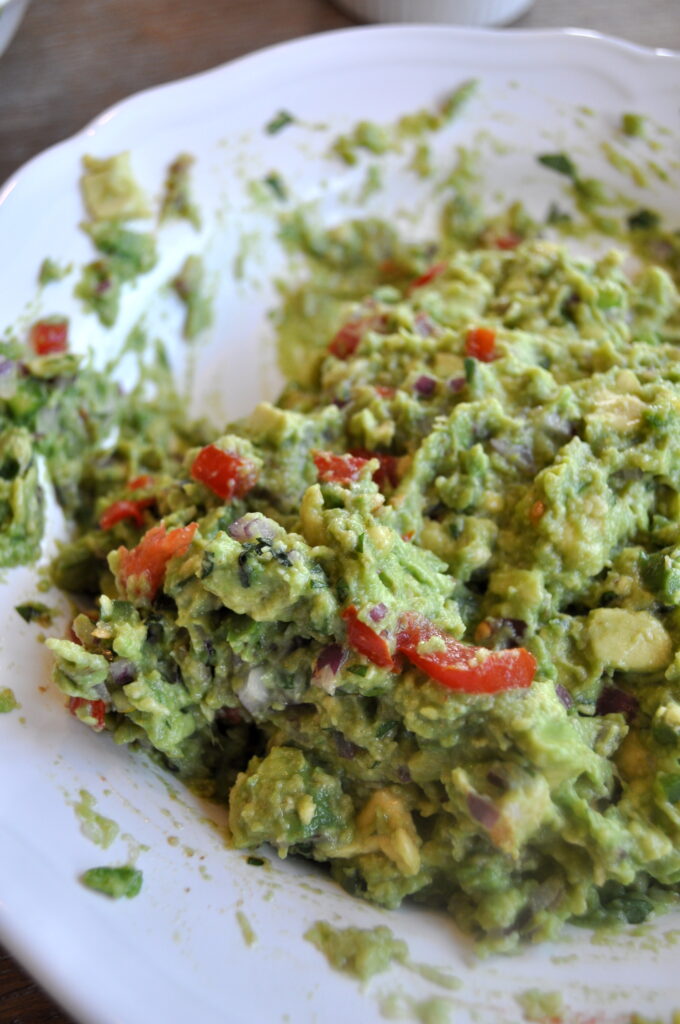 It mashes, it stirs, it blends… I basically become like Billy Mays screaming at my friends "BUT WAIT THERE'S MORE" when it comes to describing my love for this little fork. Click here to buy one.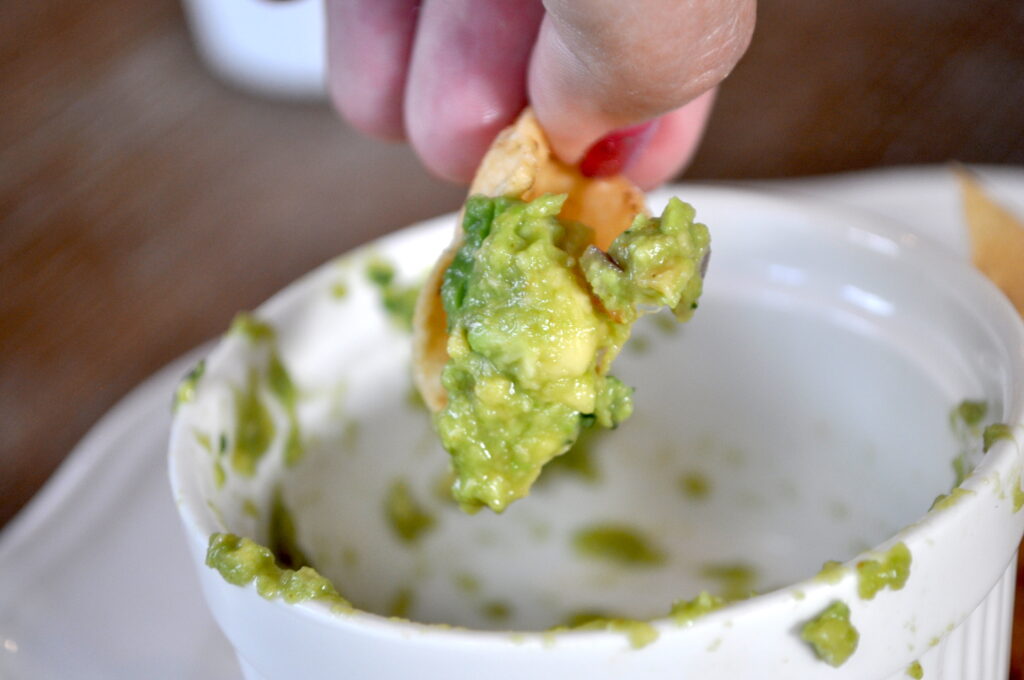 It's useful for more than guacamole, but it definitely gets used most often for that around here because I make a batch and POOF! It's gone.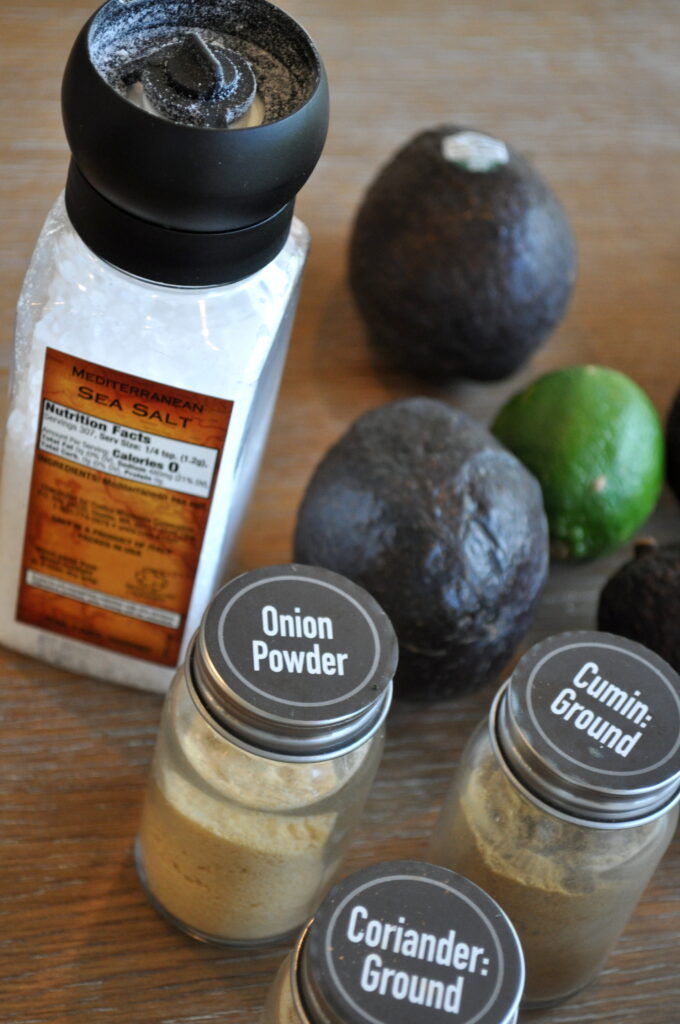 Throw in a couple dashes of my special seasonings and you're good to go.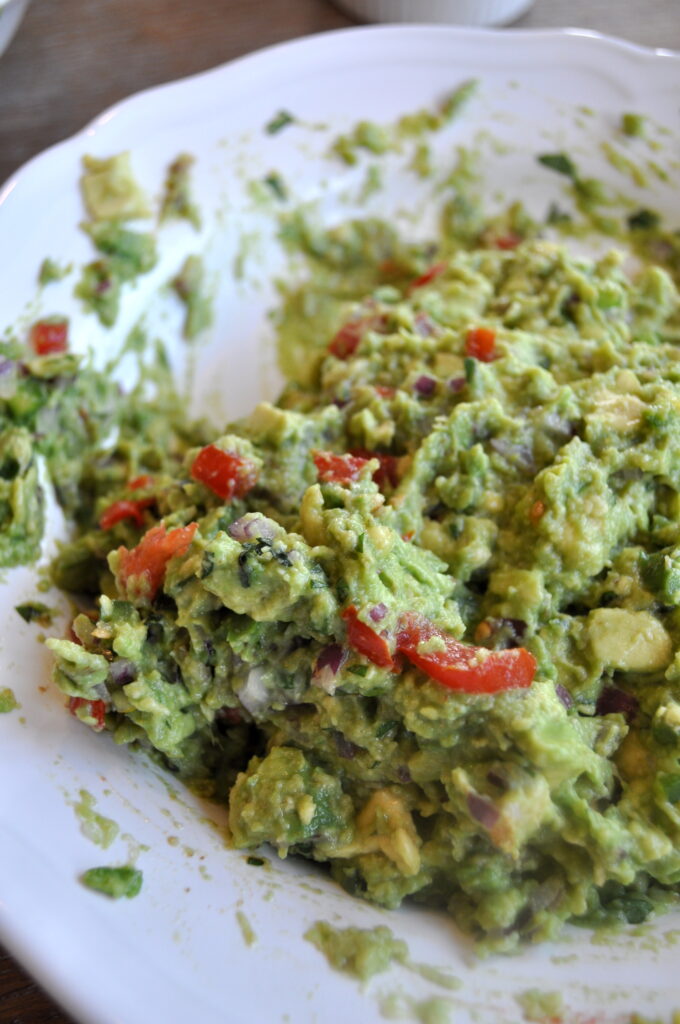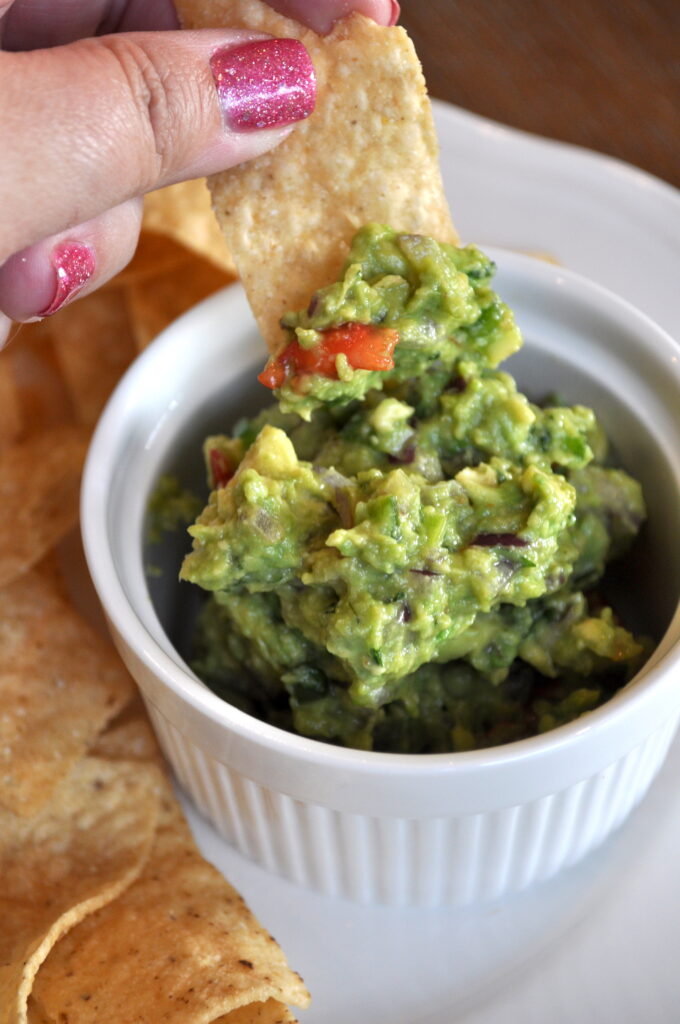 Before you email me and say this isn't how they make it in SoCal or Mexico, I NEVER SAID IT WAS AUTHENTIC. I said it was delicious. I put a Sara spin on everything. So if you come here looking for everyone else makes in an "authentic" recipe, you came to the wrong spot. I mix and mess and muck recipes up to give them new life. I just be like that. It won't change. Accept me or don't. Just please don't hate bomb my inbox.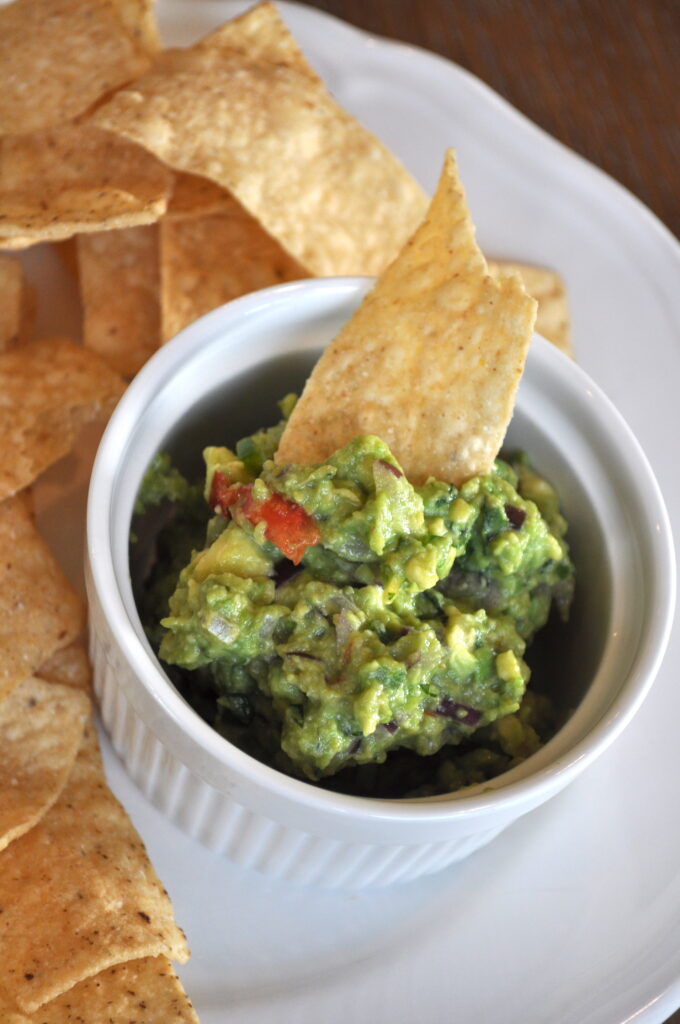 Here's the most important piece of advice. Ready? Drum roll! PRO TIP: wash this down with a batch of my sparkling margaritas. Click here for the recipe. Okay maybe that wasn't the most important, but margs + guac are a pairing that's important to me.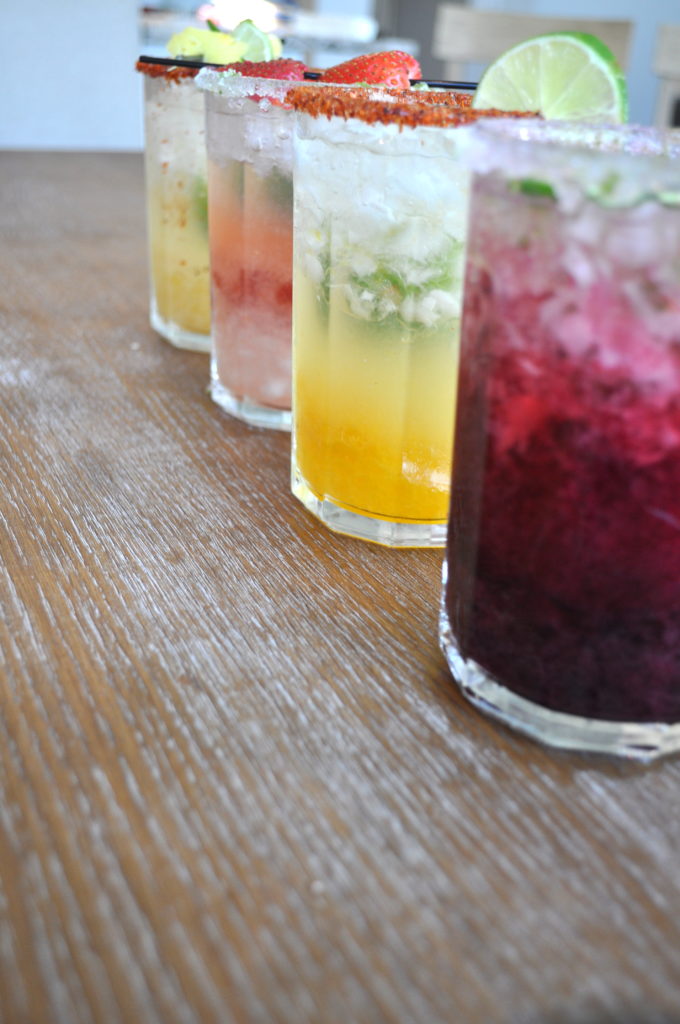 Here's the actual important piece of advice. Good guac should still be clumpy enough to have your chip stand up in it when dunked. If the chip sags, you over mushed. Try again next time! After all, more guac is problem anyone looks forward to solving.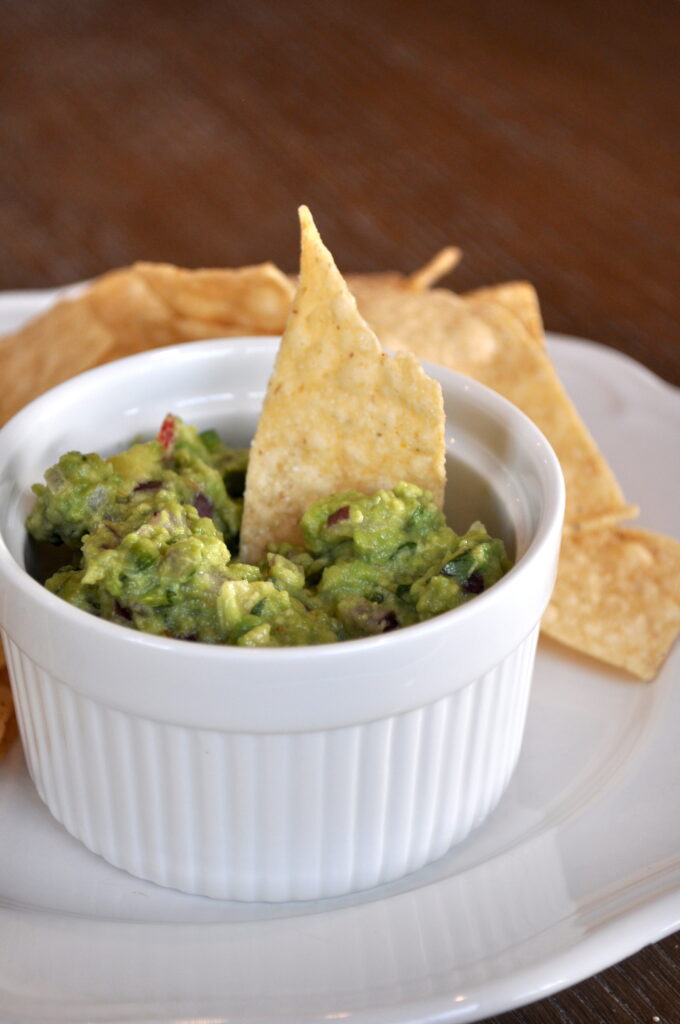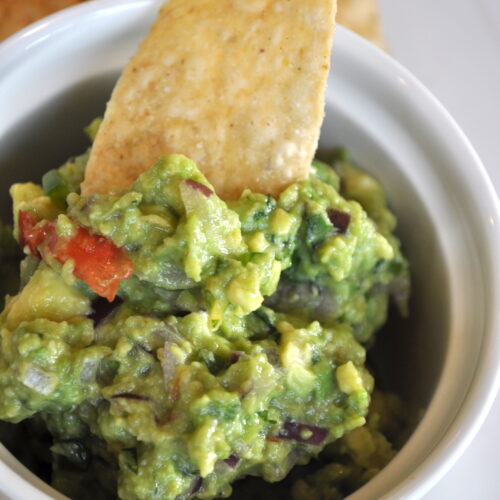 Ingredients
8

ripe avocados

(peeled and cubed)

1

small

red onion

(minced)

2

cloves

garlic

(pressed)

2

jalapeños

(minced)

½

cup

fresh cilantro

(minced)

6

campari tomatoes

(finely diced)

½

tsp

onion powder

½

tsp

coriander

½

tsp

cumin

1½-2

tsp

salt

juice of 1-2 limes
Instructions
In a medium bowl, mash avocado cubes with a fork or potato masher until about half mashed. Leave clumps.

Add remaining ingredients to avocado mixture and gently fold to combine. Serve immedately.
Notes
Don't make this ahead of time. Pinterest will tell you you can wrap it up and it'll be fine. They lie. Guac is always best served fresh. Plus, it's kind of entertaining to whip up a batch table side. This is why everyone ooos and aaaahs when the guac cart shows up in Mexican restaurants and they make it right there.
Before you write me an angry email: I ALREADY KNOW. The traditional way to make this is in a molcajete; so don't tell your Tia María if you have one that this is my method. I just like the texture better with my little fork plus I feel like I get more use out of this fork frying rice, scrambling eggs, folding egg whites into waffle batter, etc. But you do you, boo. Click here to pick up a two pack of my forks.
Nutrition
Calories:
273
kcal
|
Carbohydrates:
17
g
|
Protein:
4
g
|
Fat:
24
g
|
Saturated Fat:
3
g
|
Sodium:
363
mg
|
Potassium:
902
mg
|
Fiber:
11
g
|
Sugar:
3
g
|
Vitamin A:
629
IU
|
Vitamin C:
28
mg
|
Calcium:
27
mg
|
Iron:
1
mg