When someone tells you that they "always expect the unexpected", slap them in the face. When they look at all dazed and confused, ask them if the were expecting it. Okay… no… don't do that. I am not condoning violence nor will I bail you out of the pokey.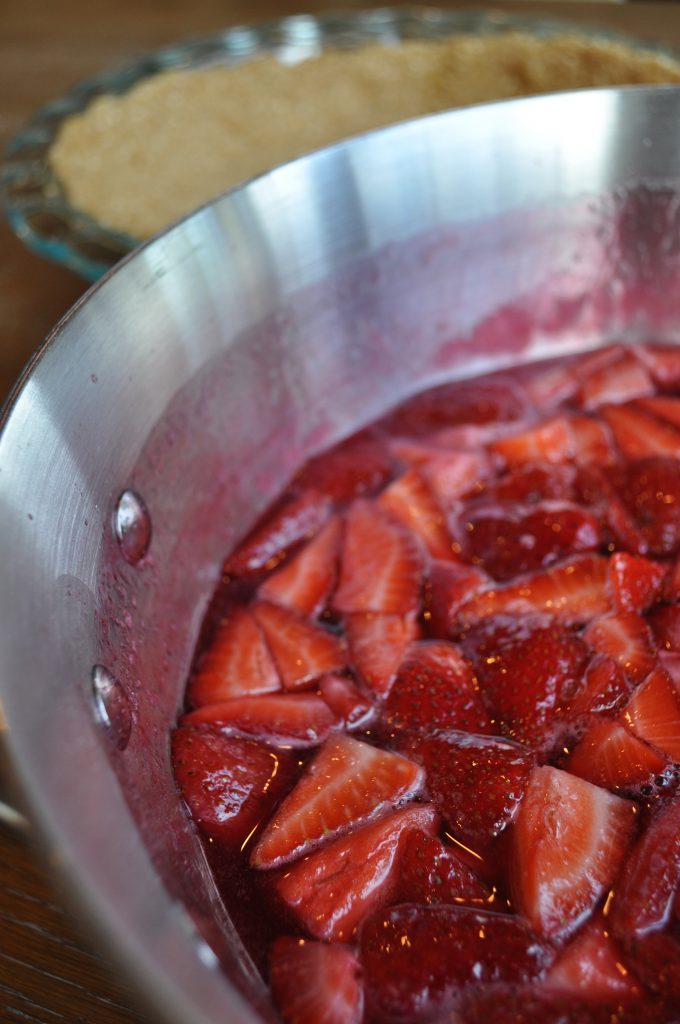 The alternative is to slap this pie down in front of them. This is the very definition of unexpected. That salty pretzel crust with the sugar sweet strawberry filling sounds CRAZY but trust me–IT JUST WORKS.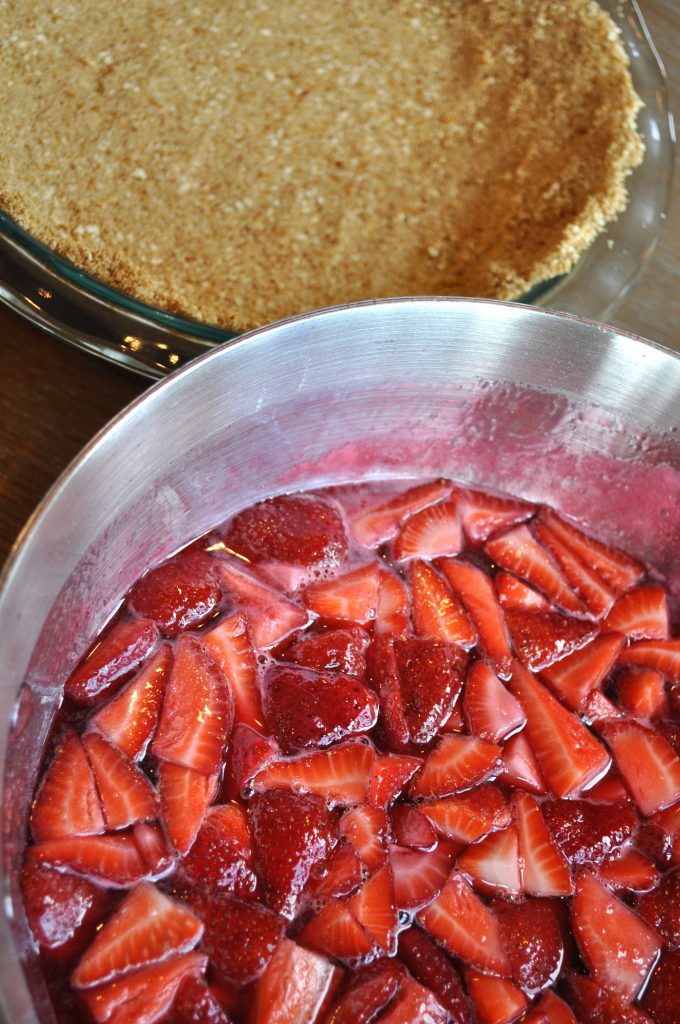 Disclaimer: It does have jello mix in the filling, but almost all canned fruit pie fillings do too.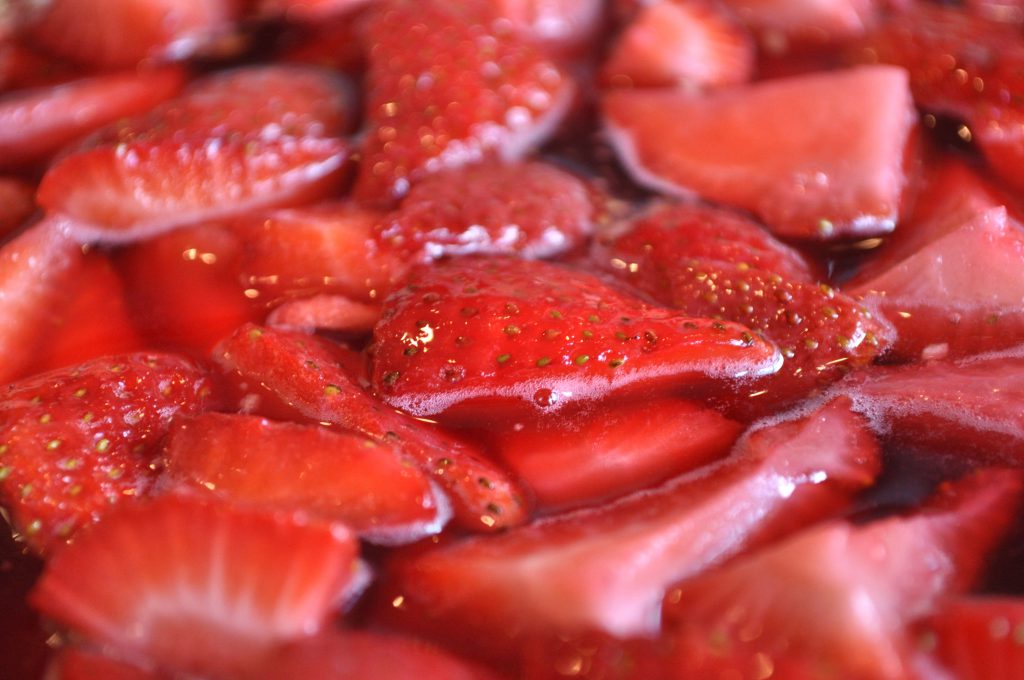 NOW LISTEN UP: I am a card-carrying jello hater. I don't eat it. I don't like little fruity bits floating in lime jello. This has jello mix in it, but it's an old diner trick to enhance the fruit. It enhances the flavor without making it taste like jello. If you like that thick strawberry coating on strawberry cheesecake, you'll love this. The only baking part is the crust step, you mix up the filling on the stovetop, and then let it chill in the fridge for a couple hours.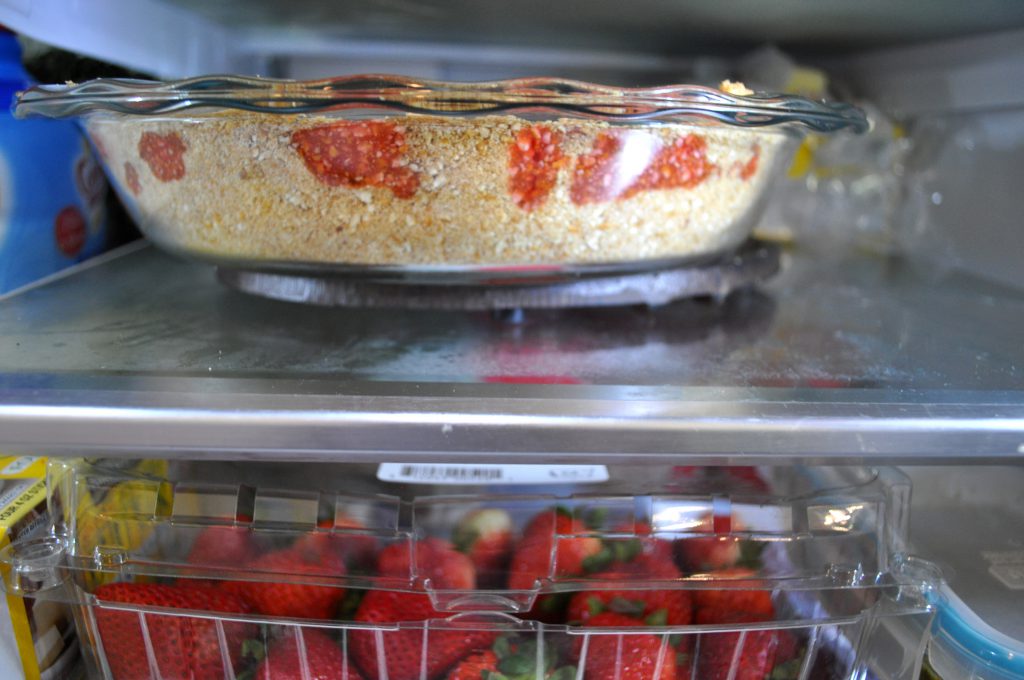 It's no biggie if the the filling seeps through pieces of the crust.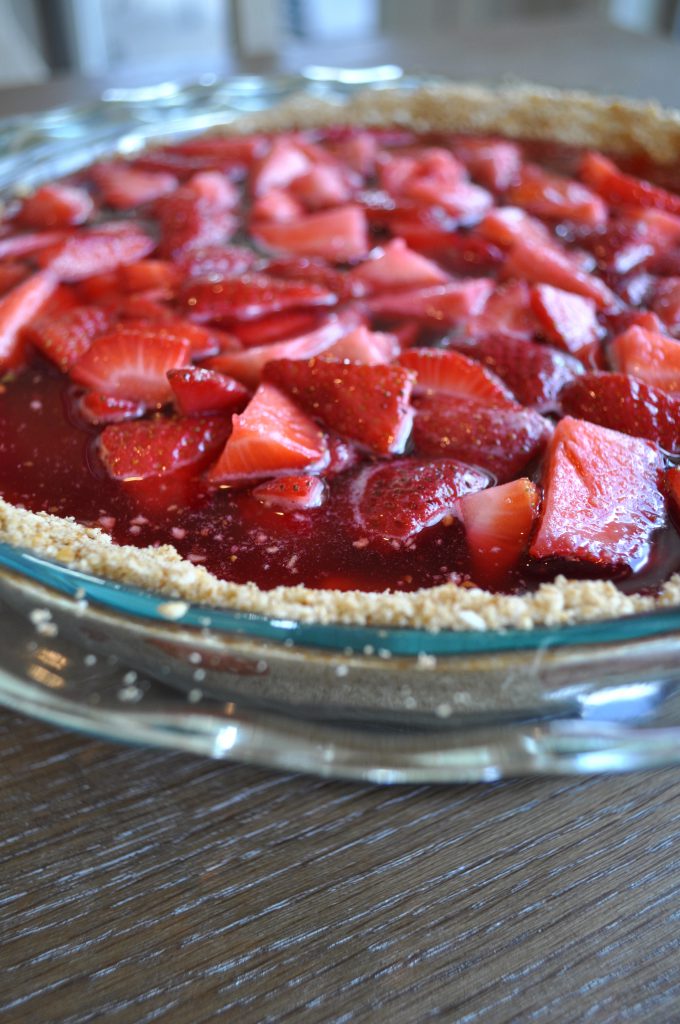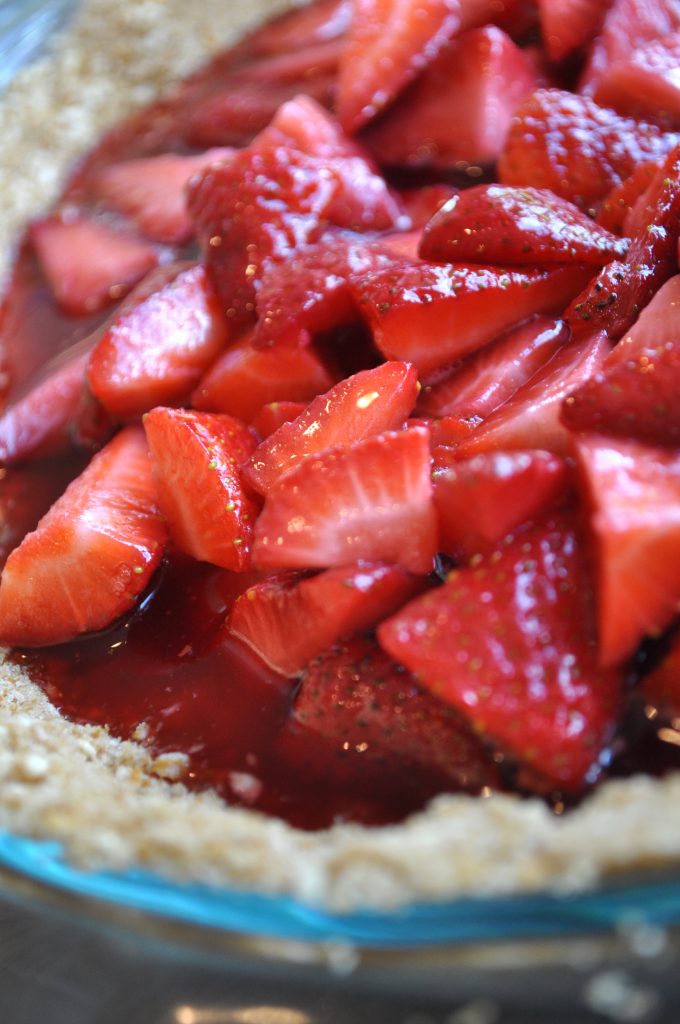 Every single time I make this pie, I start singing "STRAWBERRRYYYY PIIIIIIIIIIIE COOOOOOME TO MEEEEEEEE" to the tune of "Strawberry Wine". I have no idea when it started or why I do it. #BlessThatMess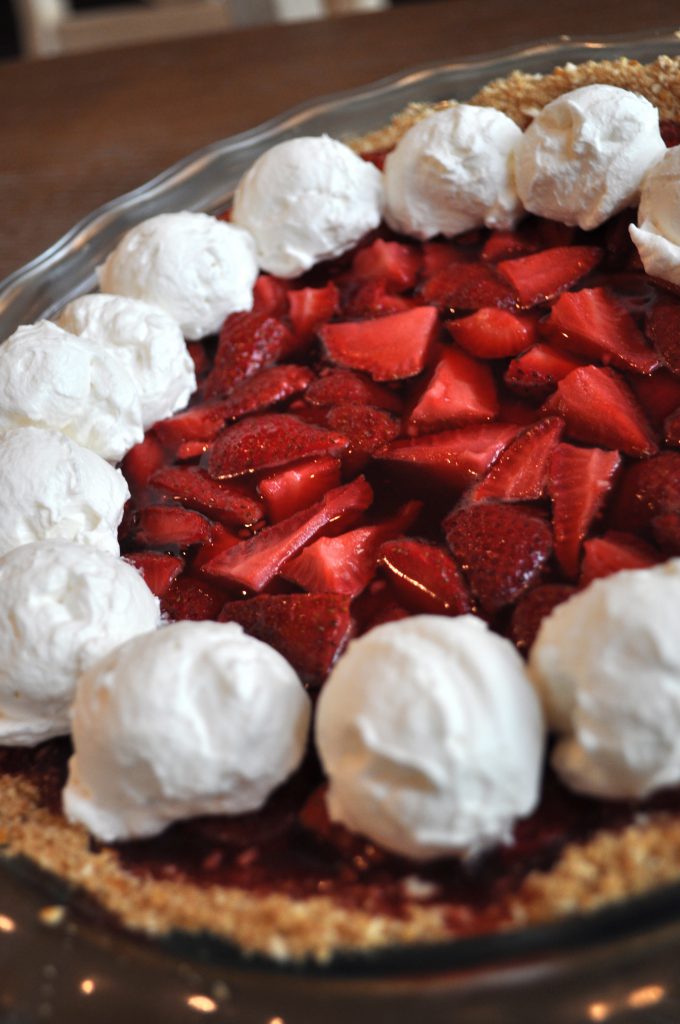 I like to use a cookie scoop to place a cute little decorative ring of whipped cream on top. I make my own whipped cream, but use store bought if you want. Just be cautioned that canned whipped cream will deflate on you so top it at the last minute.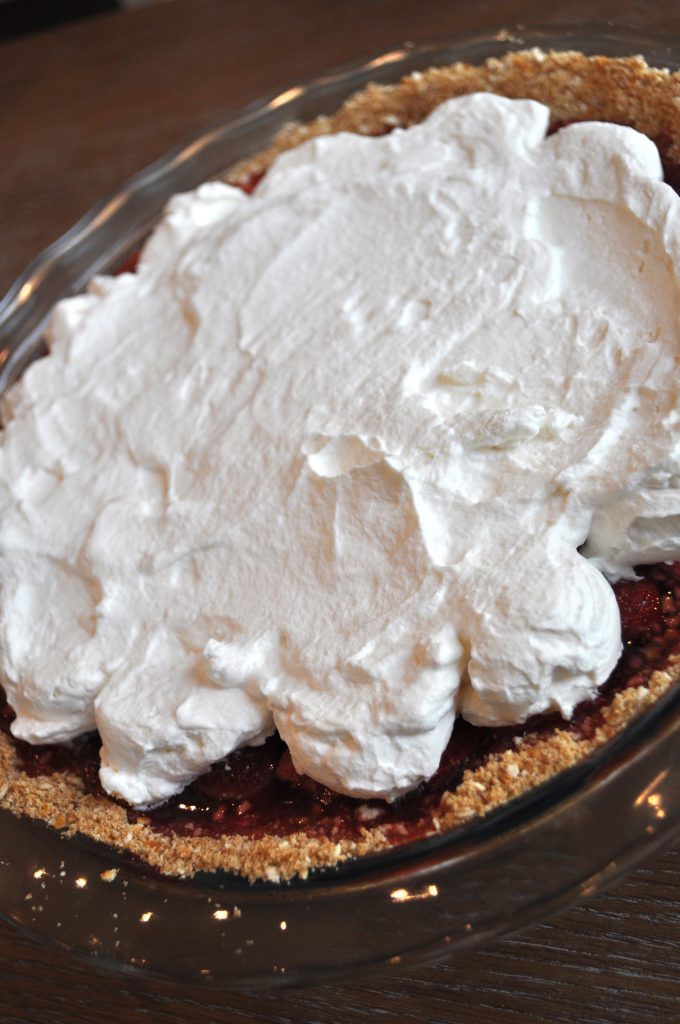 My husband prefers a big blob of whipped cream over the whole top. #BlessThatMess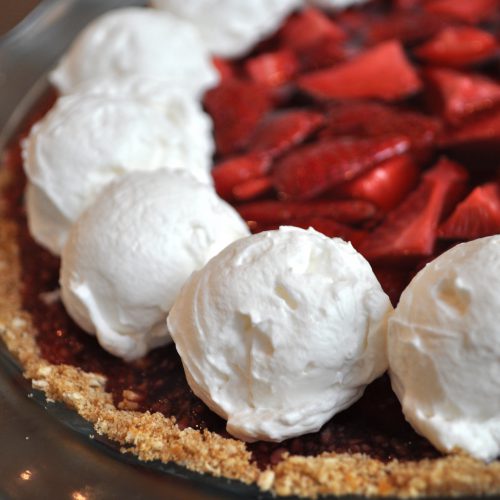 Ingredients
whipped cream

(for topping)
For The crust:
3

cups

pretzel rods

⅓

cup

brown sugar

1

stick

unsalted butter

(melted but cooled)

1

Tbsp

salt
For the filling
1

(3 oz)

box strawberry gelatin mix

(tested with Jello)

1½

cups

sugar

3

Tbsp

cornstarch

1½

cups

water

32

oz

strawberries

(tops cut off and quartered)
Instructions
In a food processor fitted with an S blade, combine all ingredients for crust. Close lid tightly and whirl it up for 3 minutes, or until finely ground and combined.

Pour mixture into pie plate and press it in and around the edges until somewhat evenly spread. Bake in oven for 10-15 minutes, or until golden and toasty. Remove, set aside and cool.

In a very large saucepan or chef's pan, whisk together gelatin mix, sugar, and cornstarch until well combined. Pour water over mixture and whisk until well blended. Heat over medium/high heat until it comes to a full boil, whisking often.

Cook for 3 minutes at a full boil, whisking constantly. Remove from heat. Carefully spoon in strawberries and toss to combine.

Let mixture cool for 30 minutes or so in pan. Then spoon carefully into prepared pie crust. Cool until pie plate is no longer hot, and place in the fridge to chill and set, at least 4 hours or overnight.

Top with whipped cream right before serving.
Notes
Click here for the pie plate I use.
Click here for the food processor I have. I caught it refurbed for half price. Click here for a cheaper alternative.
Nutrition
Calories:
565
kcal
|
Carbohydrates:
129
g
|
Protein:
10
g
|
Fat:
3
g
|
Saturated Fat:
1
g
|
Cholesterol:
1
mg
|
Sodium:
1502
mg
|
Potassium:
306
mg
|
Fiber:
5
g
|
Sugar:
54
g
|
Vitamin A:
14
IU
|
Vitamin C:
67
mg
|
Calcium:
43
mg
|
Iron:
5
mg