I completely quit soda for the umpteenth time in my life. I'm down ten pounds, but yep, I'm still fat. I wish there was some kinda control+alt+delete for my fat. Just a big bloopity-boop-boop button combo that would make the button combo on my jeans less depressing. So I'm trying to eat healthier just to FEEL better, not necessarily to look better.
I mean, I say this but we're having homemade fried chicken for dinner this week. Pray for me, k?
2020 is the ultimate leap year because it leaped right into some bullsh** way past the gates of hell. It's got all of us all fired up, hasn't it? It's got me talking and posting on social media and pacing around in so many circles, I'm about to bore myself down into the floor. #BlessThatMess
I decided to channel my fire and health-goals into a recipe, so I threw some junk together and I found a real winner.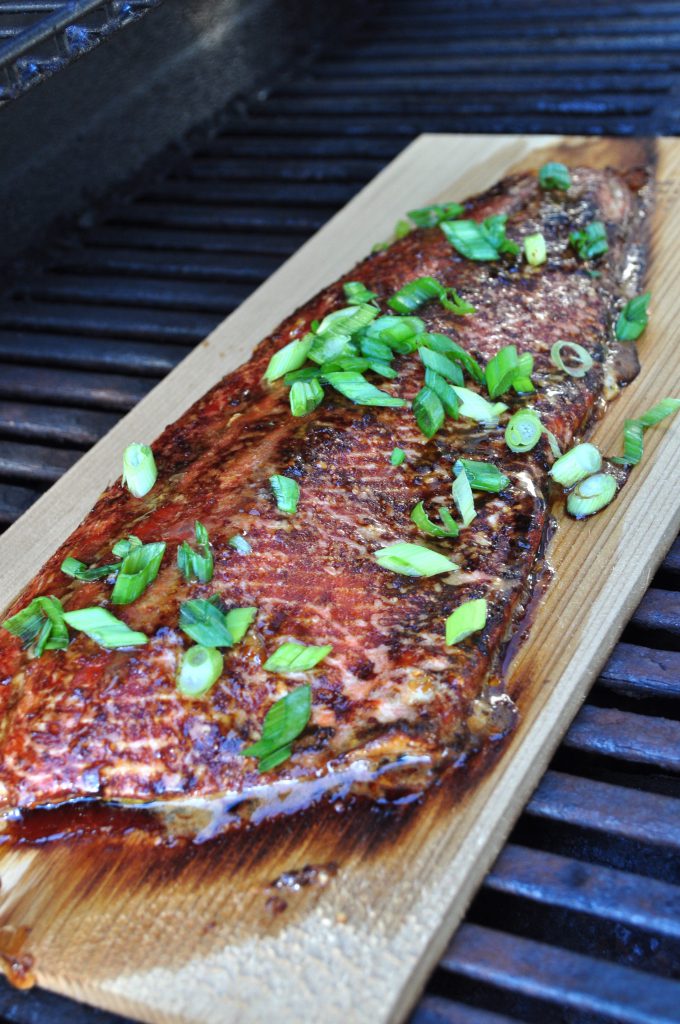 This firecracker salmon is on point. It's aesthetically pleasing, out of the box, and kind to the palette. Also, it requires no flipping on the grill and a quick marinade means it's so easy the worst cook in the family can pull it off.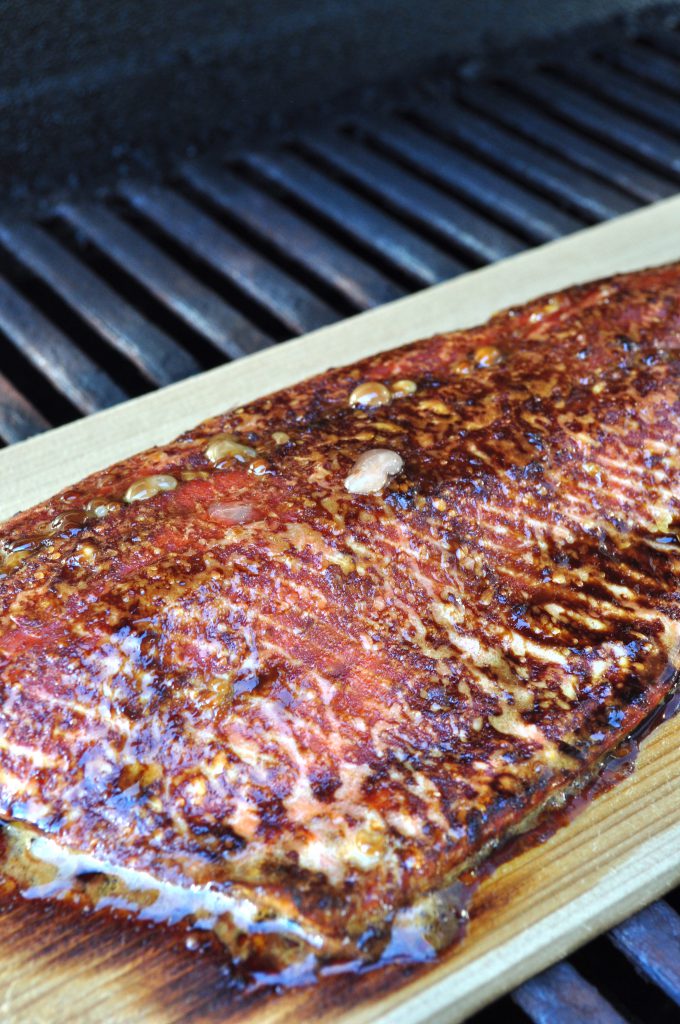 Don't panic if little white bubbles (pictured above) come up on top. This is totally normal. These are just those good fats coming to the surface. Use the side of a kitchen spoon to gently scrape them off if you can't stand the sight of the little boogers. I have nightmares about these and that weird foam that comes to top of boiling potatoes.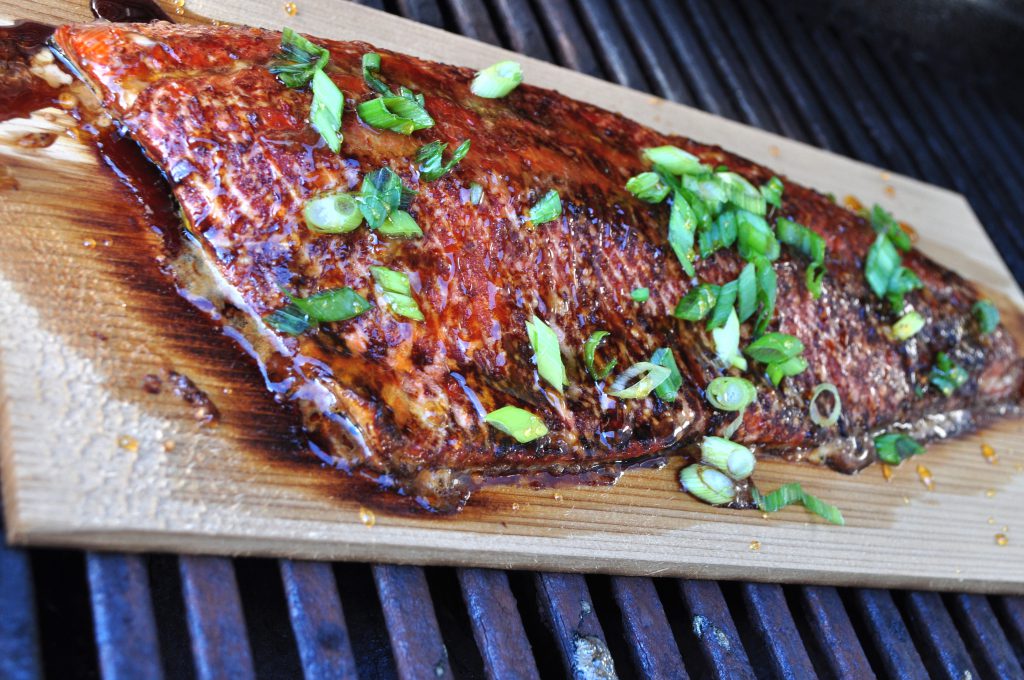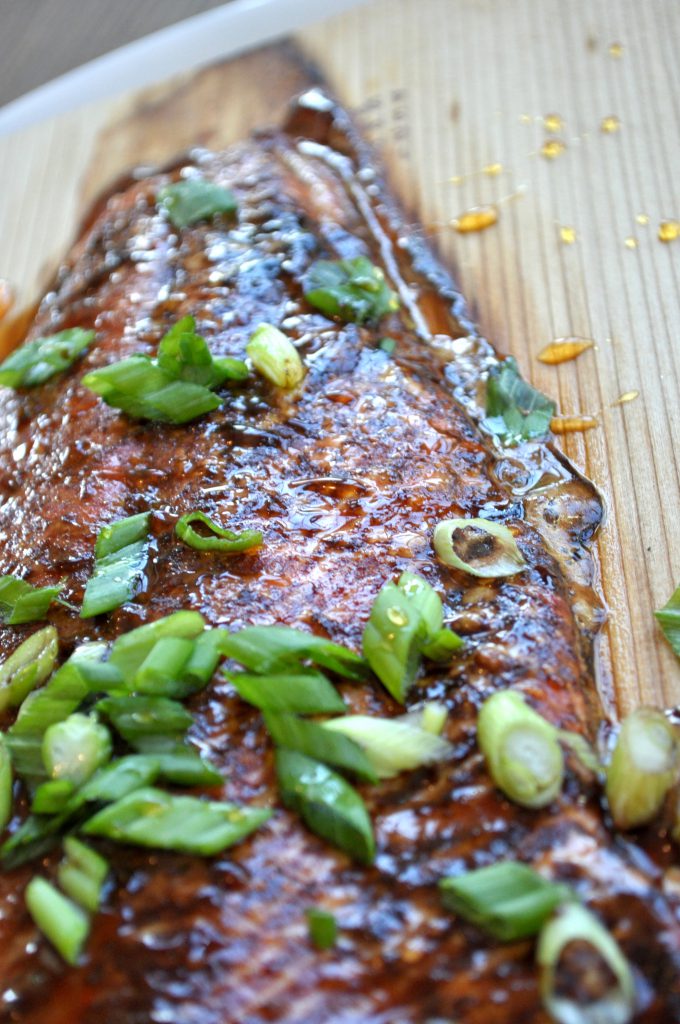 I like to serve it right on the plank and call it rustic. Isn't this "rustic" trend just the best? You can serve things whatever sloppy way you want and call it rustic. Whoever started it has my respect. #BlessThatMess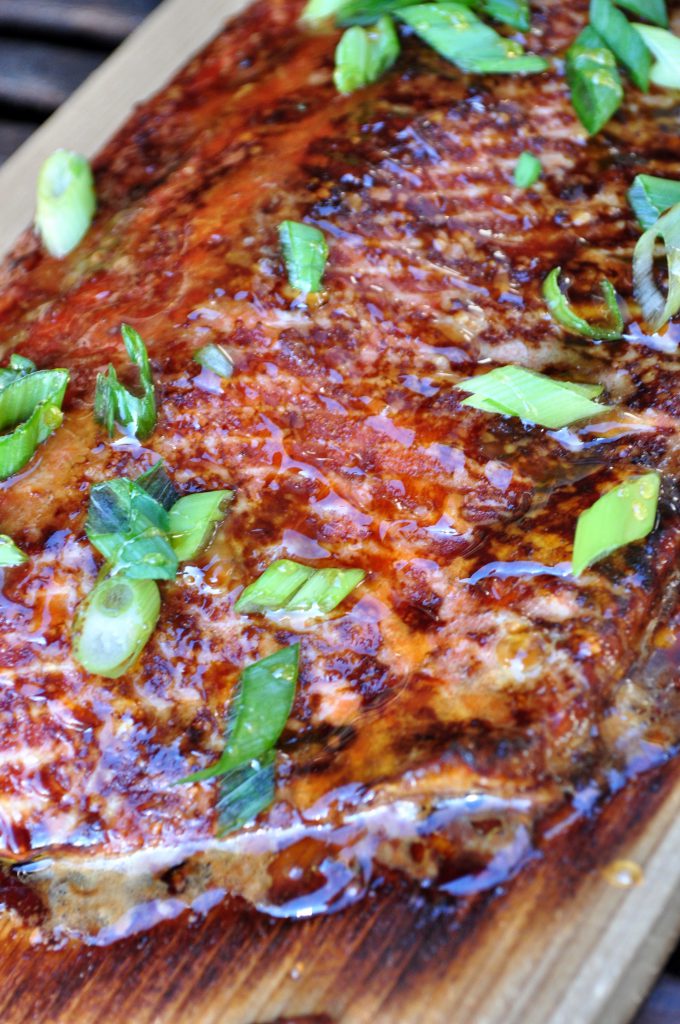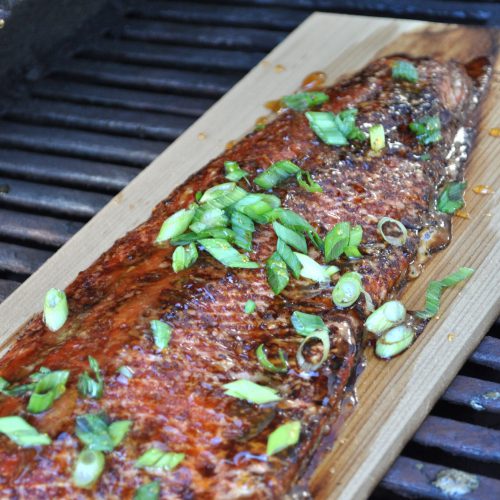 Ingredients
1.5

pound

whole salmon fillet
To finish:
hot honey

(as desired)

4

green onions

(thinly sliced)
Instructions
Soak a cedar plank in water in a clean sink. Make sure it's submerged with a wine bottle or a heavy skillet. Soak for at least 4 hours.

In a large casserole dish, place the salmon in without folding it. Place it diagonally, if necessary.

Whisk together the marinade ingredients in a small bowl or a measuring cup.

Pour marinade over salmon. Cover with plastic wrap or foil. Refrigerate for at least 30 minutes, or up to 4 hours.

Preheat grill to medium high heat (400-450° F).

Remove plank from water and add to grill. Place salmon on top of the cedar plank. Discard marinade. Close lid and grill for 15-20 minutes, or until a meat thermometer (inserted into the thickest part of the salmon) registers 135°.
Notes
You'll need a cedar plank to do this. I don't recommend reusing them. Not only does it get meat juice all over it, they char and will never have the same flavor on round two. The good news is that they're not terribly expensive. Click here for the ones I recommend.
You cannot skip soaking them cedar planks!!  They are wood, after all. They will go up in flames if you don't give them a long soak before putting them over fire.
We like it with a whole lot of hot honey, but use as little or as much as you like.
Nutrition
Calories:
201
kcal
|
Carbohydrates:
2
g
|
Protein:
3
g
|
Fat:
7
g
|
Saturated Fat:
1
g
|
Sodium:
431
mg
|
Potassium:
583
mg
|
Fiber:
1
g
|
Sugar:
4
g
|
Vitamin A:
170
IU
|
Vitamin C:
14
mg
|
Calcium:
26
mg
|
Iron:
1
mg