I am a picky pickle gal. There. I said it. Mt Olive pickles will never do it for this chick. Soggy-one note flavor? YUCK. Nope. No way. I rebuke it in the name of Jesus.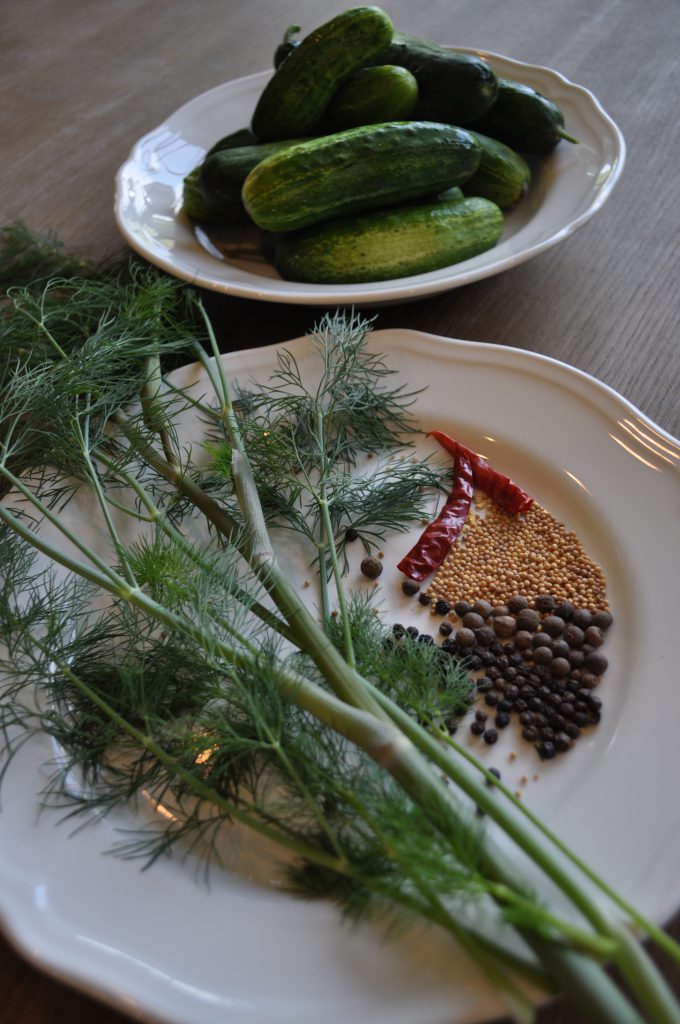 My Mammaw made THE. BEST. HOMEMADE. PICKLES. IN. THE. WORLD. Anyone who disagrees with me can cash me outside how bout dat?
But seriously. Hers were incredible. I cry every time I eat bread and butter pickles because they just will never be hers. It's so funny, the things we grieve when our loved ones pass. I AM KICKING MYSELF for not asking more questions and getting her insight to the whole process.
Her pickles were for preserving long-term. They were huge batch. She preserved tons of vegetables (pickles, tomatoes, beets, etc) to fill her huge walk in pantry.
Mine are refrigerator pickles that make 2 quarts for smaller quantities–they require no heat and require 10 minutes of active effort before they chill in the fridge for a few days. Because there's no heat, they're crunchier. No soggy pickles allowed in my house. They get a quick ice bath while making the brine. It helps rinse them off without losing any of the crunch.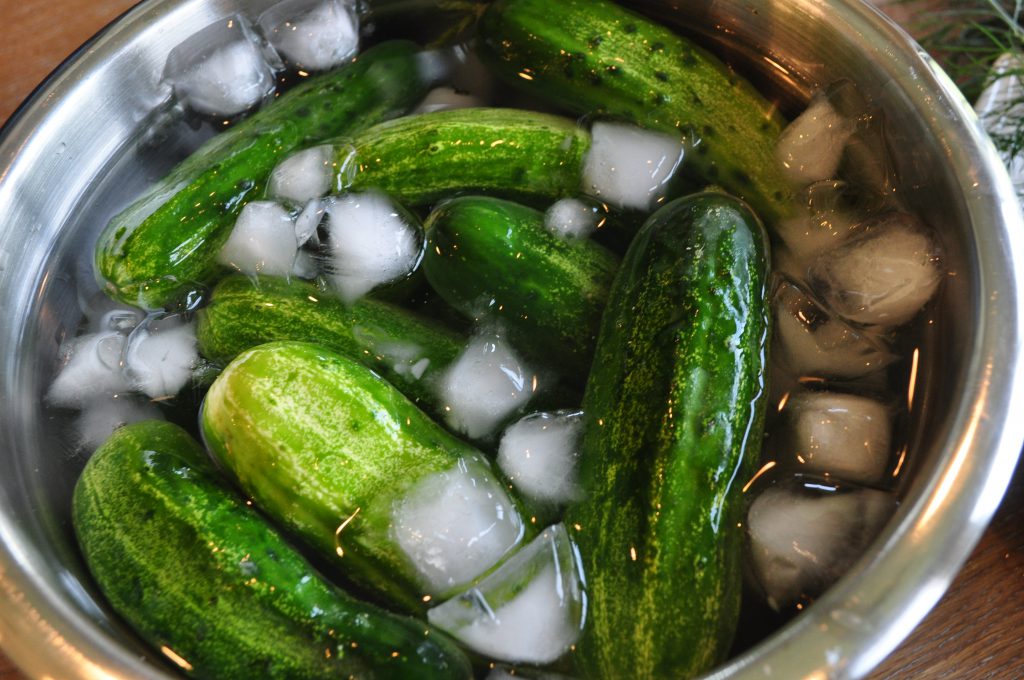 I add in a a metric sheesh-ton of flavor in the form of garlic, dried peppers, mustard seeds, and other spices. I think you'll dig it.
To smash the garlic, place the knife horizontally over the garlic and literally smash it with your fist like those alligator smash games in 90's arcades. Come down pretty hard and your garlic will be smashed to smithereens. It's stellar emotional stress release.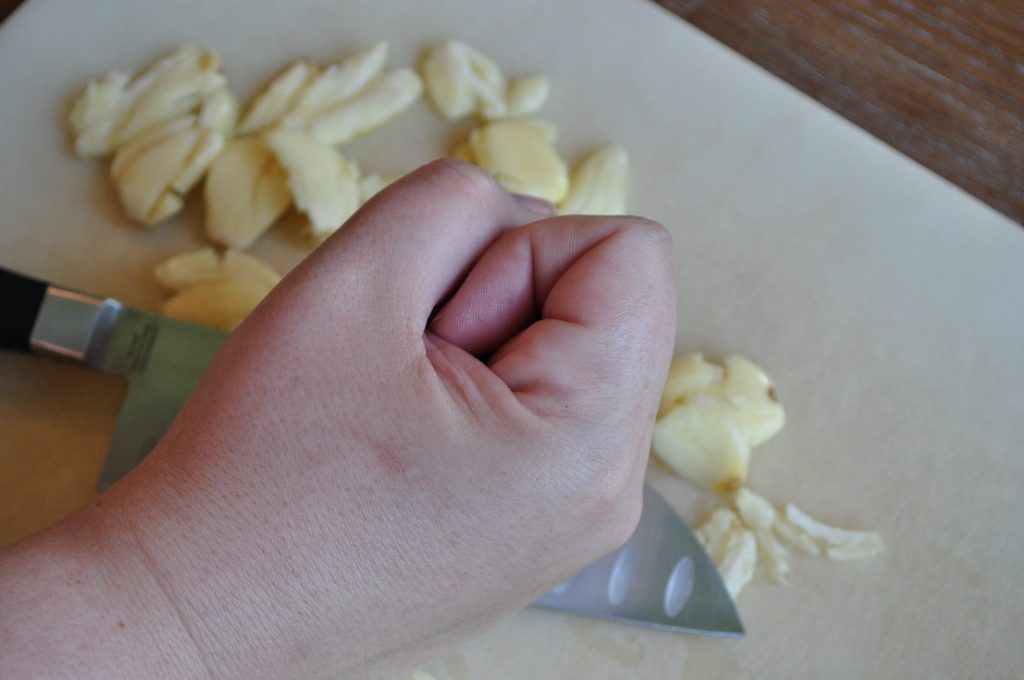 The more you cut the pickles, the quicker they're ready. Chips ferment faster than halves. Spears ferment faster than whole. I made a few so I can have some for now and some for later.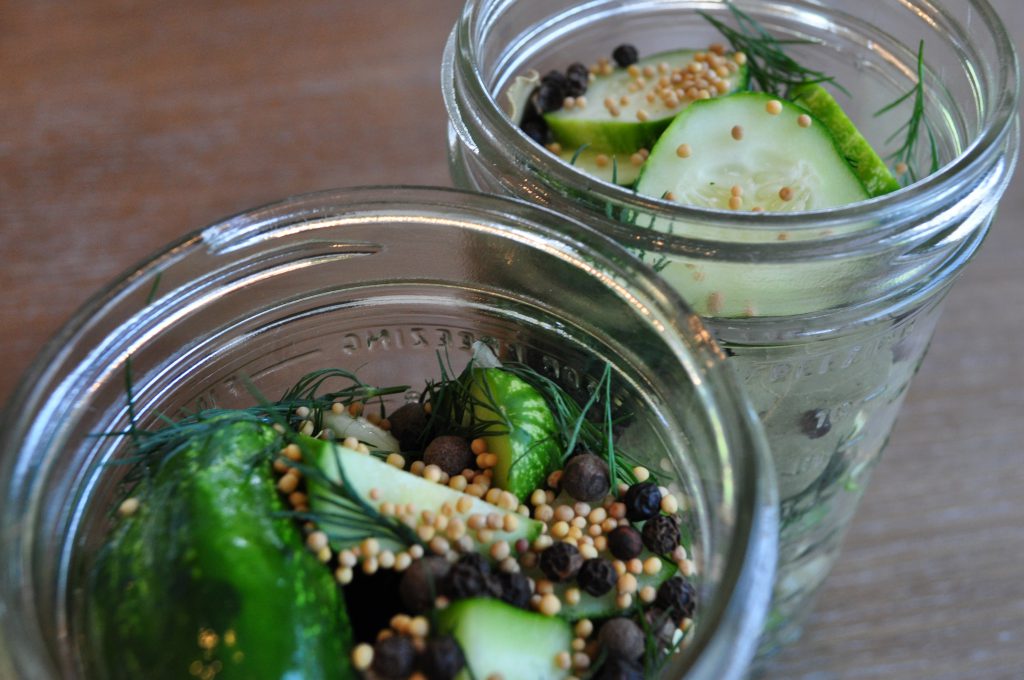 My Mammaw used grape leaves in her pickles because she had grapevines. You need something with tannins to really bring the brine to next level. (Tannins are just substances that alter the chemical makeup and taste in plants–full bodies wines have more tannins.) The tannins bring the brine to yummy town and make the brine darker, but they also help pickles maintain their crunch. I don't have grape leaves, so I just use bayleaves.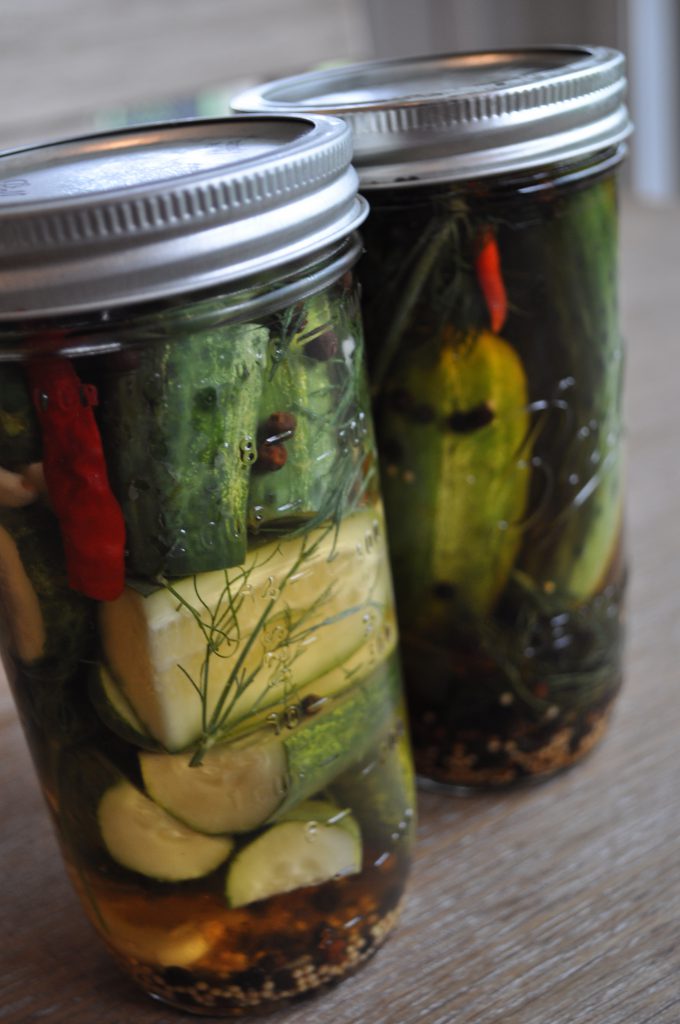 The chips ended up disappearing before the rest were ready. I hate it when that happens.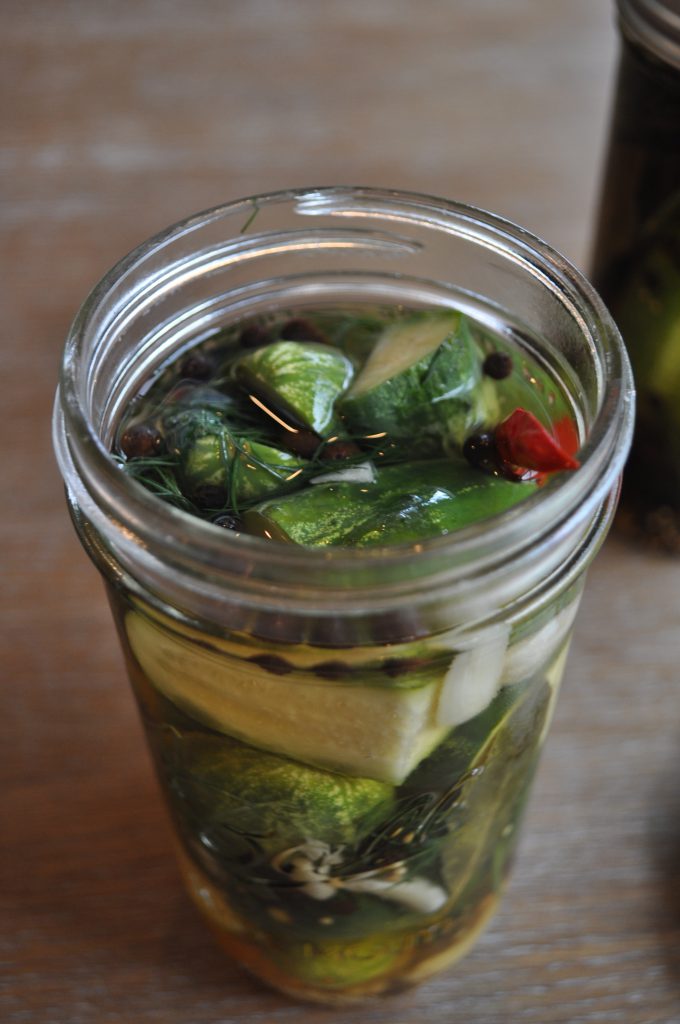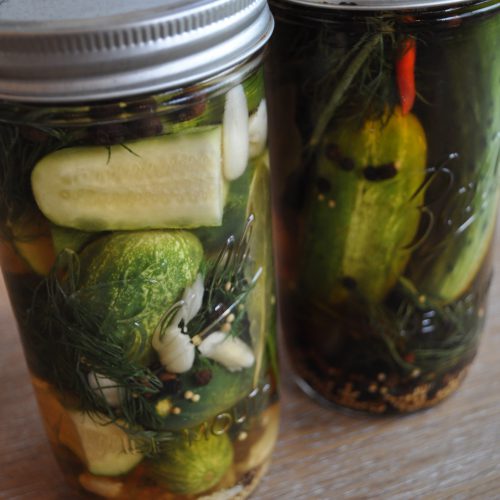 Ingredients
2

pounds

pickling cucumbers

12

cups

distilled water

1

cup

white vinegar

6

Tbsp

kosher salt

2

tsp

mustard seeds

2

tsp

allspice berries

2

tsp

black peppercorns

12

cloves

garlic

(smashed)

2

handfuls

fresh dill

4

dried red chiles

(can substitute with red pepper flakes for more spice)

4

bay leaves
Instructions
In a large mixing bowl, fill bowl 1/2 full with heavily iced water. Filtered water is fine for this step. Add in cucumbers; submerge them completely in the water.

To make the brine: in another large mixing bowl, combine distilled water, vinegar, and salt with a whisk until salt is dissolved. It's okay if the mixture looks cloudy from fast whipping.

Slice pickles to your liking.

In 2 quart size mason jars or a single 2 quart mason jar, layer cucumbers with garlic and dill. Divide the mustard seeds, allspice, peppercorns, bay leaves and red peppers equally in jars. Carefully pour the brine over the cucumber mixture in the jars. Submerge cucumbers completely.

Close lids tightly and rinse off with cold water if any brine spilled outside jars. Gently turn the jars upside down and rightside up over the sink to disperse the seeds. Place in refrigerator to rest. See notes for when different cuts of pickles will be ready to be eaten.
Notes
I like to fill the jars with brine in a clean sink. This way if any brine spills, you can rinse it right down the drain.
When will the pickles be ready?
Pickle chips = 1-2 days
Pickle spears or quarters = 2-3 days.
Pickle halves = 3-4 days
Whole pickles = 5 days
Good luck avoiding them before they're ready.
You can certainly eat them sooner or later than these times, I just find these are the ideal *sweet spot* waiting times.
These will keep their best quality in the fridge for a week or two. They should still be safe to eat for a month.
Click here for the quart size jars. Click here for a single 2 quart jar.
Nutrition
Calories:
24
kcal
|
Carbohydrates:
4
g
|
Protein:
1
g
|
Fat:
1
g
|
Saturated Fat:
1
g
|
Sodium:
3492
mg
|
Potassium:
137
mg
|
Fiber:
1
g
|
Sugar:
1
g
|
Vitamin A:
72
IU
|
Vitamin C:
4
mg
|
Calcium:
29
mg
|
Iron:
1
mg