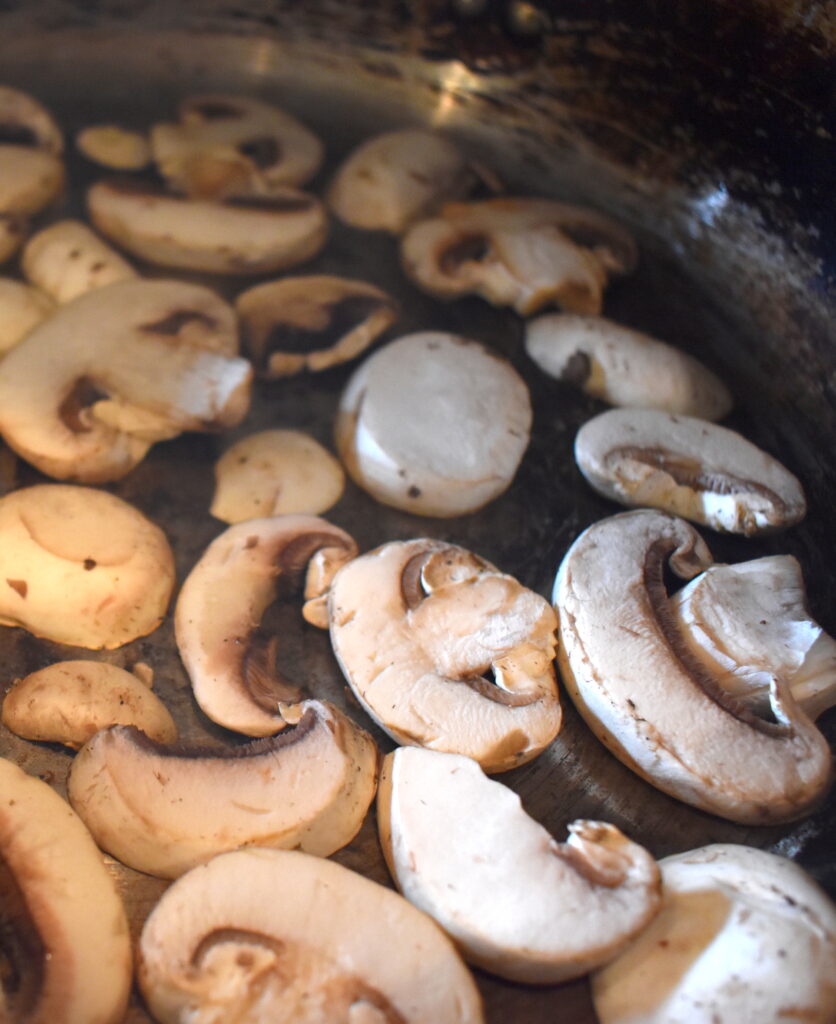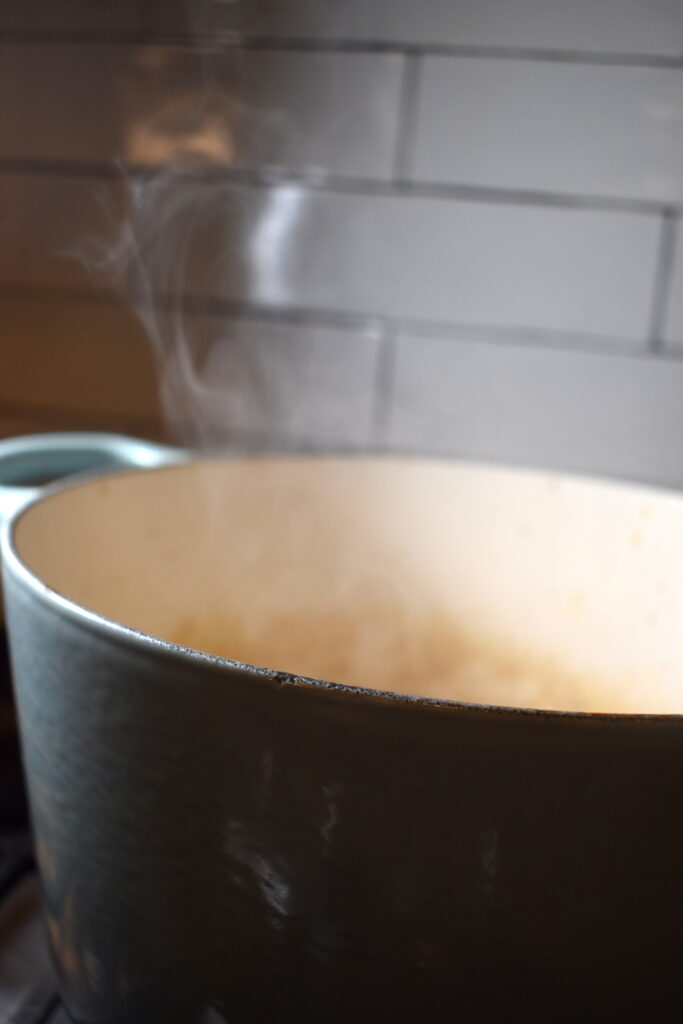 Today we're going to talk about the ultimate comfort food: RIS-OH-TOE. I just added that weird spelling because this dish is so good I need to say it a little slower. Plus I'm just a wee bit dramatic. Wait what?! What is risotto, anyway? Risotto is just a warm-ooey-gooey bowl of carbs and cheese. Sign me up! Best part? It looks totally impressive like you worked on it all day but it takes all of a half hour to throw together. You can pair this truffle mushroom version with a nice lobster tail, a great steak, roast chicken, or just eat it all by itself; it is cool enough to go stag to the prom. I promise!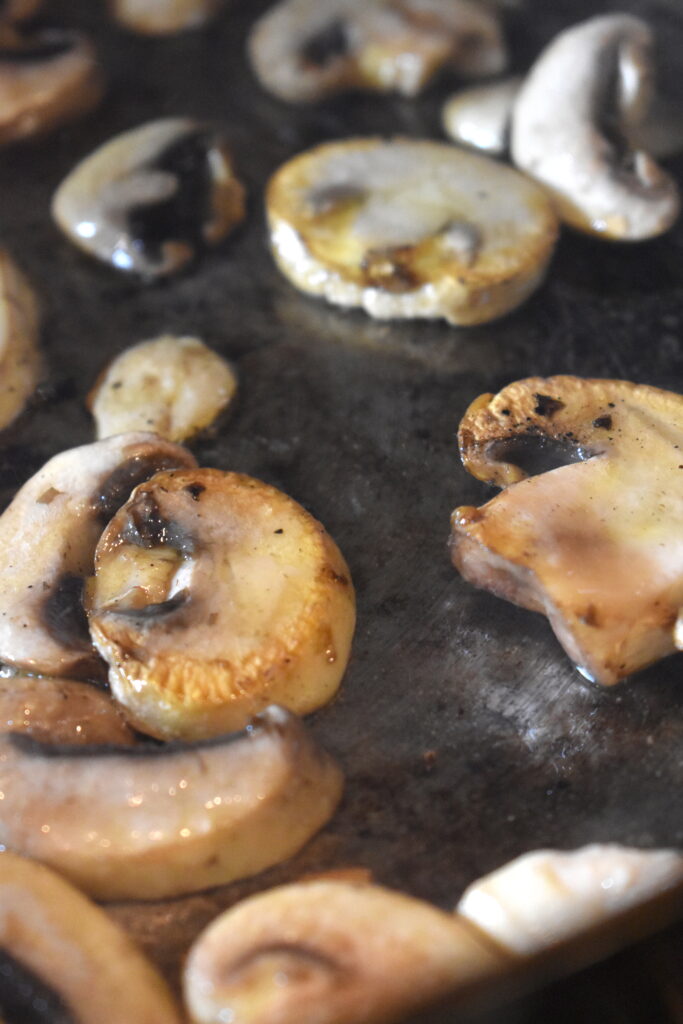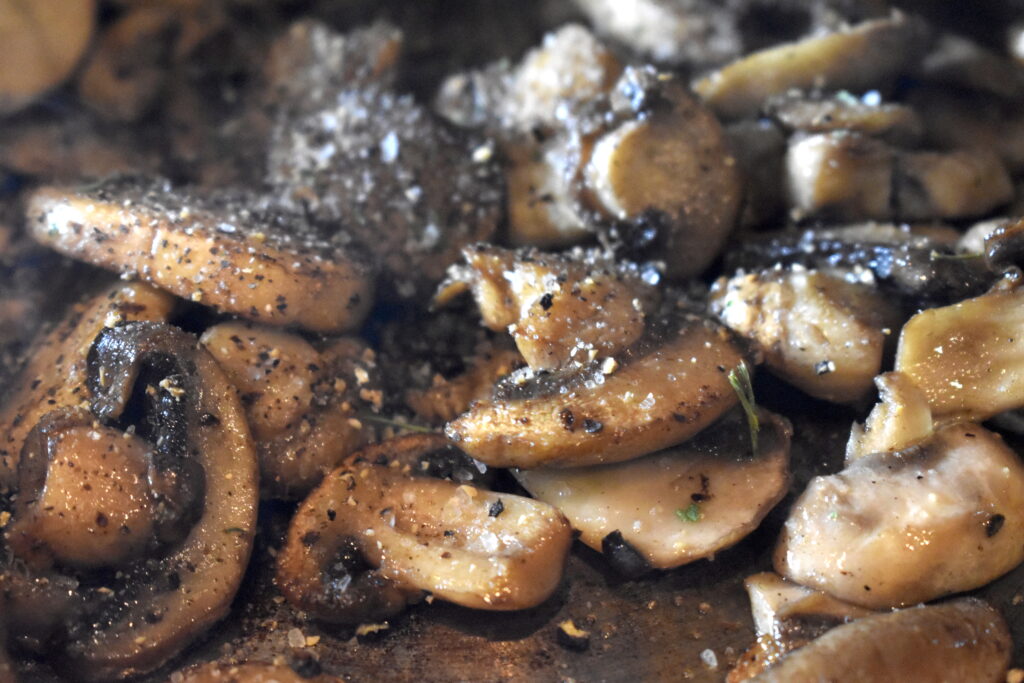 Risotto is a creamy, cheesy concoction that has northern Italian roots. If you're trying to eat Italian and stay away from gluten, you're good to go! It is made with rice, not pasta, so no flour and no gluten. It contains butter, onions, garlic, white wine, rice, and stock. You can make it vegetarian by switching the stock from chicken to vegetable. You can make it vegan by omitting the butter & cheese since the dish gets plenty of creaminess from the special rice in it. Risotto absorbs whatever flavors you put in it. You can make a plain garlicky base, you can throw in some roasted vegetables to make a risotto primavera, you can throw in saffron and seafood for a spin on paella. Just go crazy because risotto is equal parts fun and fancy. Put your fancy pants on and get creative!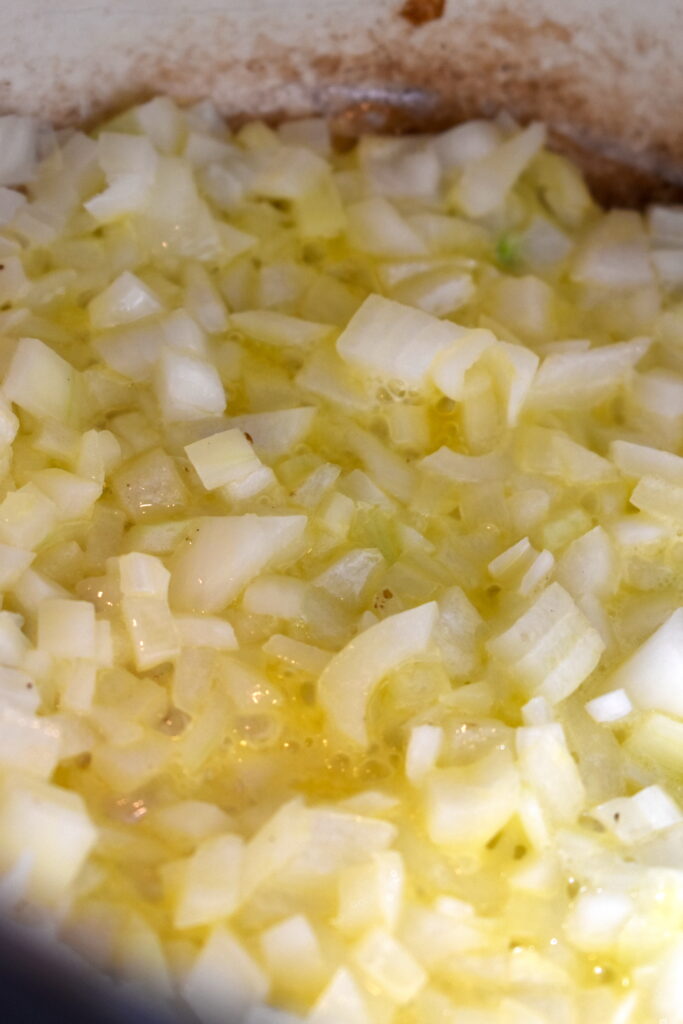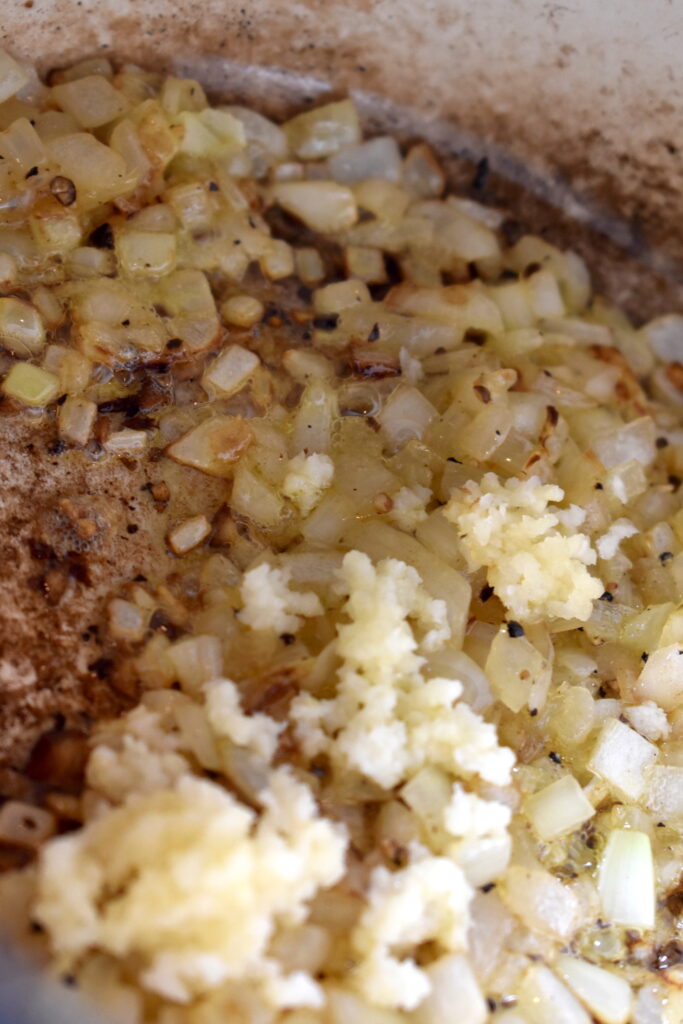 This truffle mushroom version is my son's favorite–and just let me tell ya–that is high praise indeed. He's a tough crowd to impress with food. If he says it's a big deal–it. is. a. BIG. DEAL! I just wish I could whip up a batch for like… the entire world, ya know?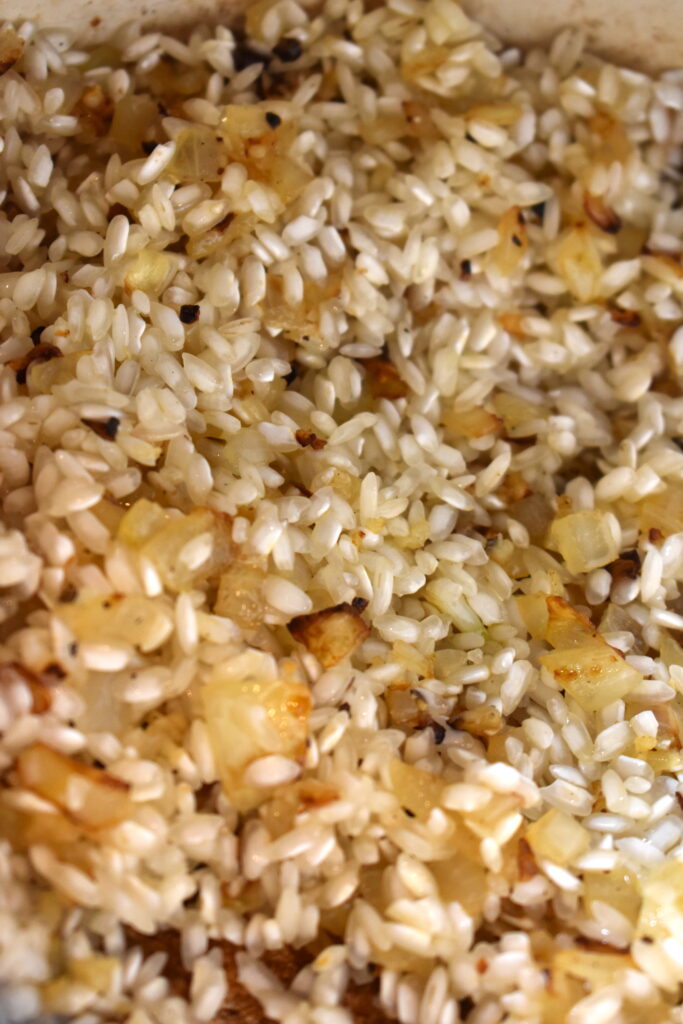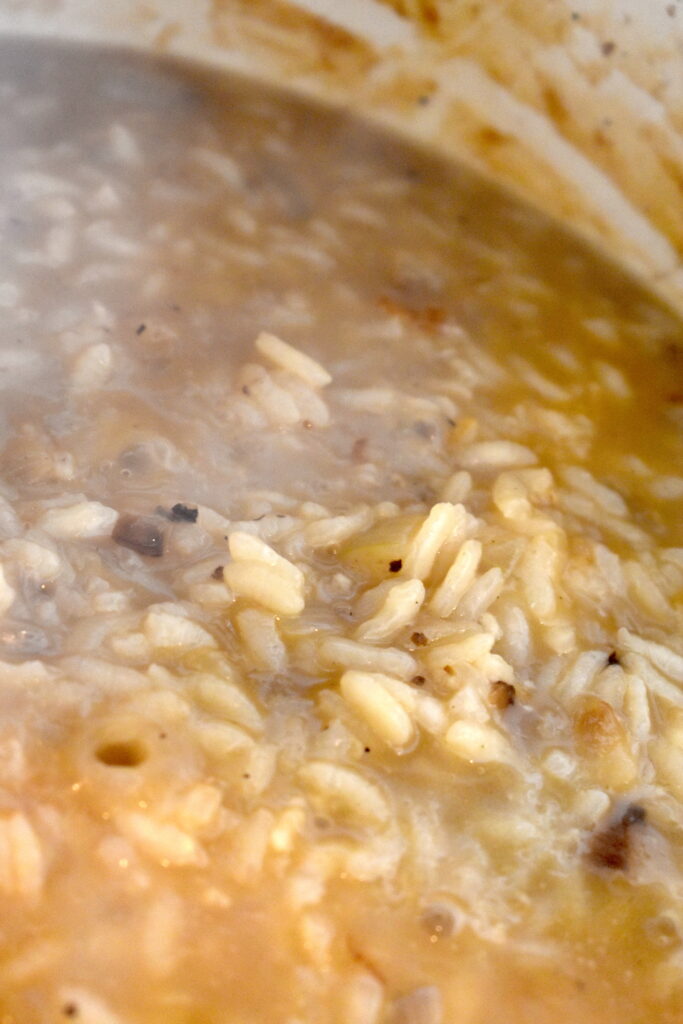 I want to make it for you, bougie-mom-at-the-PTO-meeting since I avoided eye contact with you. It's not personal; you're just too cool for me.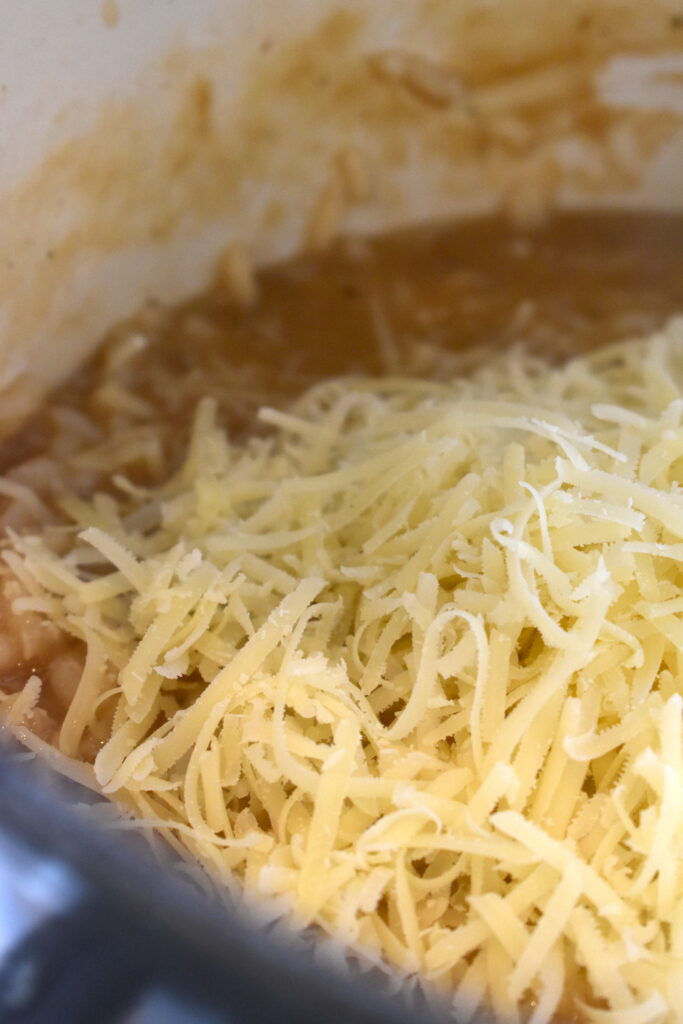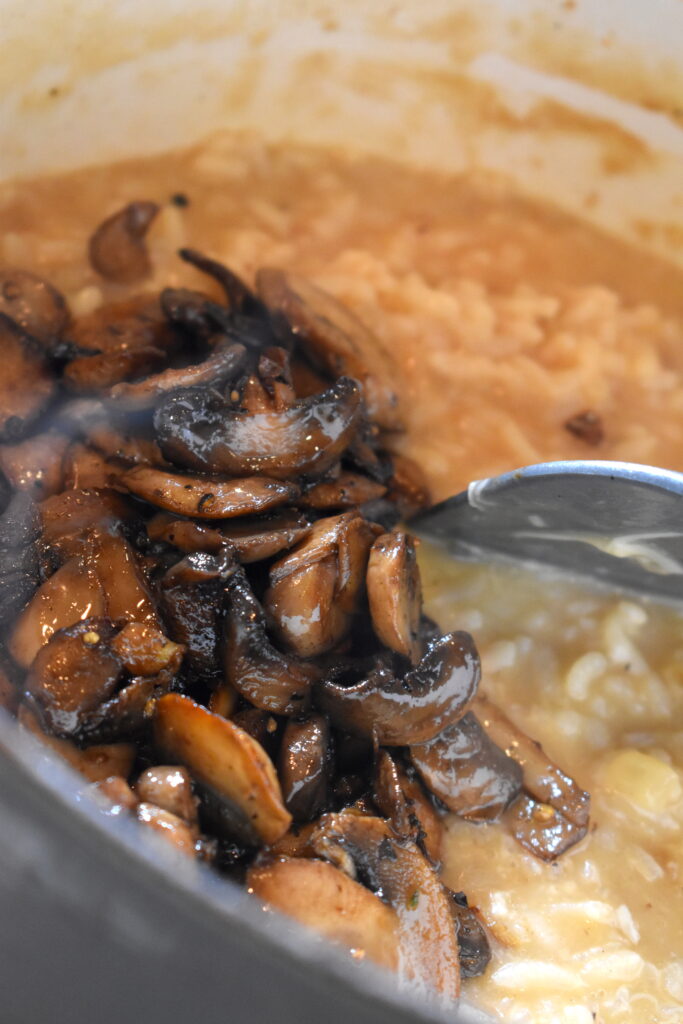 I want to make it for you, Jenn Aniston, because the dang press has relentlessly hounded you and told lies about your social life since 1994.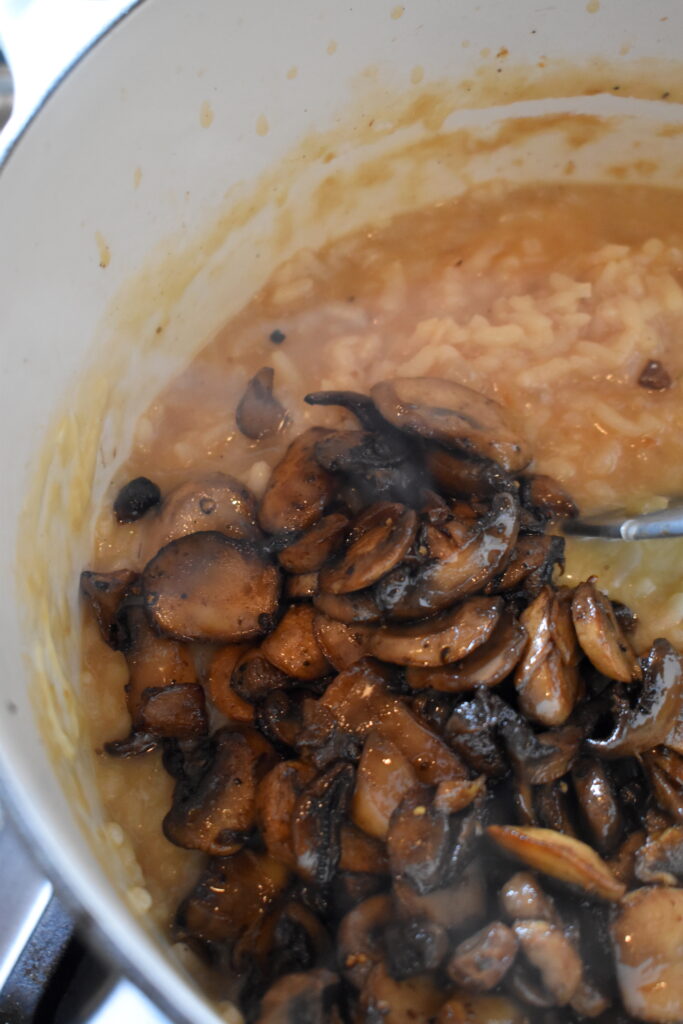 I want to make it for you, Carrie Underwood. Your songs about smashing up a cheater's car are such a vibe. I'm here for it!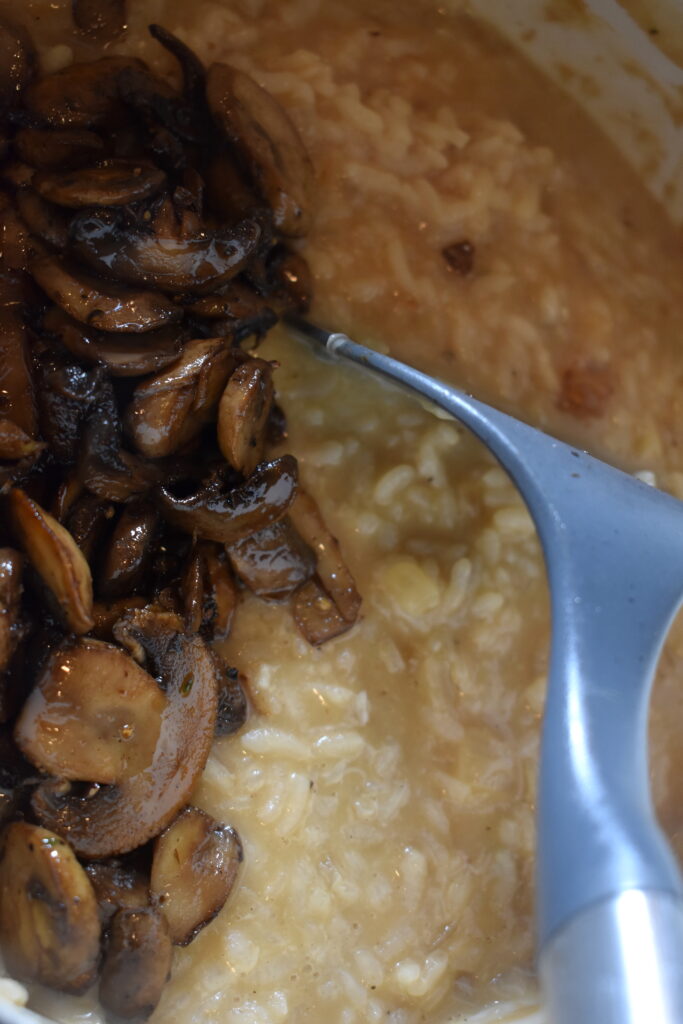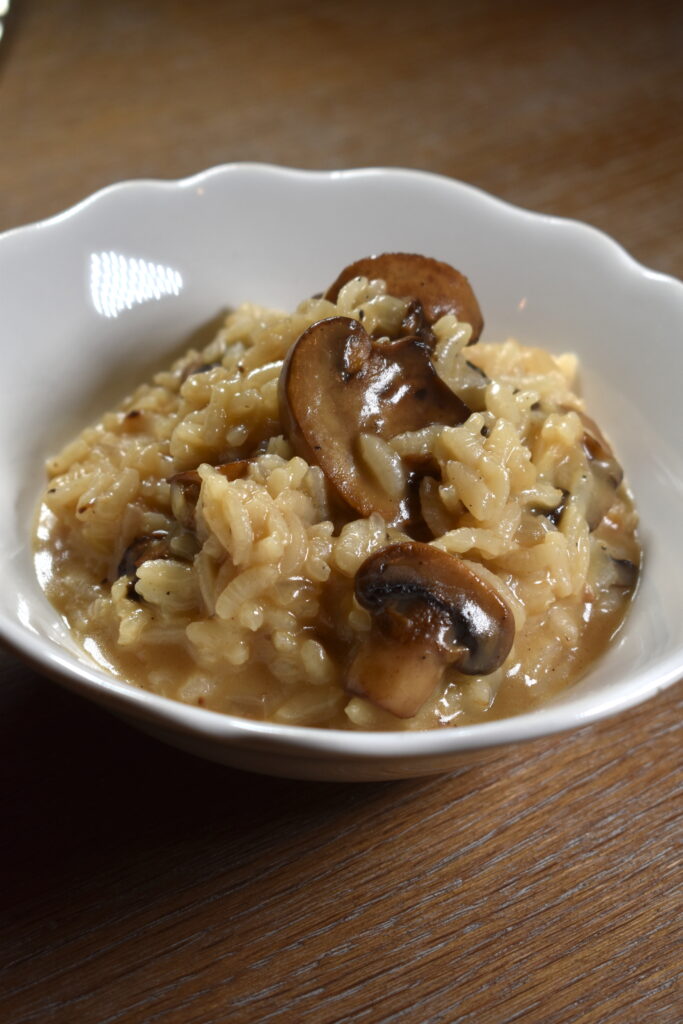 I want to make it for you, my dear husband. I'm hoping this will soften the blow of the Amazon spend for this month. Here's hoping!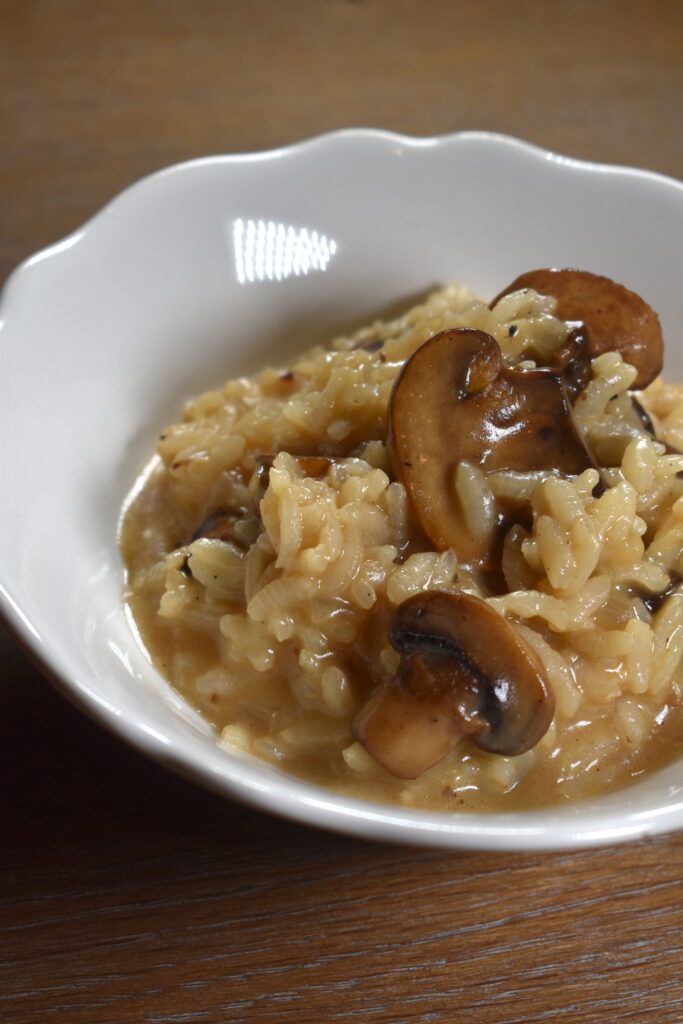 I even want to make it for you, little miss Crossfit. You're fitter than a Navy Seal and you need everyone to know that. Maybe we'd be BFF's if we could carb load together; you'd just go to the box and I'd do some hardcore napping after.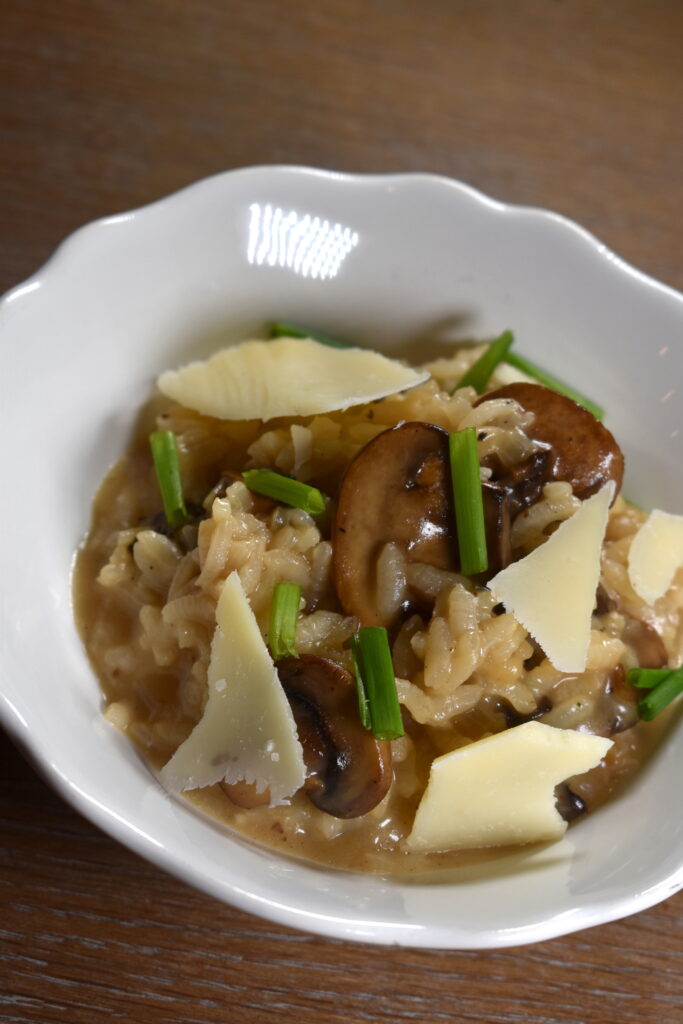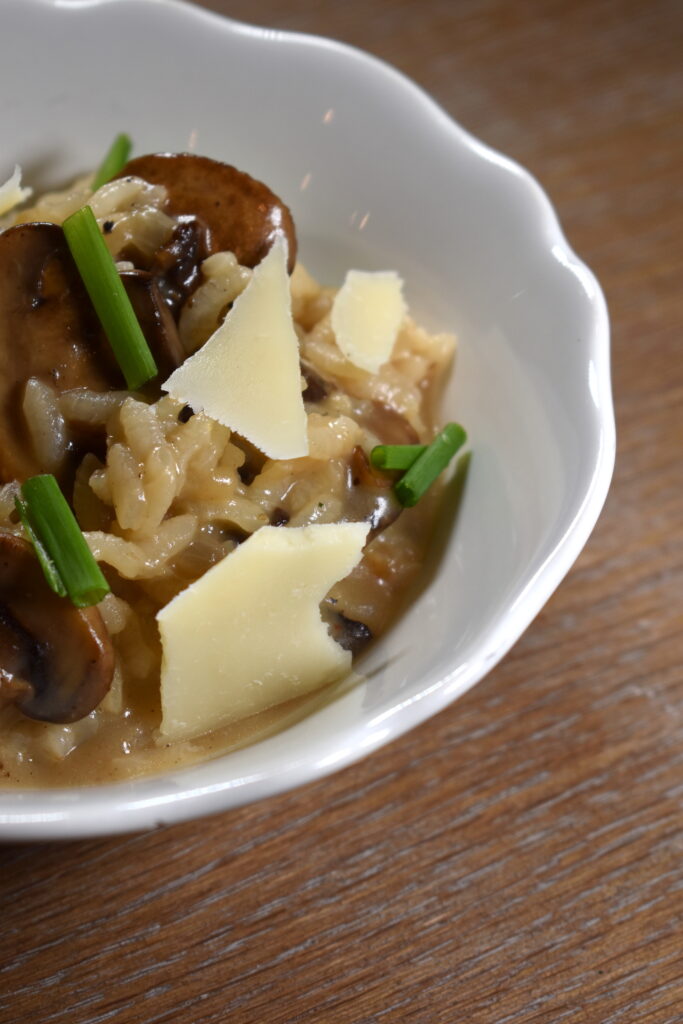 So clearly, "the entire world" includes you. Because I like you, and I like cheese, and I like wine, and I like carbs, but I believe all of that is better together. That truffle oil drizzled in with all of that is ERRTHANG. Trust!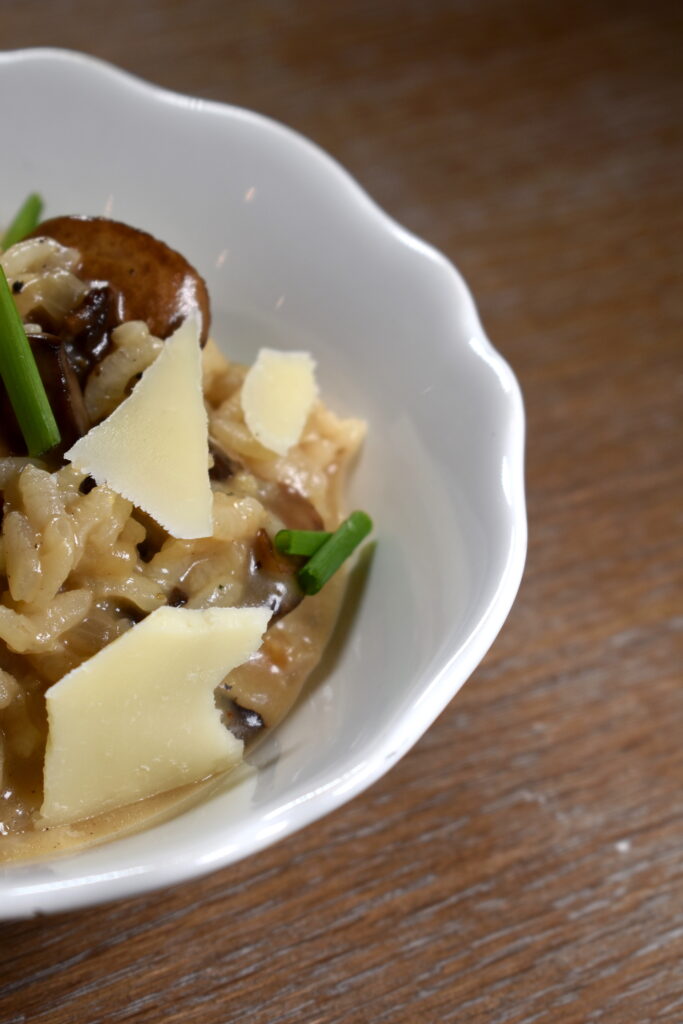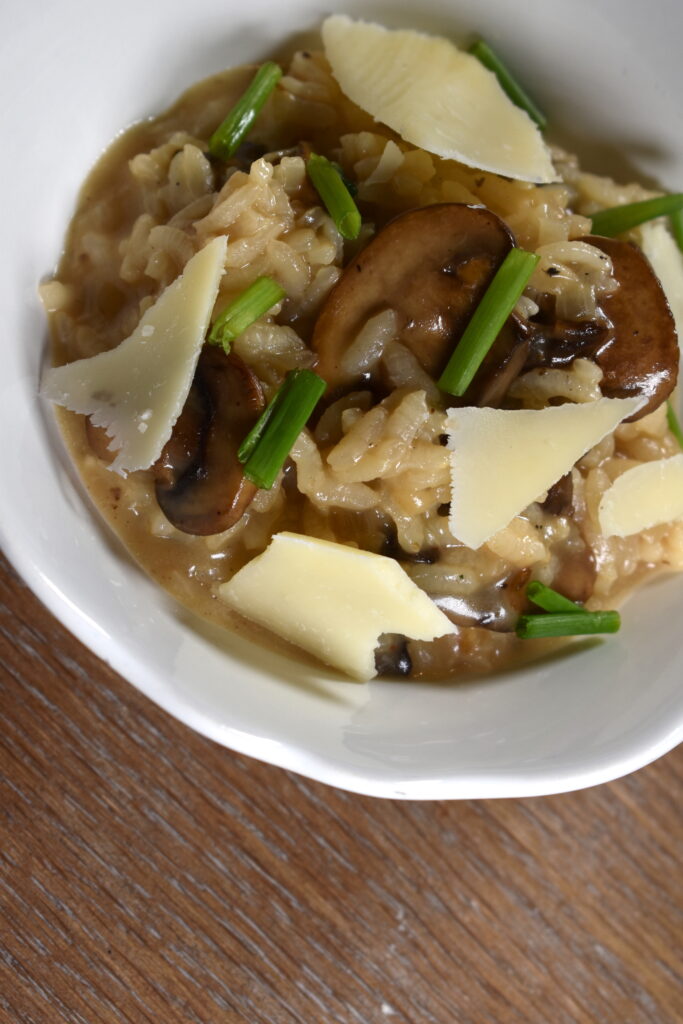 For God's sakes just make a batch. You gotta. I don't make the rules.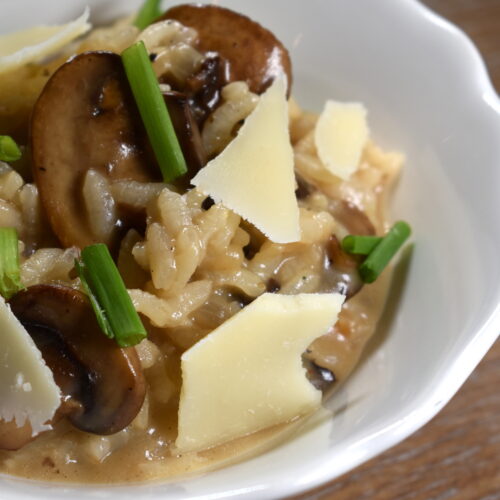 Ingredients
4

cups

chicken stock

1

lb

cremini mushrooms

(thickly sliced)

2

tsp

olive oil

1/2

tsp

fresh thyme leaves

salt and black pepper, to taste

1

medium

onion

(diced)

5

cloves

garlic

(minced)

1

cup

arborio rice

¾

cup

white wine

¾

cup

parmesan

(freshly grated)

2

tsp

truffle oil

shaved parmesan

(for garnish)

3

Tbsp

chives

(for garnish, sliced in ½ inch pieces)
Instructions
In a medium saucepan, heat stock over low heat and cover.

Heat a very large sauté pan over medium-high heat. Once hot, add mushrooms in a single layer, working in batches if necessary. Heat mushrooms with no oil or salt at first. Cook for 2-4 minutes, or until mushrooms are whistling.

Add in olive oil and thyme, then stir mushrooms. Cook until mushrooms are browned on both sides; stir in salt and pepper. Remove mushrooms from heat and set aside.

In a heavy bottomed stockpot or a dutch oven, heat butter over medium heat until melted. Add in onions and cook for 3-4 minutes or until browned. Add in garlic, stir, and cook until garlic is fragrant (about 30 to 60 seconds).

Add rice to onion mixture. Cook until rice is lightly browned and toasty, about 4 minutes. Pour in white wine and cook until wine is reduced, about 3 minutes.

Add stock into rice mixture about ½ cup at a time, adding more when the stock is almost absorbed into rice, stirring occasionally. (Each addition takes a few minutes to absorb.)

Once the stock is all in the rice and the rice is cooked through, stir in cheese until melted, then remove from heat.

Stir truffle oil into the mushroom mixture. Fold mushrooms into risotto. Serve and garnish, as desired.
Notes
Browned edges on mushrooms are easy if you don't crowd the pan. Leave some room around them like you're baking cookies and DO NOT STIR until they're browned on one side; also start the mushrooms out browning dry in the pan, and don't salt until the end.
I'm just weird like that and I'm picky about sautéed mushrooms, but you could totally throw them in the pan in a big clump if you don't care about such silly things; I'm just a bougie foodie.
Nutrition
Calories:
454
kcal
|
Carbohydrates:
59
g
|
Protein:
19
g
|
Fat:
12
g
|
Saturated Fat:
5
g
|
Polyunsaturated Fat:
1
g
|
Monounsaturated Fat:
6
g
|
Cholesterol:
20
mg
|
Sodium:
655
mg
|
Potassium:
911
mg
|
Fiber:
3
g
|
Sugar:
8
g
|
Vitamin A:
264
IU
|
Vitamin C:
5
mg
|
Calcium:
271
mg
|
Iron:
4
mg