I was going to call this one proctology chicken because this bird has an ingredient called "Doctor" something up its arse. C'mon. It was just too easy. But I didn't because that name may not sound too appetizing. Also, the chicken seemed to have had some feelings about it; strictly judging by its pose.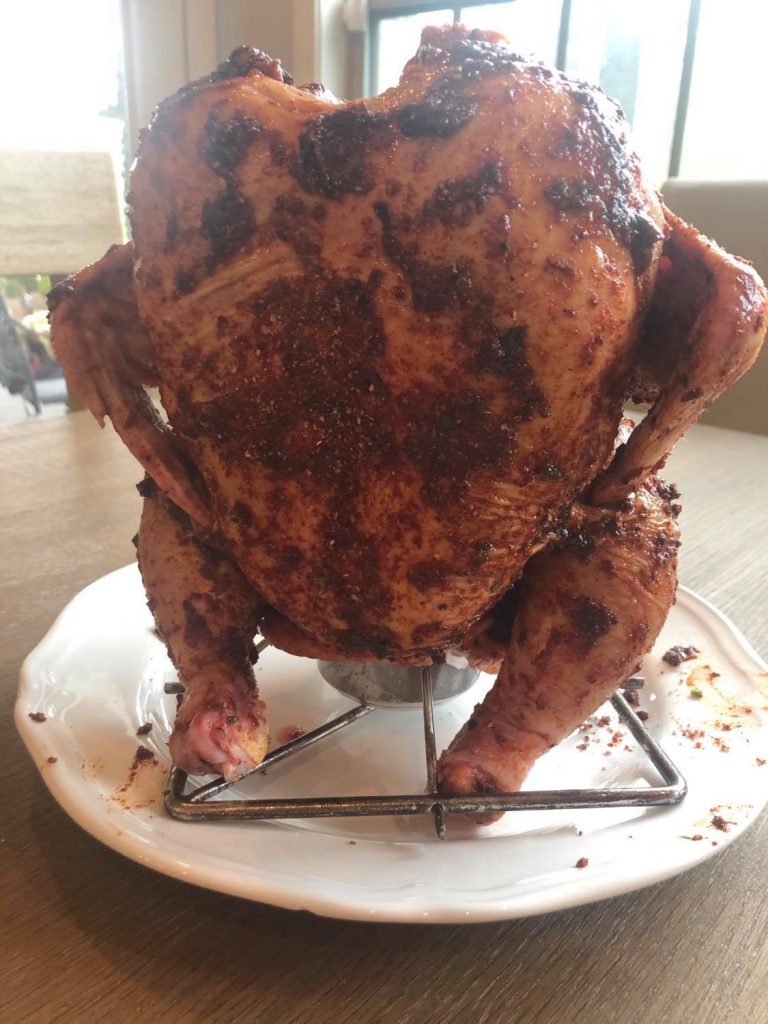 Trust me. It's GOOD. All you need is a smoker (this is the one we have), some charcoal, some applewood chips, a chicken, a can of Dr Pepper, a handy dandy device (click here to purchase) that holds a can up in the bird's undercarriage, and a whole lot of spices, you're good to go.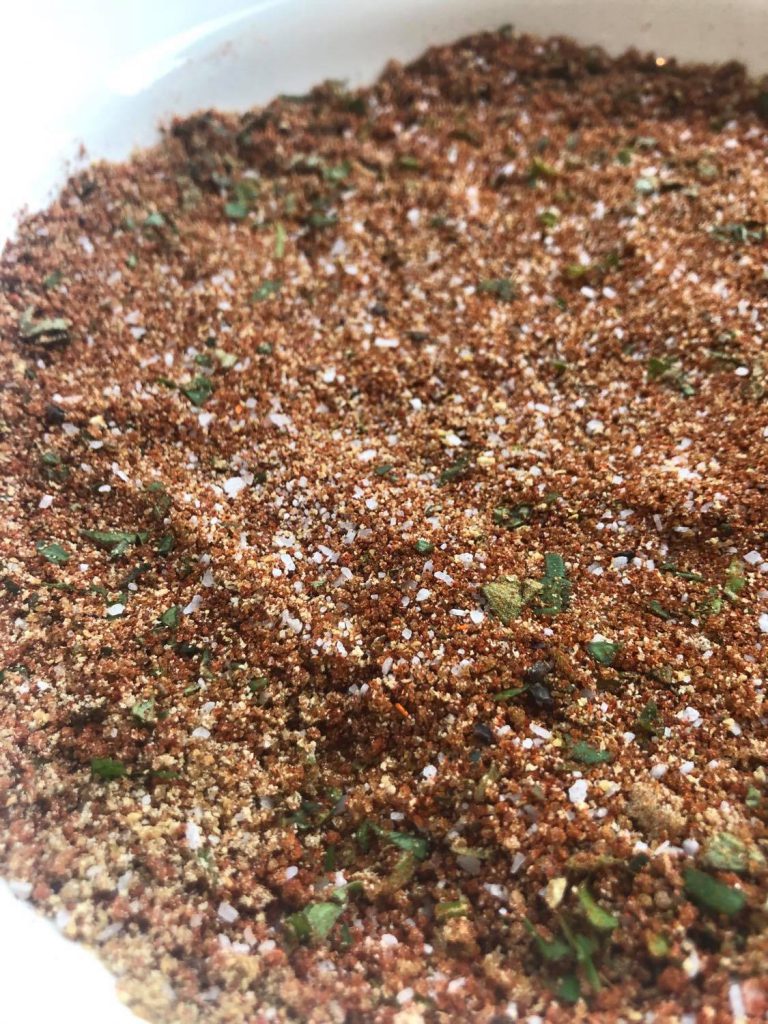 Look at how pretty that spice rub is.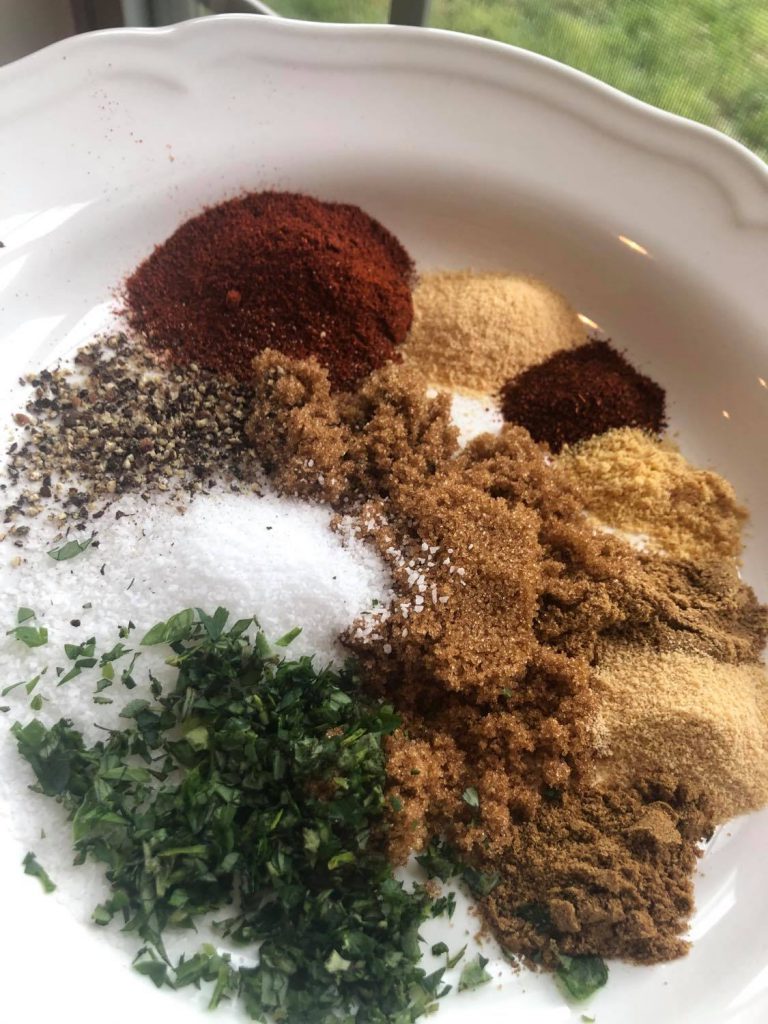 Above is a "before the spice rub was mixed" pic.
My son doesn't like BBQ or anything smoked but he downed this like it was his last meal.
DISCLAIMER: any time you're smoking anything, it's a labor of love. It's not going to be ready in an hour, so it's not a weeknight dinner. It takes a bit for the smoker to even come up to temp and then another couple hours to smoke.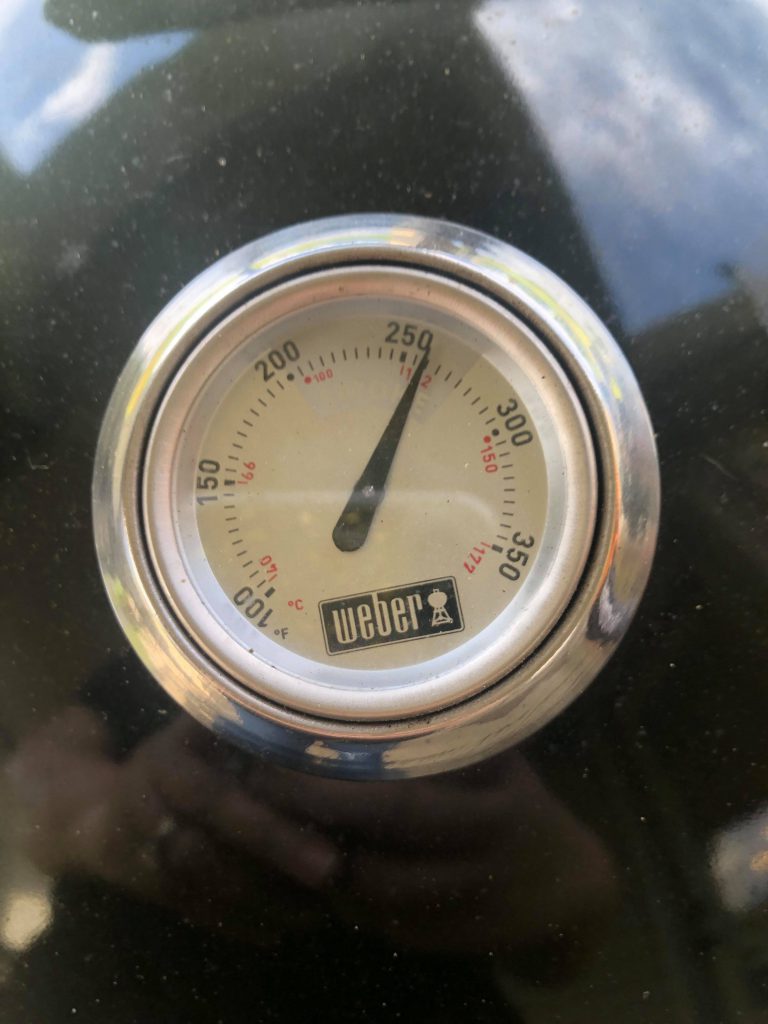 It's more of a invite the squad over and drink a few cold ones while you wait for this thing to get ready. Sounds like my kind of night, TBH.
I always recruit my man to do the rubbin'. HEY! I'm talking about spice rubs. Get your dirty mind out the gutter.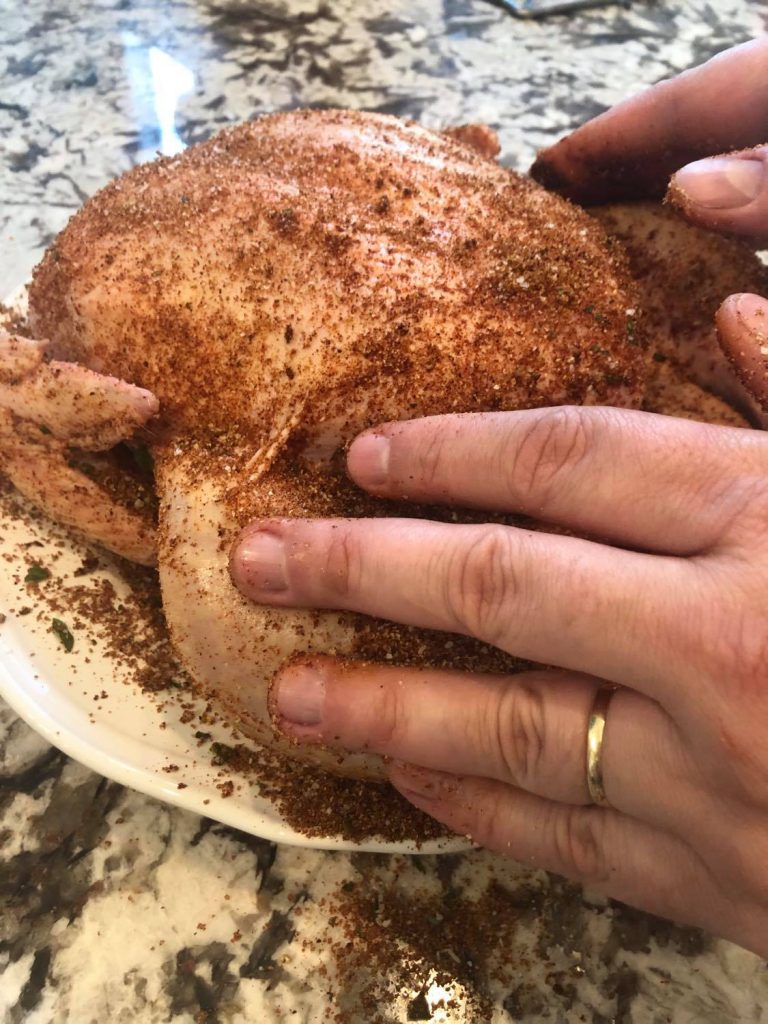 Also do what I say and not what I do. I bought the incorrect size can of Dr Pepper that would not fit in the rack for this.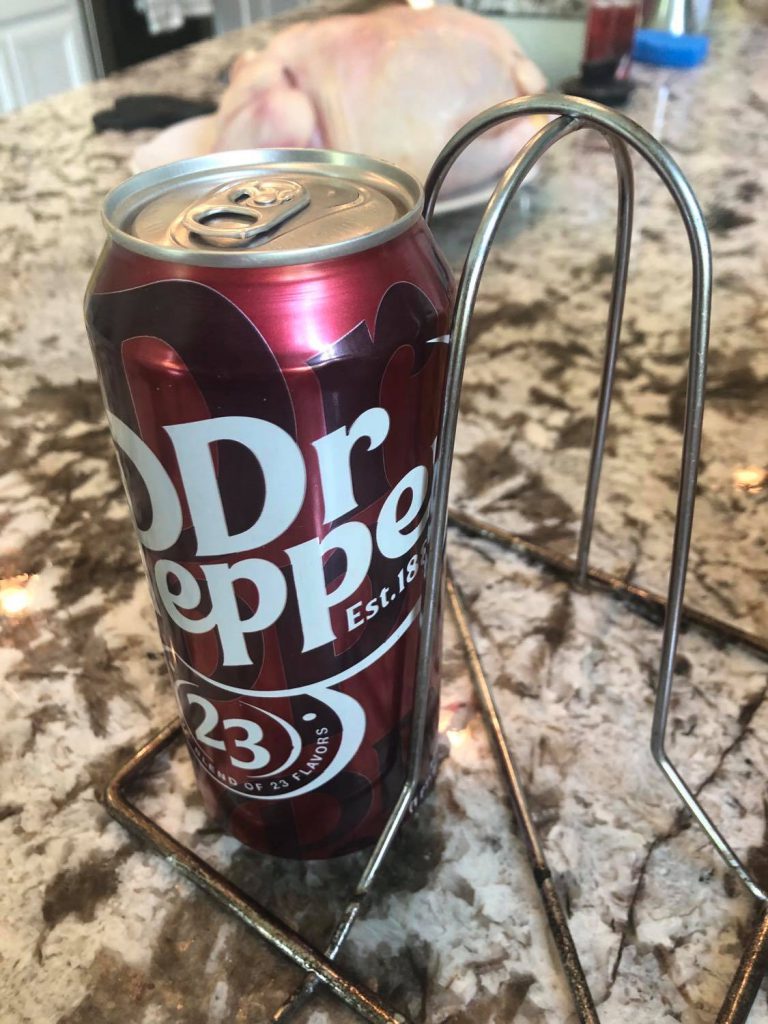 I tasked my husband with downing a beer from the fridge really quick so I could rinse it out and pour the Dr Pepper in the beer can with a funnel. He was happy to oblige. Modern problems require modern solutions.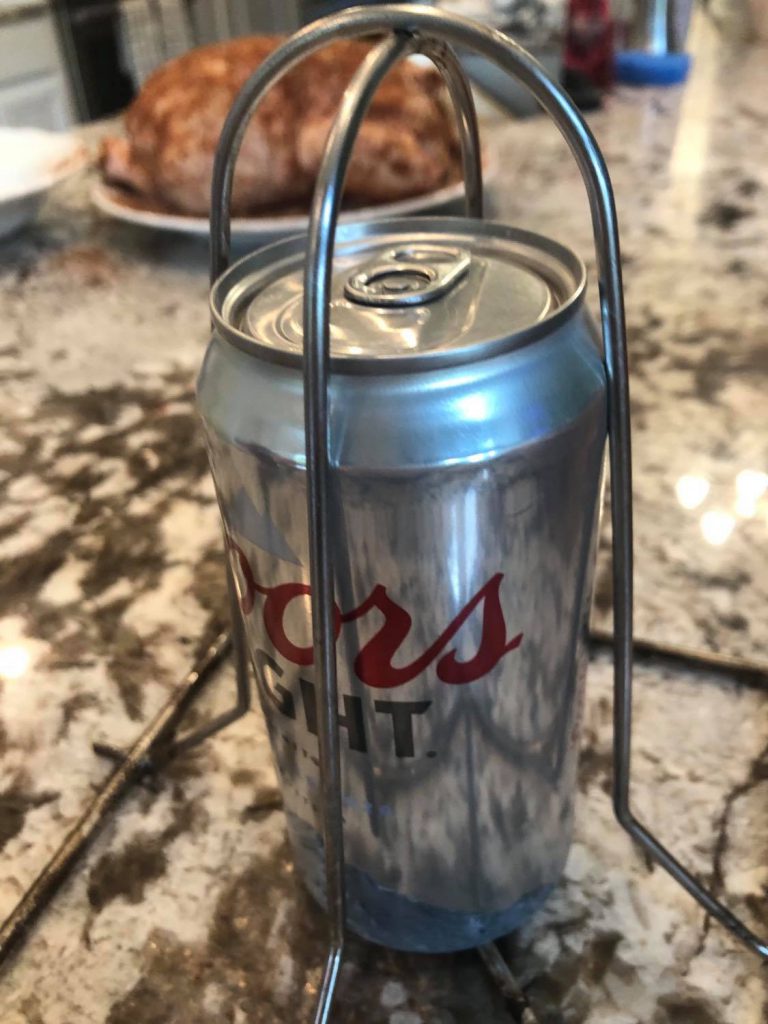 The 12 oz can fits. A 20 oz can? Not so much.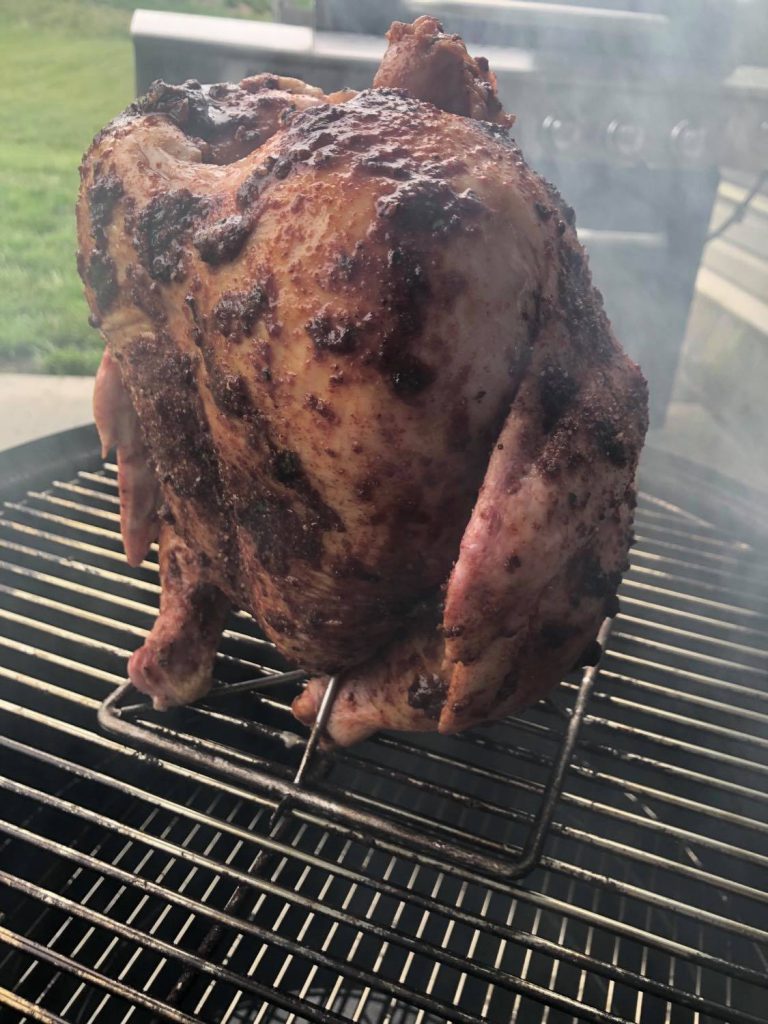 Place the bird over the rack and let that smoker do its thang.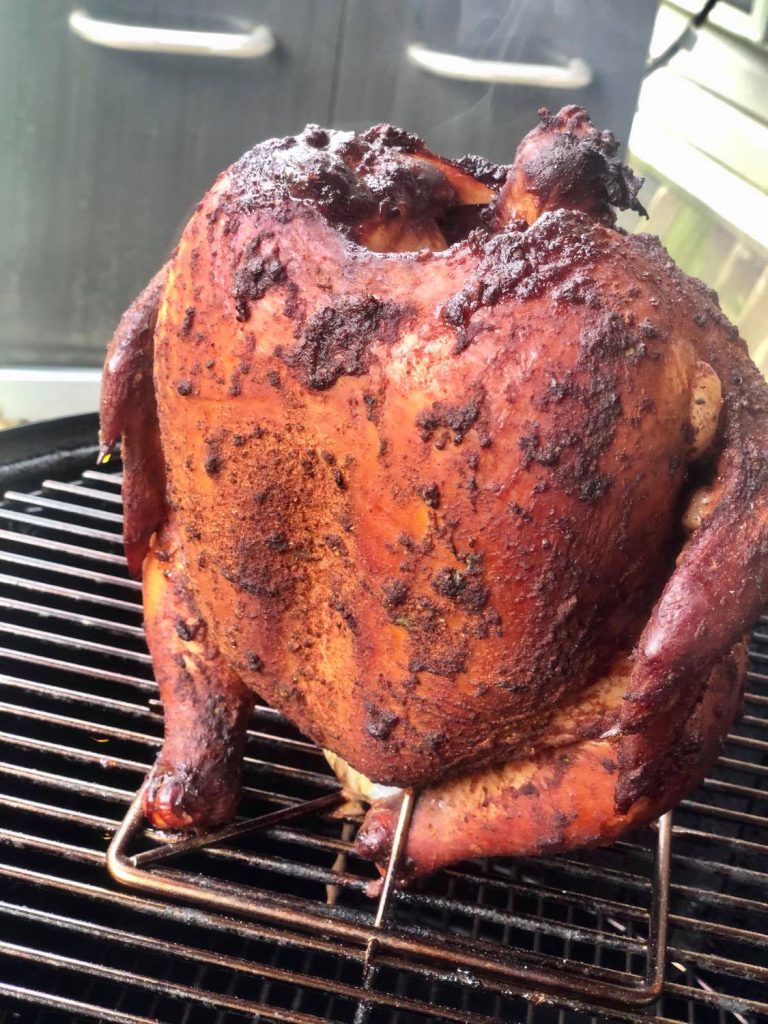 Boom. Done. The can adds a steam element to the cavity that keeps the bird from drying out.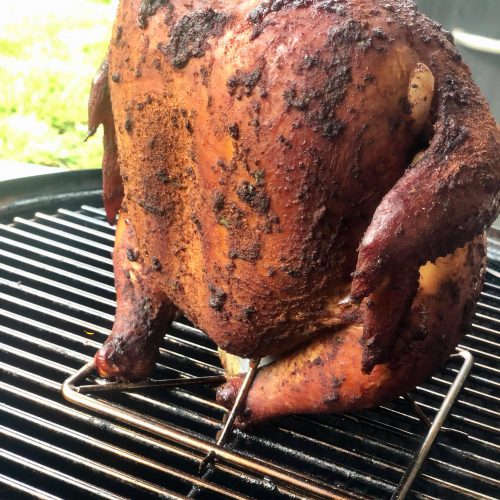 Ingredients
1

whole

roasting chicken

12

oz

can Dr Pepper

2

cloves

garlic

(smashed)

2

sprigs

rosemary
For the Spice Rub:
2

Tbsp

brown sugar

1

Tbsp

kosher salt

1

tsp

black pepper

1

Tbsp

paprika

1

tsp

garlic powder

1/2

tsp

chili powder

1/2

tsp

mustard powder

1/2

tsp

ground coriander

1

tsp

onion powder

1/2

tsp

cumin

4

Tbsp

minced fresh herbs

(tested with thyme, oregano, tarragon, and parsley)
Instructions
Add charcoal and two handfuls of applewood chips to smoker. Light according to manufacturer recommendations. Bring to smoking temp (between 200-275).

Remove giblets and innards from the chicken cavity.

Pat the chicken dry with paper towels.

Mix spice rub and rub all over outside of bird.

Pour out or drink 1/4 of the Dr Pepper in the can. Add smashed garlic and fresh rosemary to the inside of the can. Place can in the can rack for the chicken. Carefully place chicken (drumsticks end down) over the rack so the can is in the cavity and the chicken is standing securely vertically.

Carefully place the chicken (still on can rack) vertically on smoker. Cover. Cook for about 2 hours, or until chicken hits 170 degrees F.
Notes
DO NOT USE quick light or match light charcoal for smoking. The long cook time and smoke will make your chicken taste like lighter fluid. Be patient in lighting the charcoal. Use newspaper if necessary to light the charcoal.
Try not to check and uncover the chicken until close to the end of the cooking time, or you'll lose heat in the smoker and it will take longer and potentially dry out.
Nutrition
Calories:
245
kcal
|
Carbohydrates:
34
g
|
Protein:
2
g
|
Fat:
1
g
|
Saturated Fat:
1
g
|
Cholesterol:
1
mg
|
Sodium:
7008
mg
|
Potassium:
36
mg
|
Fiber:
2
g
|
Sugar:
24
g
|
Vitamin A:
759
IU
|
Vitamin C:
21
mg
|
Calcium:
31
mg
|
Iron:
1
mg