IF EVER there were a condiment that summed me up as a human, it's got to be hot honey. It starts out with sweet intentions, it gets boiling and turns all fiesty and full of fire; it's unexpected, it can be thrown together at the last minute, and most importantly: it's a hot mess. I mean. C'mon. I even store it in a wide mouth jar. (Click here the optimal sized jars.)
But let's get back to what we're here to discuss: what is hot honey? Hot honey is just honey infused with hot peppers until it's died and gone to condiment heaven. It took me 10 minutes to whip this up and longer to photograph it.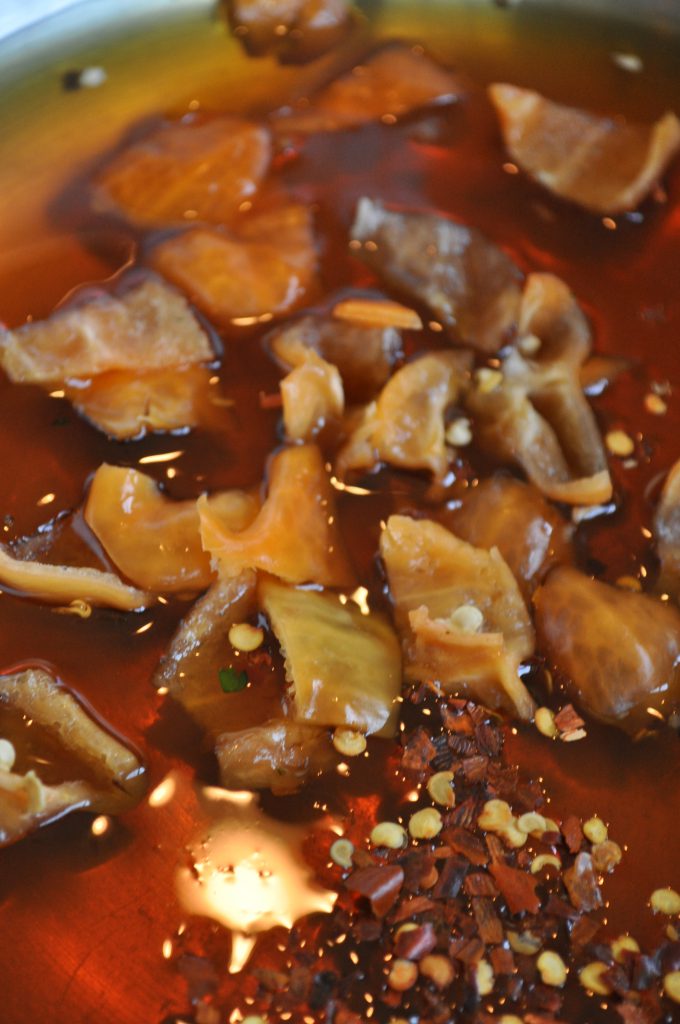 The above photo was before boiling it and infusing it. That rogue piece of parsley is making my eye twitch. I chop a lot of parsley and it turns up in some places it doesn't belong when I'm cooking more than one thing at the same time. #BlessThatMess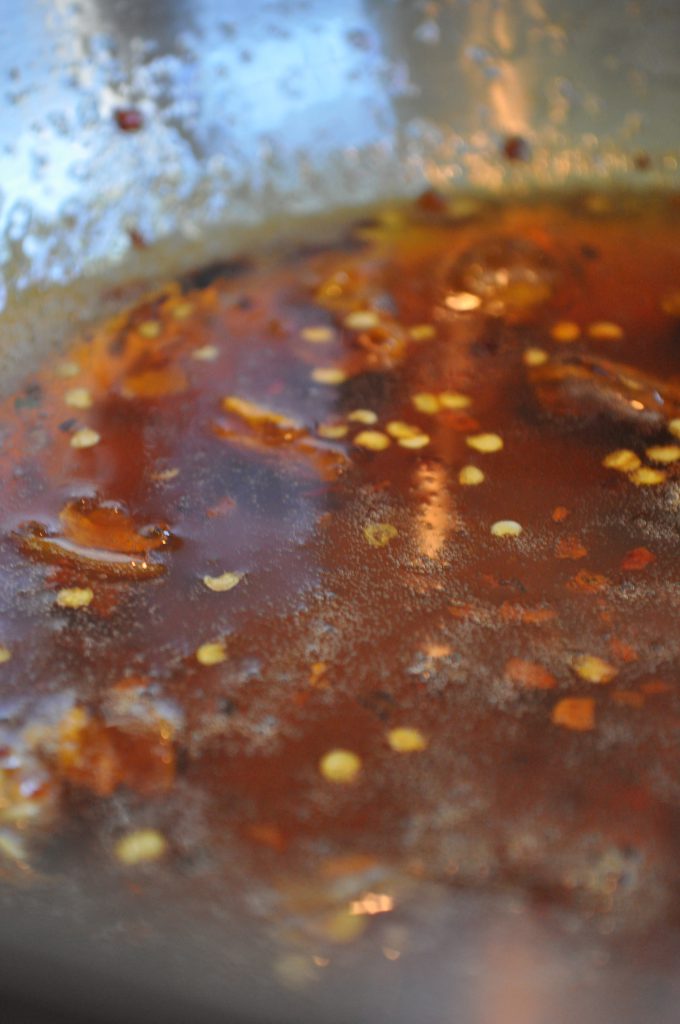 Look at how the color got more caramelized after boiling. Also notice how the peppers shrank and withered. That is because they released all their oils and flavor. That honey is now full of sugar and spice and everything nice.
You must be thinking–interesting concept, but what can you do with it?
Crispy chicken of any sort begs to be drizzled with hot honey. Chicken wings? You bet your britches! Your mom's delicious fried chicken? This steps it up a notch or 12. Chicken and waffles? Have mercy.
Cocktails. Replace regular honey with hot honey in any cocktail recipe that calls for a bit of honey.
Honey mustard or any sort of homemade salad dressings. WHOA BABY. Honey mustard salad dressing from the 90's? Tired and played out. Hot honey mustard? Fresh and inventive.
Biscuits. Yes and amen. The way the Good Lord intended.
Replace regular honey with hot honey in any meat marinade. Hot honey mixed with some salt and acid (like red wine vinegar or citrus) on pork is simply divine.
Seafood. Shrimp tastes amazing with hot honey. My firecracker salmon (pictured below) makes you hot for your honey that cooked it for you. Drizzle it over some seared scallops and you'll have a new drug of choice.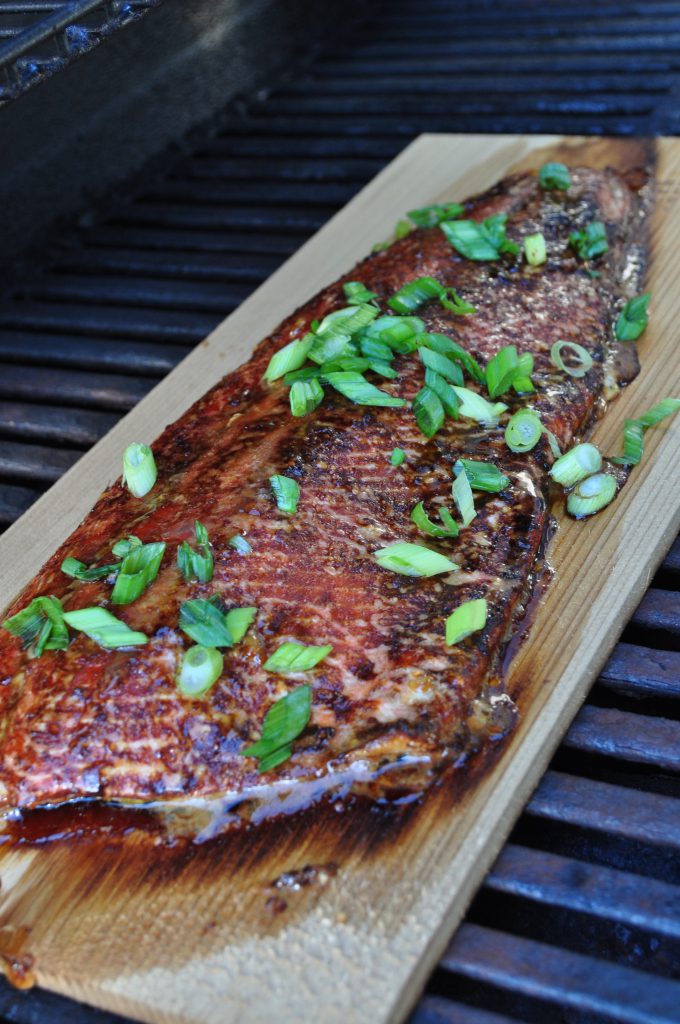 Click here for the firecracker salmon recipe.
I'm tempted to carry it around in my purse in case of emergencies to drizzle over a sad plate of boring restaurant chicken.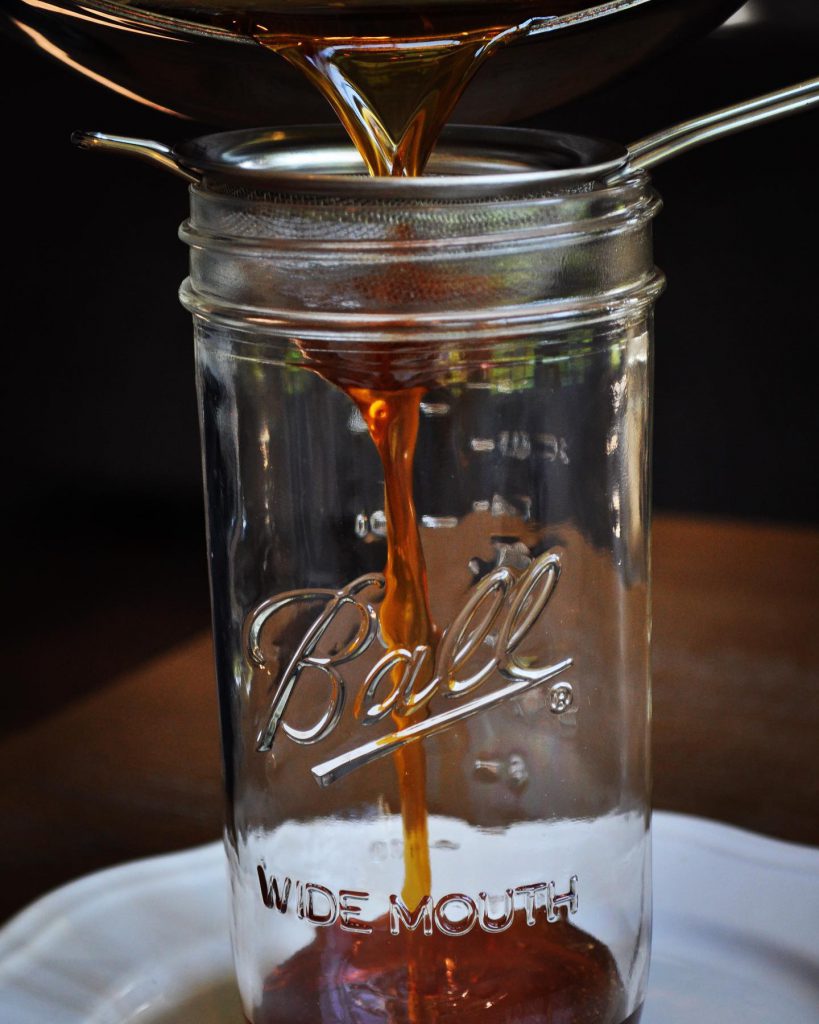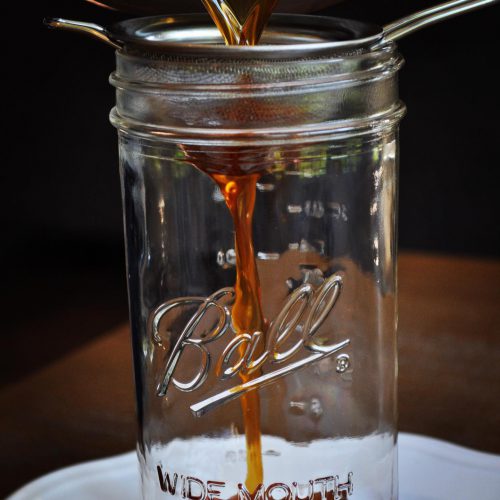 Ingredients
2

habaneros

roughly chopped

1

tsp

crushed red pepper

12

oz

honey

preferably local
Instructions
In a large saucepan, add in all ingredients and whisk together.

Place pan over medium heat for 5 minutes, or until honey comes to a full rolling boil. Whisk frequently.

Remove from heat, then cool.

Pour into a glass jar through a fine mesh sieve or cheesecloth to remove peppers and chili flakes. Discard peppers.

To store after 1 hour of cooling, cover with lid and keep in refrigerator for up to three weeks.
Notes
If you hear nothing else I say, WEAR GLOVES when handling habaneros. You will bring the fire of a thousand suns to your eyes all the way through your retinas and back to your optic nerve when you touch your eyes if you forget this step. This is true even if you wash your hands after.
It is important to keep this honey in the fridge after cooling due to infusing it with fresh peppers that can spoil in it over time. If the honey crystalizes in the fridge, heat it for 30 second intervals in the microwave until it's smooth again.
PLAY WITH IT. To get the heat level just perfect to your liking, it may take a couple attempts. This recipe is pretty hot, so tone it down if you don't love heat. Add more if you want more heat. Feel free to use serranos or jalapeños instead if you want to decrease the heat. The seeds are the hottest part of the pepper, so leave them out for less heat. Leave them in for more heat.
USE A MUCH BIGGER SAUCEPAN THAN YOU THINK YOU WILL NEED. As this bubbles and boils, it quadruples in size and huge voluminous bubbles will make a spicy mess all over your kitchen if you use a tiny pan.
Nutrition
Serving:
1
Tbsp
|
Calories:
65
kcal
|
Carbohydrates:
18
g
|
Protein:
1
g
|
Fat:
1
g
|
Saturated Fat:
1
g
|
Sodium:
3
mg
|
Potassium:
18
mg
|
Fiber:
1
g
|
Sugar:
18
g
|
Vitamin A:
49
IU
|
Vitamin C:
2
mg
|
Calcium:
1
mg
|
Iron:
1
mg