Flank steak is the poor man's steak. You typically buy one or two and split it amongst multiple people. There was a time flank steak was tough and tired, but now it's hot and trendy. This steak don't want no scrubs. Meaning you can't just throw salt and pepper on it and grill it expecting it to be spectacular. So don't be hanging out the passenger side of your best friend's ride trying to holler that flank steak sucks. It doesn't. It just needs a little TLC (off see what I did there? Sometimes I'm too corny for myself to even handle. Pray for my family).
This steak. Hot damn. It's not one bit boring or tough. Bright aggressive flavors in both the marinade and the chimichurri let you eat fantastic steak on a burger budget.
You've just got to give it a few minutes of attention and then abandon it in your refrigerator. Whirl up that chimichurri in the food processor a few minutes before you throw that steak on grill, and you're good to go! Click here for my food processor. I got mine refurbished for half the price, but if you aren't that lucky… Click here for a much more affordable one.
It's not an aggressively stalky girlfriend type of food; meaning that you don't have to exert every drop of time, money and energy on it. This steak isn't looking for a sugar daddy or a spouse–it's more of a meetcute at a coffee shop kind of recipe. Those few minutes of prep pay off BIG.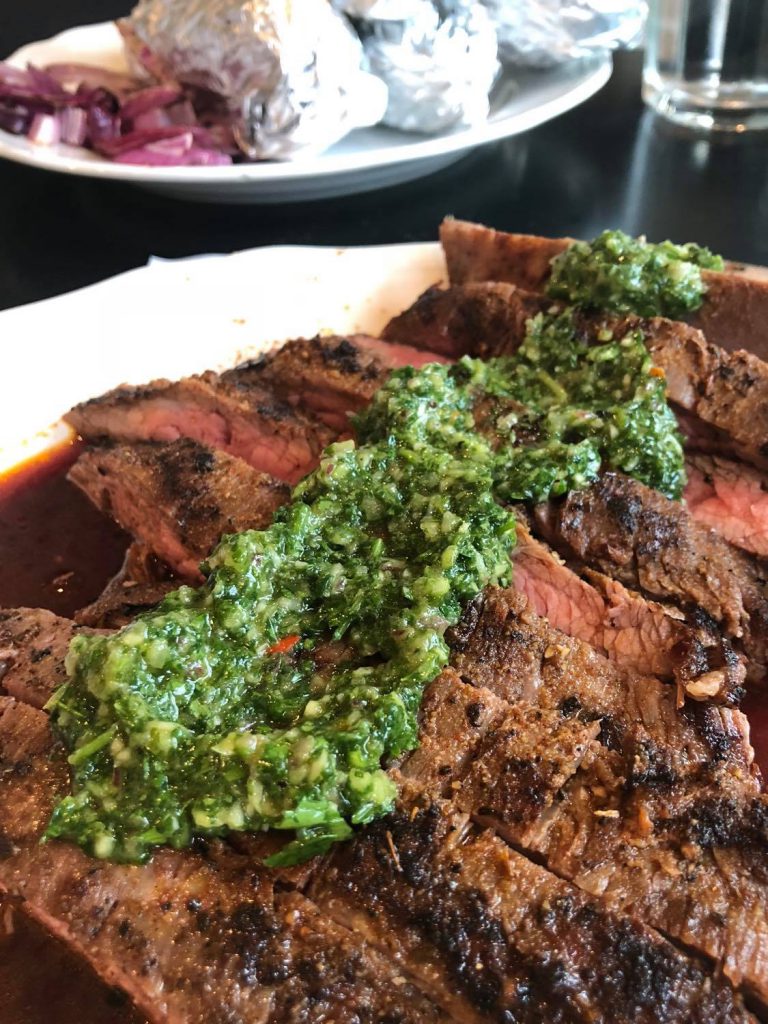 Just look at it. Come to mama.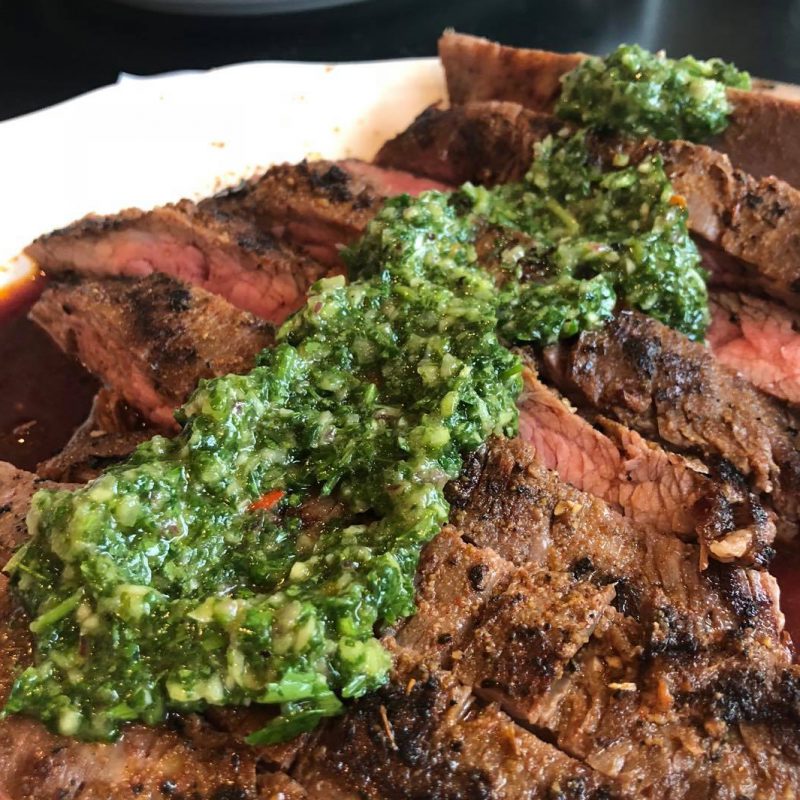 Ingredients
For the Steak Marinade
2

pounds

flank steak

⅔

cup

olive oil

⅓

cup

fresh orange juice

⅓

cup

fresh lime juice

⅓

cup

soy sauce

¼

cup

worcestershire sauce

¼

cup

red wine vinegar

4

cloves

garlic

(minced)

3

Tbsp

kosher salt

2

tsp

black pepper
For the Chimichurri
1

cup

fresh cilantro

1

cup

fresh parsley

⅓

cup

olive oil

¼

red onion

(chopped)

3

cloves

garlic

(chopped)

1

Tbsp

red wine vinegar

1

tsp

kosher salt

½

tsp

black pepper

¼

tsp

red pepper flakes
Instructions
Combine all ingredients for the steak marinade in a resealable plastic bag. Add steak to marinade and reseal. Place on a plate or a casserole dish in case the bag comes unsealed. Place this in the fridge and marinate at least 4 hours, or up to 12.

Remove steak from marinade and preheat grill to 500 degrees. Discard marinade. Add steak and grill 5 minutes, covered. Flip. Grill 3-4 minutes on second side.

Remove steak from grill and place on a plate. Cover with foil. Let rest for about 10 minutes.

While the grill is coming to temp, add all ingredients for the chimichurri into a food processor fitted with an "S" blade. Pulse until chimichurri reaches your desired consistency, scraping sides if necessary.

Slice steak against the grain and place on serving platter. Top with chimichurri. Serve.
Notes
Only flip these steaks once. This is important to keep it covered and let the grill do its thing so the heat doesn't escape.
Slicing "against the grain" simply means look for lines in the beef that run line lines on hardwood floors. These lines are typically from end to end, lengthwise. Slice perpendicular to those lines. It does drastically effect the tenderness and quality, believe it or not.
WHATEVER YOU DO, DO NOT BE TEMPTED TO SKIP THE RESTING PHASE. The juices in meat are at boiling temp when coming off the grill. If you slice into it too early, the juices will drain out all over the plate and you'll have a tougher and drier end product. The resting allows the juices to cool and redistribute so they end up in your mouth, not all over the platter.
Nutrition
Calories:
354
kcal
|
Carbohydrates:
6
g
|
Protein:
35
g
|
Fat:
22
g
|
Saturated Fat:
6
g
|
Cholesterol:
72
mg
|
Sodium:
3799
mg
|
Potassium:
653
mg
|
Fiber:
1
g
|
Sugar:
2
g
|
Vitamin A:
1056
IU
|
Vitamin C:
17
mg
|
Calcium:
75
mg
|
Iron:
4
mg