So basically we are a high school flop house. I have no idea how many rising 9th graders I will be feeding when I start dinner on any given night.
So I cook for an army when I hear that one is coming. These kids are like Noah's ark. It's never just one. They arrive in pairs. This could be actual footage of me when they descend. #BlessThatMess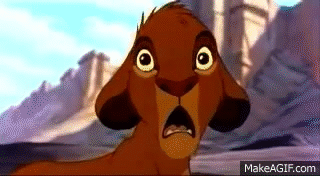 I need to come up with a band called "Panic! At the Costco". That statement is a summation of my every day life.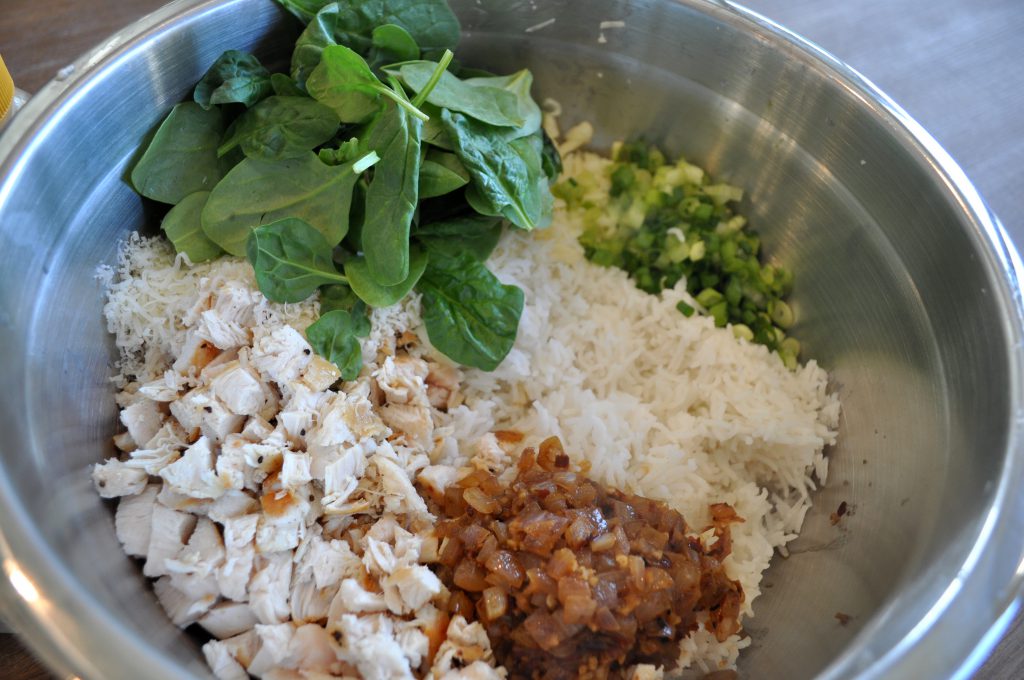 My spinach dip chicken casserole is a great "batten down the hatches" dish or a "what the hell am I supposed to fix for my friend who just gave birth" dish or a "dear Lord how many mouths live here and how many just hang here". This one goes out to all the people feeding a zillion kids on the regular. This is such a great dish for any type of situation or conundrum.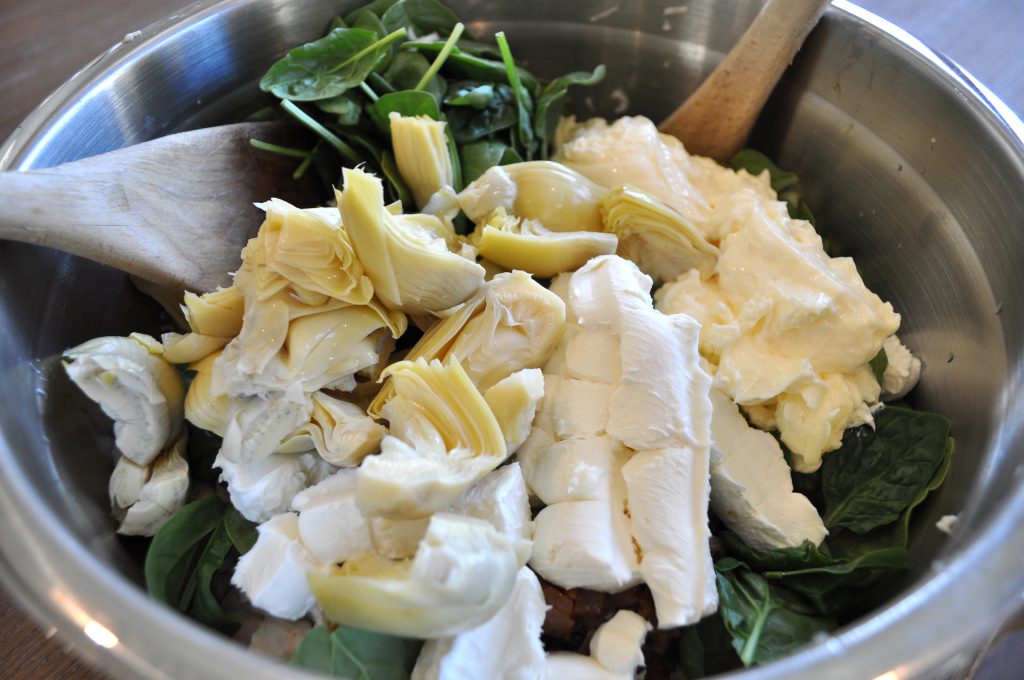 This dish would be what would happen if chicken rice casserole and cheesy spinach artichoke dip had a baby. Prep and cook a couple things, toss it together with a bunch of ingredients in the biggest dang mixing bowl you got, throw it in a casserole dish and bake. Bing bang boom done.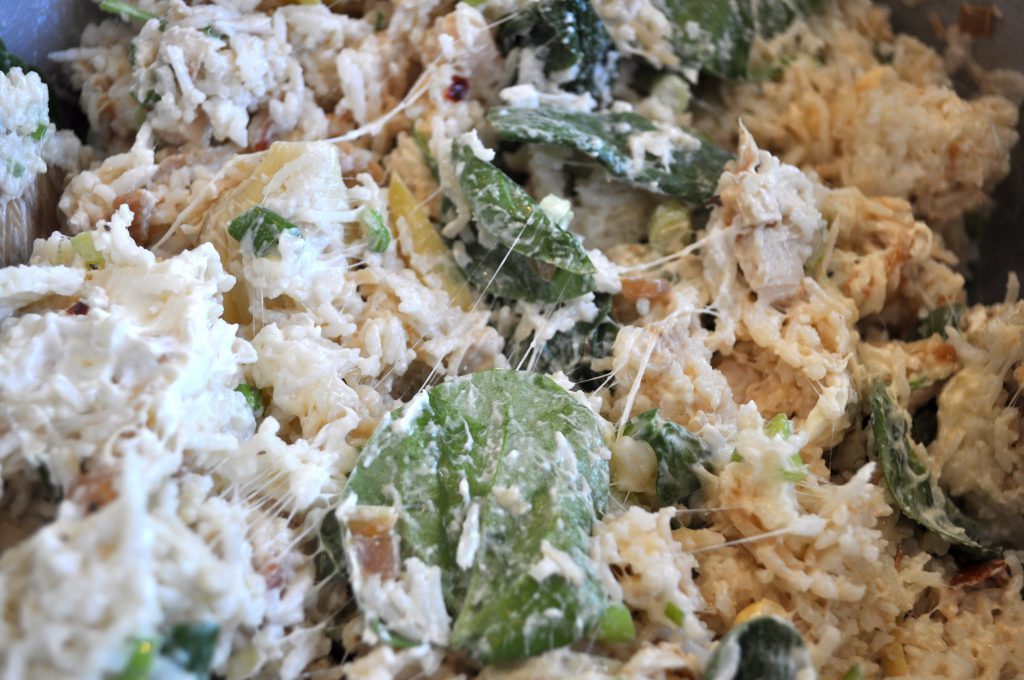 Your eyes do not deceive you. That above pic has stringy bits of cheese stretching out that looks like marshmallow strands in a big bowl of Rice Krispie treats before they go in the pan. This is made possible with both (1) a lot of cheese and (2) ingredients that make that cheese even stretchier like mayo (TRUST!) and cream cheese. I HATE MAYO and I love this. Most spinach dips have mayo in them.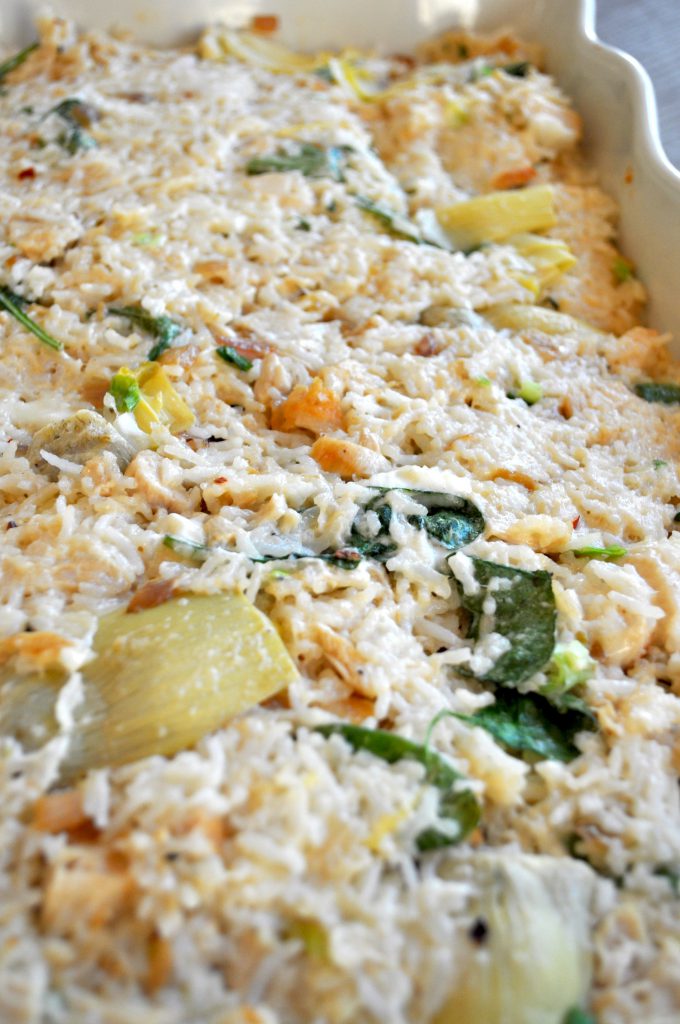 I've made this dish for a lot of people and I never know what I put in it to share the recipe…. but this time I DID IT. I MEASURED. I WROTE IT DOWN.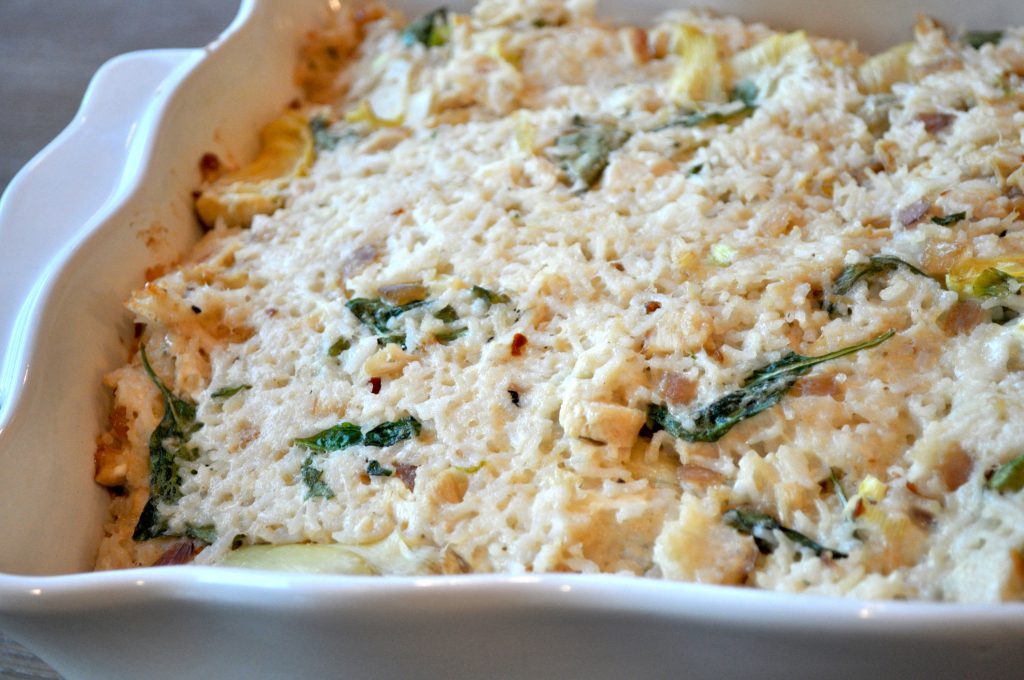 This hot mess of a casserole quagmire is finally over.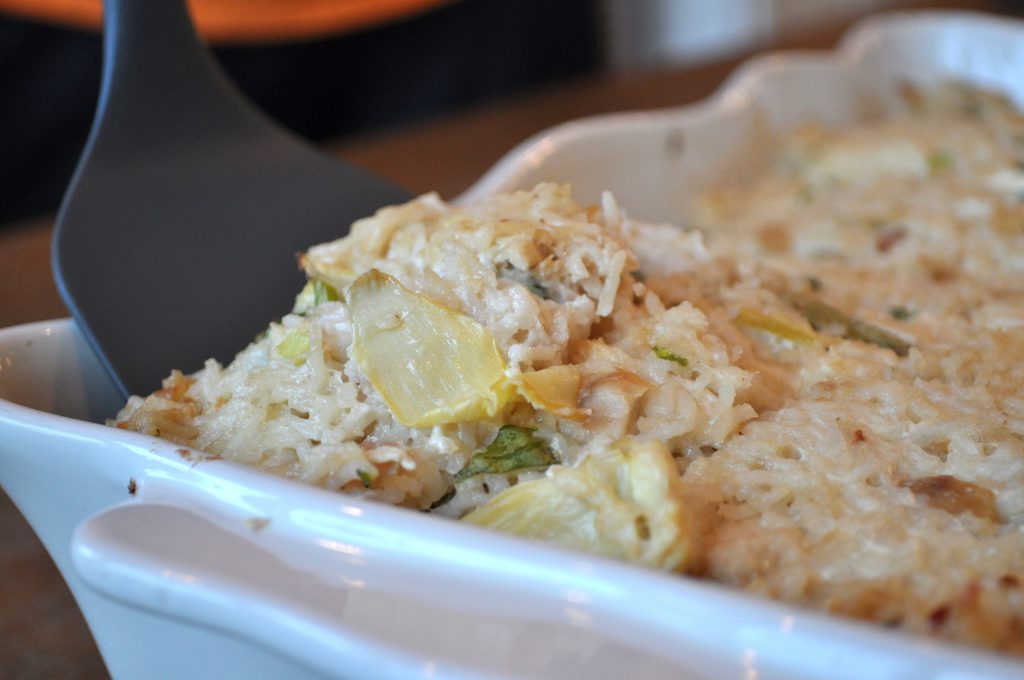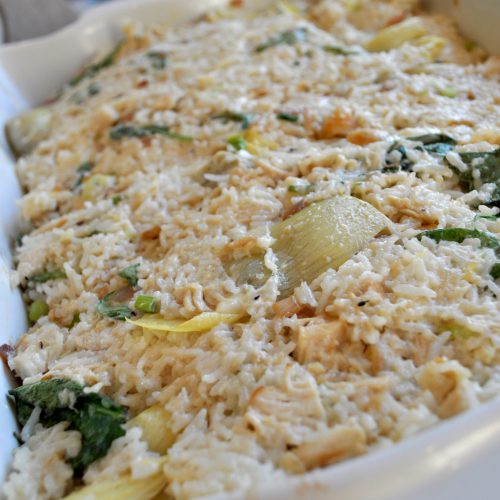 Ingredients
For the chicken:
2

Tbsp

olive oil

1½

pounds

chicken tenderloins

(seasoned with salt and pepper on both sides)

2

Tbsp

butter

1

medium red onion

(diced)

¾

tsp

salt

½

tsp

black pepper

4

cloves

garlic

(minced)

1½

cups

vegetable broth

¾

tsp

crushed red pepper flakes
For the rice mixture:
2

cups

basmati rice

8

oz

cream cheese

(room temperature and cubed)

6

oz

baby spinach

¾

cup

mayonnaise

(tested with Duke's)

1

can

artichoke hearts

(drained and quartered)

16

oz

mozzarella cheese

(freshly grated)

8

oz

parmesan cheese

(freshly grated)

4

green onions

(thinly sliced)
Instructions
Cook rice according to package directions. Remove from heat and set aside.

Heat large skillet to medium high. Add olive oil. Add chicken and cook 5 minutes per side. Remove and set aside on a cutting board.

Add butter to skillet. Add onions, salt and pepper and cook for 3 minutes, stirring occasionally. Add in garlic and cook for 30 seconds or until fragrant. Add in broth, scraping browned bits off the bottom of the pan. Add in pepper flakes. Reduce heat to low.

Cube up chicken. Remove skillet from heat.

In a large bowl, combine all ingredients for rice mixture. Pour onion mixture and chicken over the top. Toss with two utensils (one in each hand) to combine well.

Place mixture in a large casserole dish. Level it with the back of a spatula or spoon.

Place casserole in the preheated oven for 20 minutes. Remove dish from oven. Let stand for 5 minutes. Serve.
Notes
You can reserve some of the cheese to top the casserole if you like. I just prefer it all in the rice mixture. If you've got picky kids, I recommend throwing some cheese on top. It's a highly tested and approved approach to getting kids to eat their vegetables. IDK if it works for yours but it did with mine!
Nutrition
Calories:
595
kcal
|
Carbohydrates:
36
g
|
Protein:
38
g
|
Fat:
32
g
|
Saturated Fat:
16
g
|
Cholesterol:
123
mg
|
Sodium:
1347
mg
|
Potassium:
490
mg
|
Fiber:
1
g
|
Sugar:
3
g
|
Vitamin A:
2491
IU
|
Vitamin C:
6
mg
|
Calcium:
557
mg
|
Iron:
2
mg