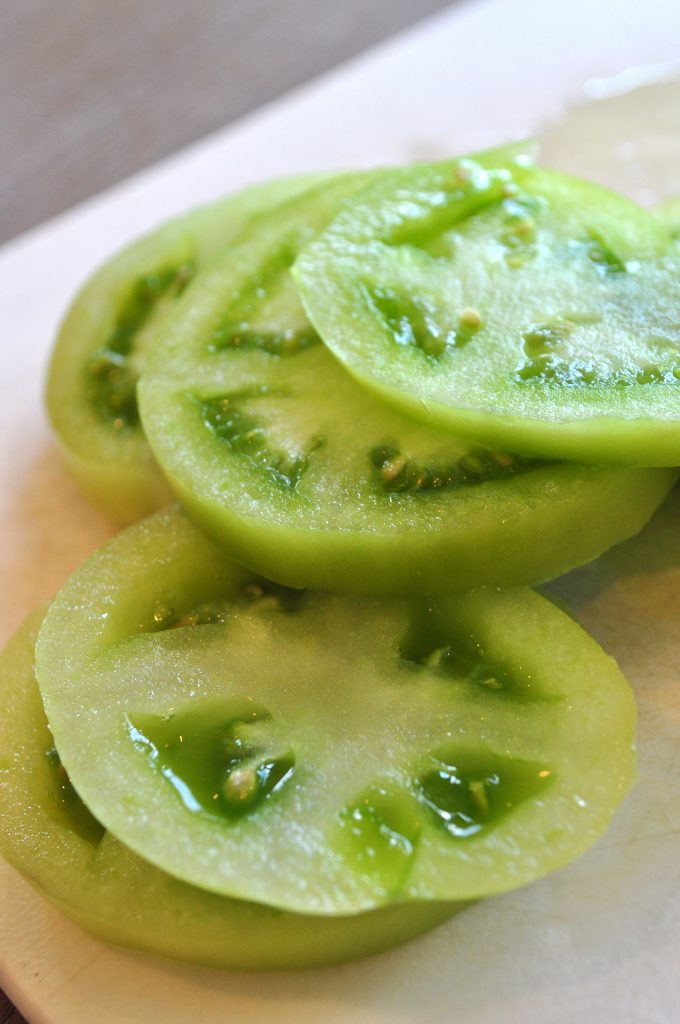 I love me some fried green tomatoes. You know how in the movie "Fried Green Tomatoes" Sipsey says "The secret's in the sauce?" Same goes for my fried green tomatoes. No, wait. I didn't kill anyone or slaughter them. NO HORRIBLY RACIST WIFE BEATERS were now or ever physically harmed by me. But the sauce and presentation of my fried green tomato stack takes a dish that's traditional and fantastic to something fresh and out-of-this-world-spectacular. And guess what? THE SAUCE IS 98% STORE BOUGHT.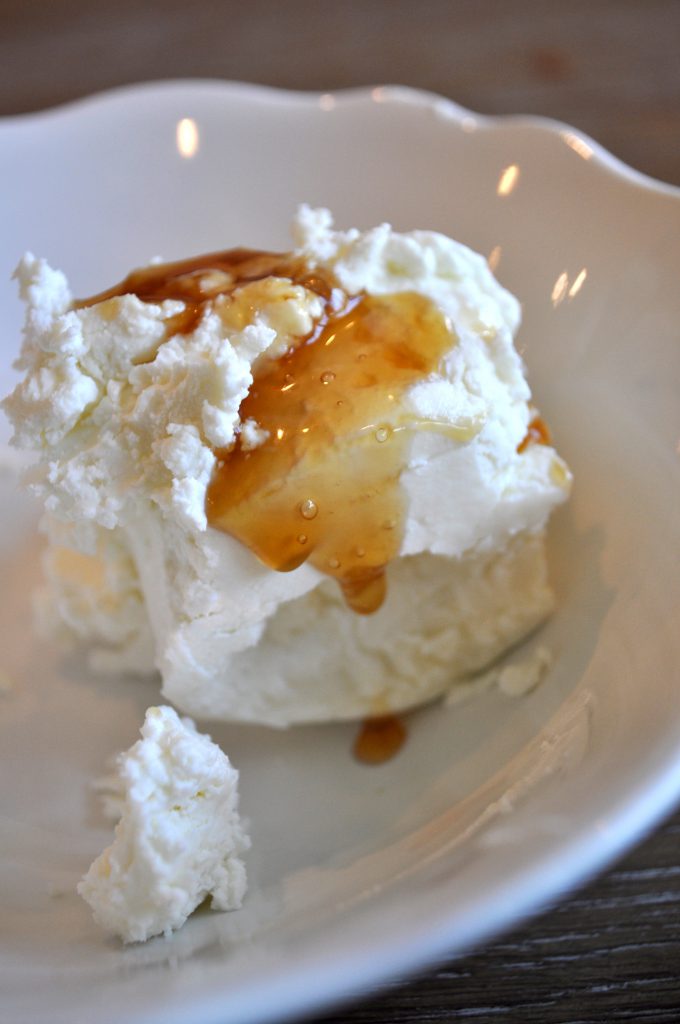 Just stir together some goat cheese with some honey and dassit. Wait. Das almost it. You gotta fry it and throw on another store-bought treasure at the end. Then dassit. I promise.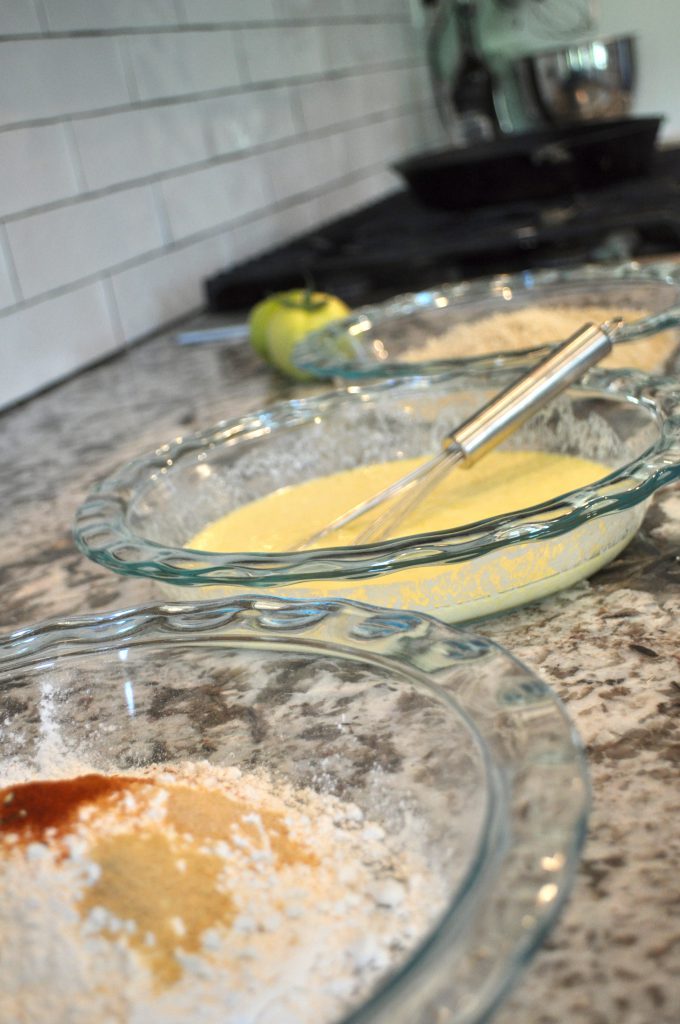 Prep your fry station while the oil heats up. Speaking of oil heating, I've got a GREAT HACK for you. If you don't have a oil/candy thermometer, you can still predict when your oil is hot enough for frying. Turn a wooden spoon upside down and stick it in your oil.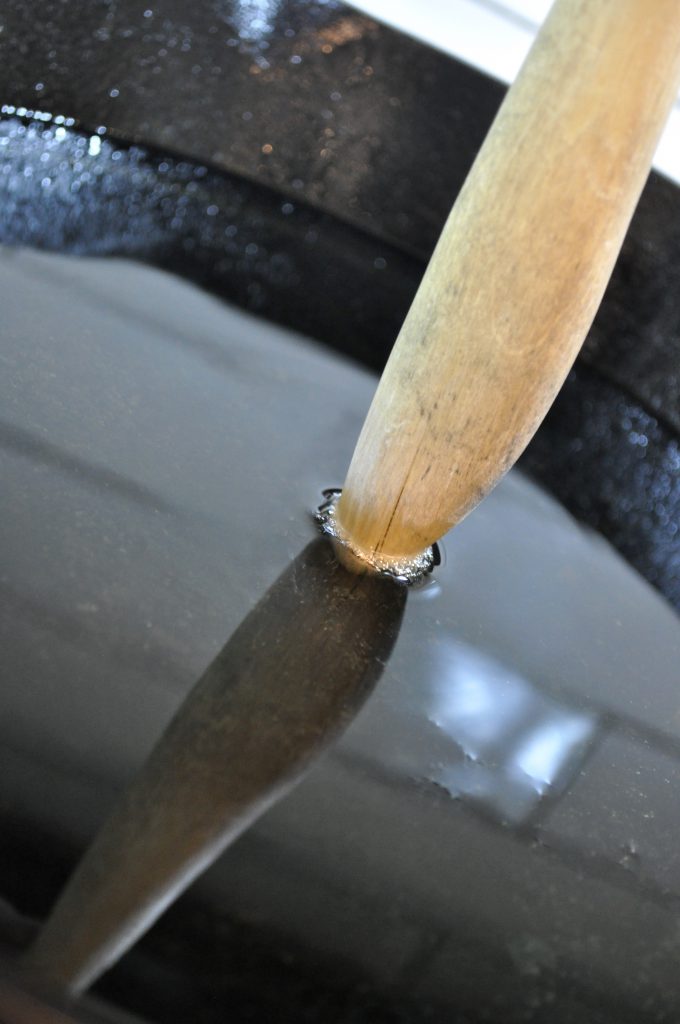 If it bubbles and sizzles right away (as shown in the photo above), the oil is ready to rumble.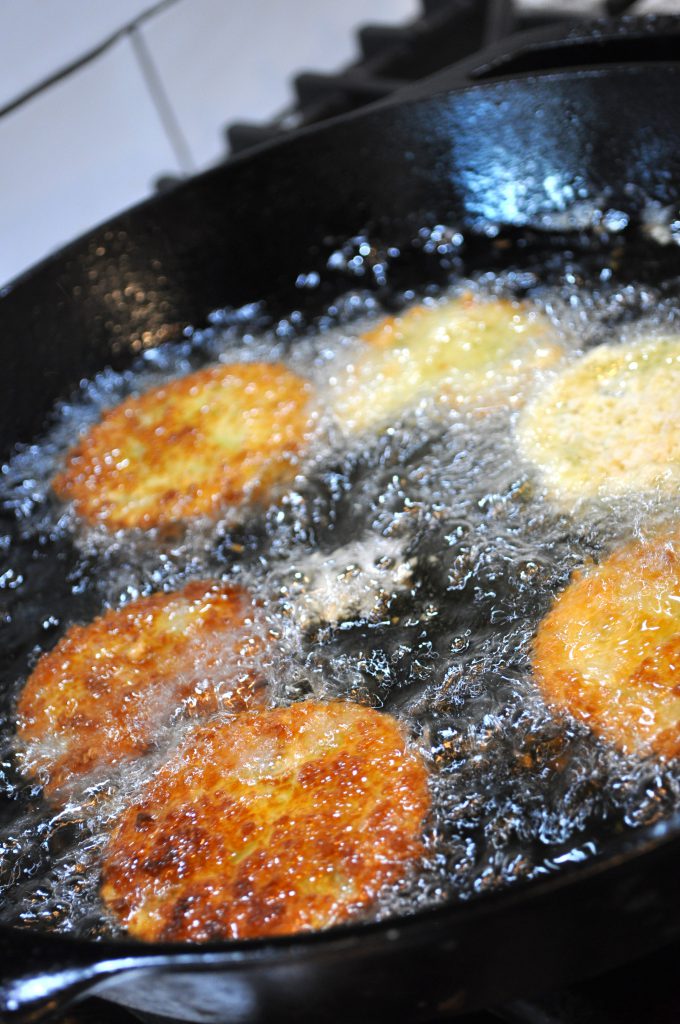 I like to use a fish turner to flip them in the oil. It's easy to scoop and flip using a fish turner and the fish turner has big slots on the bottom so you can peek and see how golden they are underneath and if they're ready to flip. Click here to find the cheap fish turner that I use and recommend.
Once they're fried up, remove to drain on a wire rack or even a paper towel lined plate to drain some of the grease off for a minute.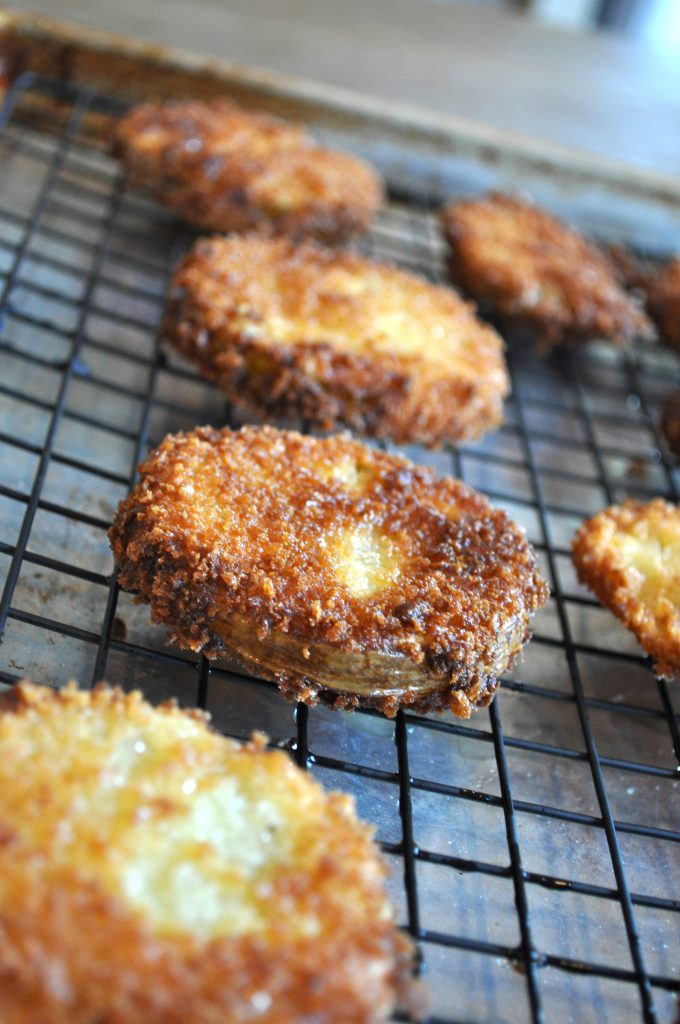 Then stack 'em up on a serving platter and add the goat cheese mixture in between layers as you stack it on a serving platter.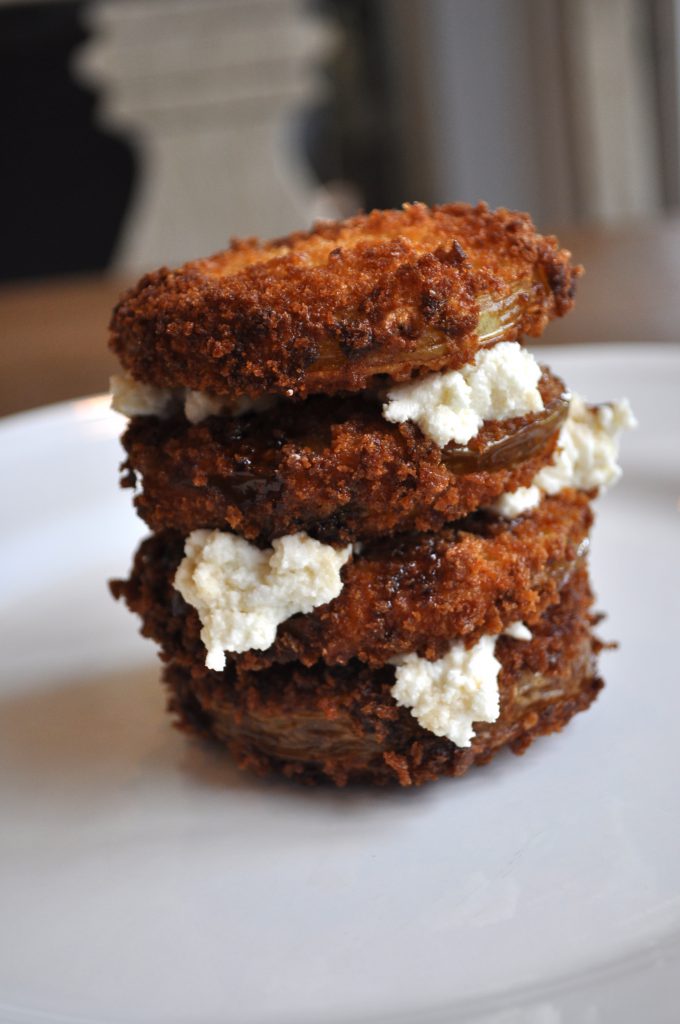 Drizzle with a little store-bought balsamic reduction as you wish and you're good to go!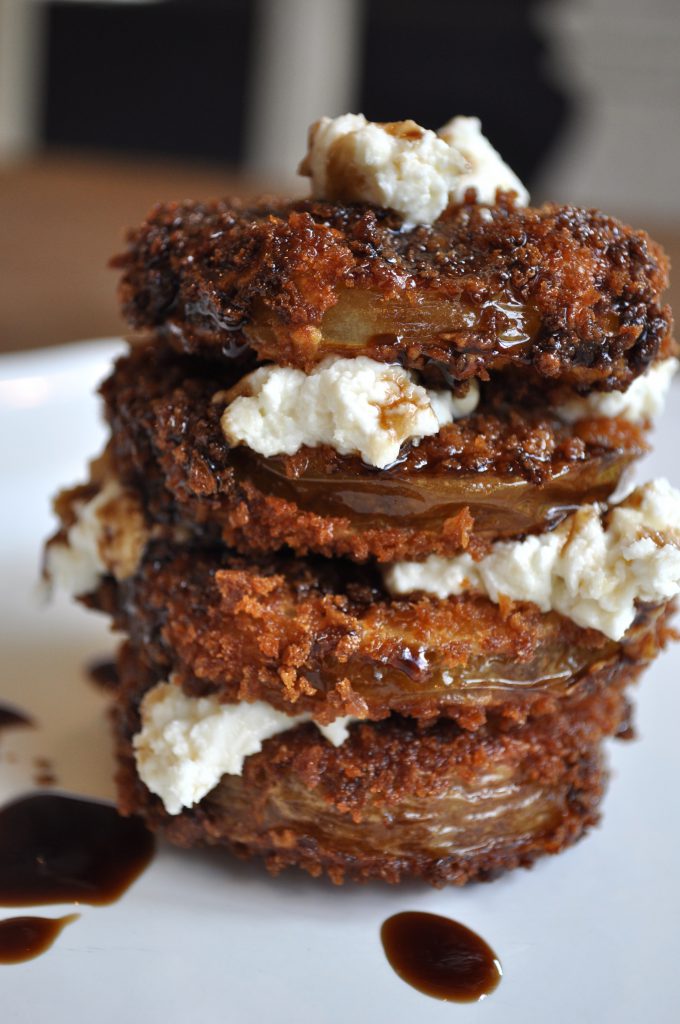 I did two stacks and presented them differently. I drizzled the above stack on the top of the stack and in between layers so that reduction really comes through and you get a little in every bite. I concentrated the drizzle on the stack below more on the plate which is a fancier presentation and gives you the option to dip bites in it if I want, or eat it plain if I want. I like it both ways.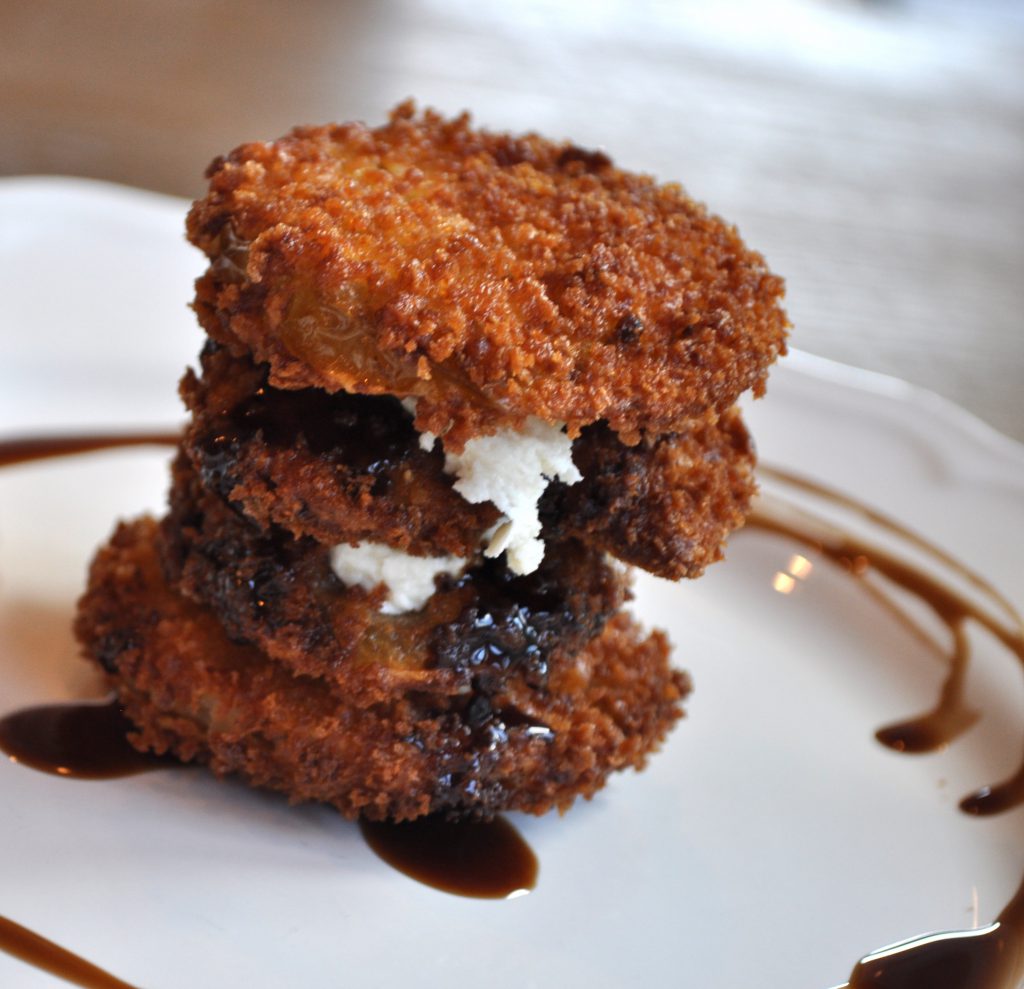 Best part? I timed myself and it took me 26 minutes to throw this together and significantly longer to photograph it for you. This is a honey of a showstopper. If you've got someone on the grill or a casserole going in the oven, this is a MIC DROP of an appetizer that will have your guests saying "whoa, you've got your whole life together" or "dang, you've got kitchen skills". They don't have to know what we know. The hardest part is the breading and the frying and it's ALL downhill from there.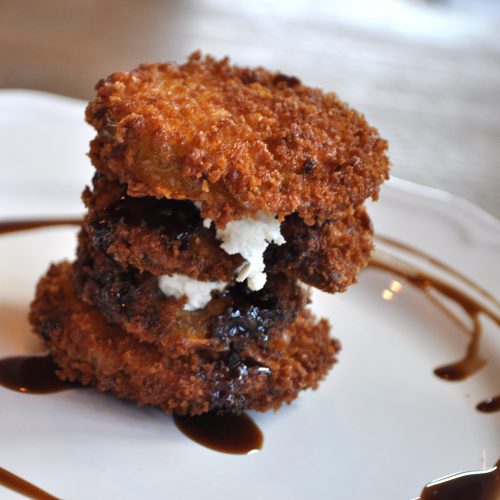 Ingredients
2

medium green tomatoes

2

cups

panko

balsamic reduction

(tested with Alessi)

oil, for frying

(tested with peanut, but canola or grapeseed would be fine)
For the flour mixture:
1½

cups

all purpose flour

2

Tbsp

season salt

½

tsp

black pepper

½

tsp

paprika

½

tsp

onion powder

½

tsp

garlic powder

½

tsp

cayenne pepper
For the egg mixture:
2

large

eggs

(beaten)

½

cup

buttermilk

(tested with Mayfield)
For the goat cheese mixture:
3

oz

goat cheese

2

tsp

honey
Instructions
Combine goat cheese and honey in a small bowl with a fork until well blended. Set aside.

Pour oil to the depth or about an inch in a cast iron skillet. Heat over medium-high until approximately 350°F.

While the oil is heating, slice tomatoes to ¼ to ½ inch slices and set aside. In a pie plate or a shallow dish, combine ingredients for flour mixture. Mix well. In a second pie plate or shallow dish, combine eggs and buttermilk until well blended. There should be no strings of egg visible once mixed well enough. In a third pie plate or shallow dish, place panko.

Once oil is hot, dredge the tomato slices through flour mixture, covering completely, then shake off excess and move to the egg mixture, coat well and then shake off excess, then dredge in panko until covered well, shake off excess. Gently place the tomatoes in oil.

Fry tomatoes in batches for 1-2 minutes per side or until golden brown. Once cooked through on both sides, remove to a wire rack or a paper towel lined plate to drain. Turn off stove.

Once all are fried, grab a platter or serving dish. Layer tomatoes with half spoonfuls of the goat cheese mixture and balsamic reduction, as desired. Serve immediately. Tomatoes will lose their crispiness if left out of the fryer too long.
Notes
When frying green tomatoes, try hard not to flip them more than once or move them around a lot in the skillet so they achieve crispiness without burning and so not to disturb the breading.
Don't slave over making a balsamic reduction when you can buy a decent one. Click here to purchase the one I tested with.
Nutrition
Calories:
468
kcal
|
Carbohydrates:
66
g
|
Protein:
18
g
|
Fat:
10
g
|
Saturated Fat:
3
g
|
Cholesterol:
106
mg
|
Sodium:
3863
mg
|
Potassium:
309
mg
|
Fiber:
3
g
|
Sugar:
9
g
|
Vitamin A:
912
IU
|
Vitamin C:
15
mg
|
Calcium:
148
mg
|
Iron:
5
mg