Confession: From the years 1998 to 2001, I BATHED in bath and body works cucumber melon anything. Lotion. Soap. Body splash. The scent reminds me of the poster of Jonathan Taylor Thomas on my wall and the Auntie Anne's pretzel stand at the mall.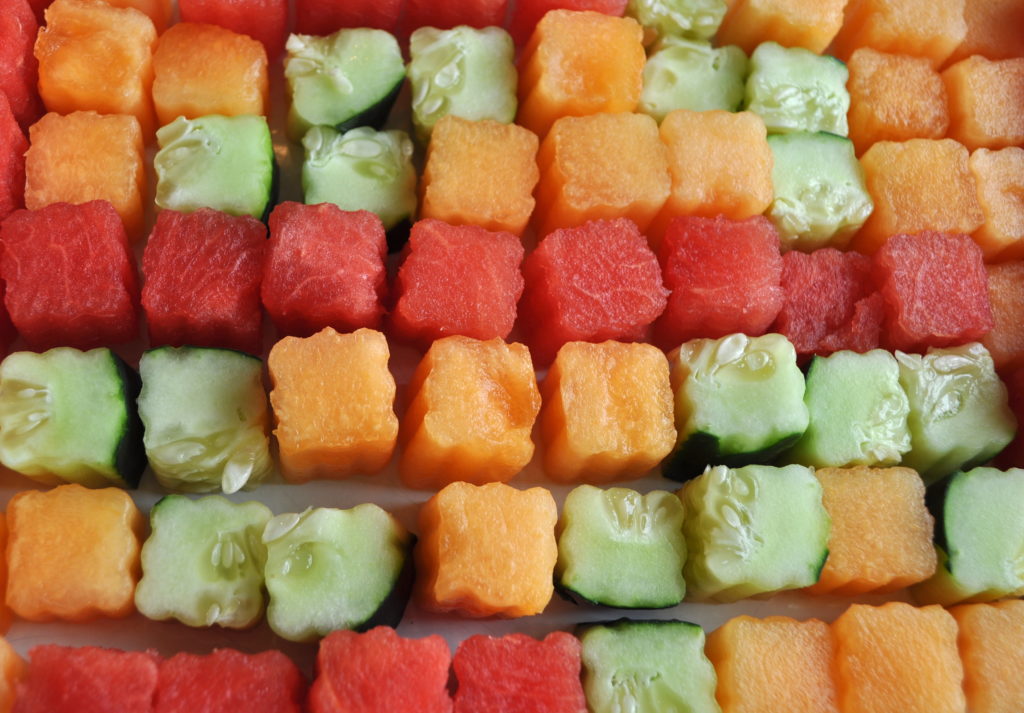 I saw a list circulating of things millennials once loved, and the cucumber melon lotion was mentioned. It inspired me to whip up this salad and revitalize the nostalgia.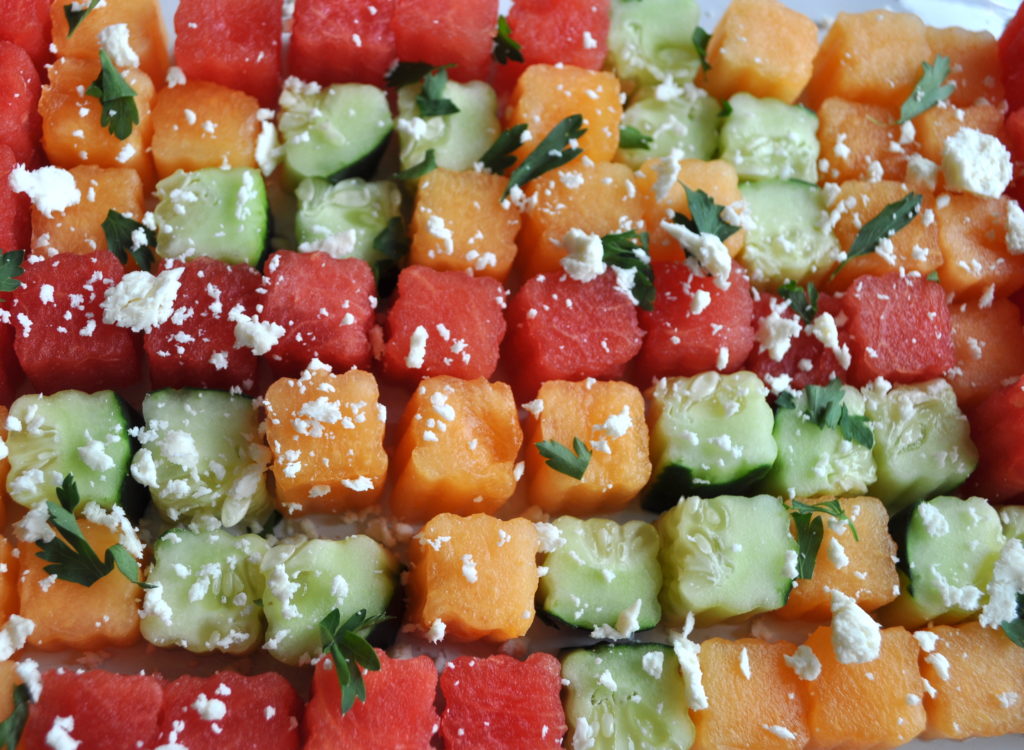 I threw this together thinking maybe I might put it on the blog, and if it was a flop I'd just never tell a soul. After all, my obsession with walking around smelling like a salad is embarrassing enough. I didn't want to publicly humiliate myself with cucumber-melon-mania twice.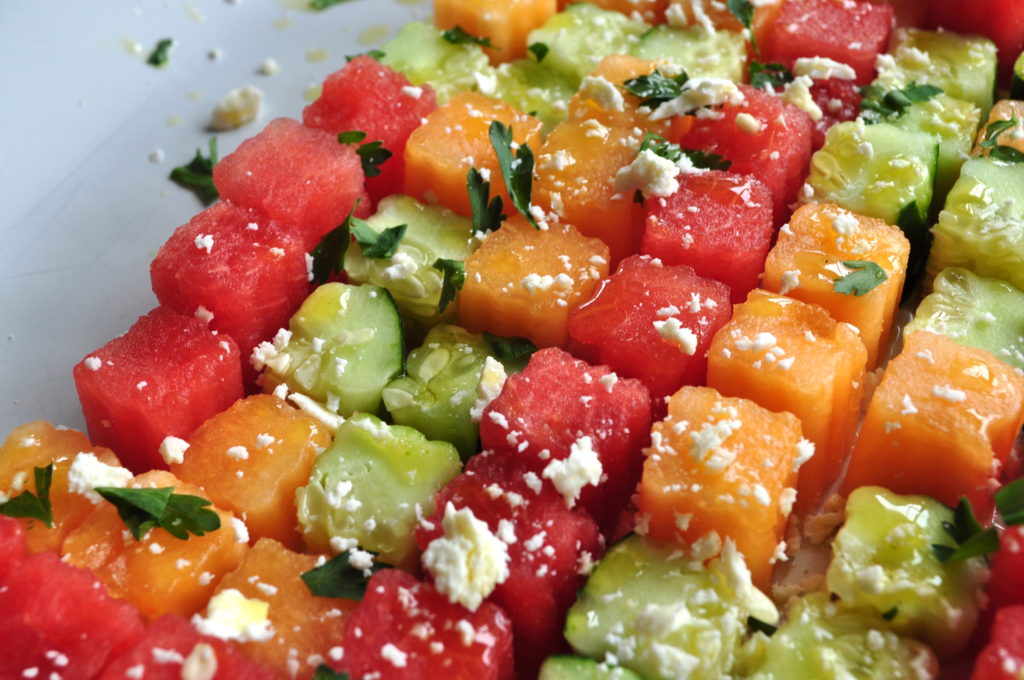 HOT DAMN. This thing was better than I thought up when I whipped it together. I made it into a little Tetris board to continue to throw back to the 90's, but you could absolutely just throw it all in a bowl and serve it together like this.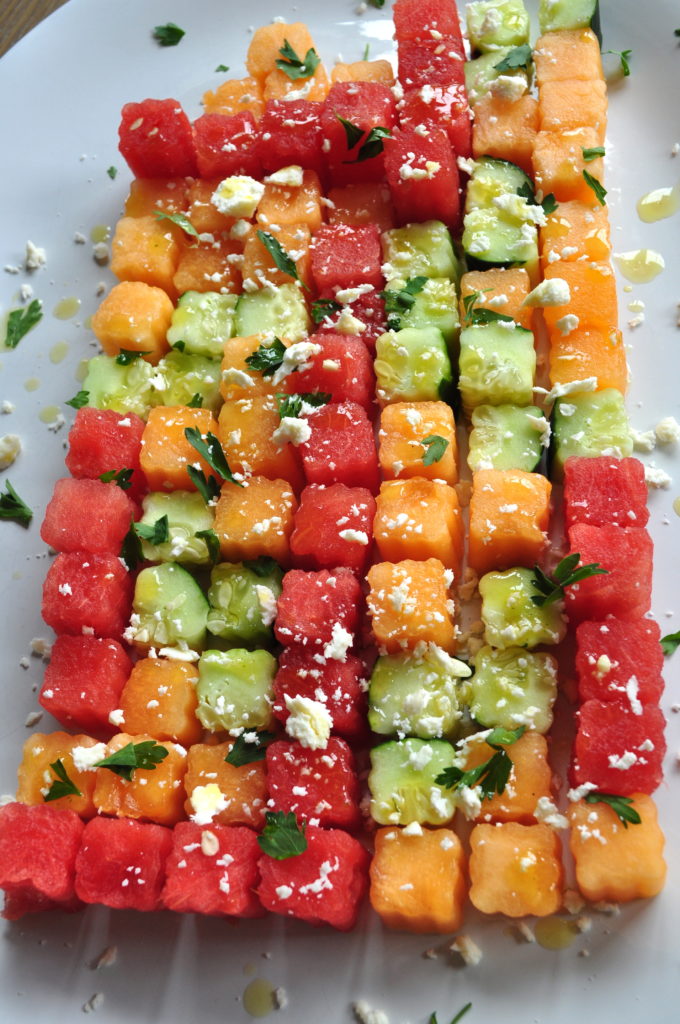 If your kids like to play Tetris this may make this dish more fun for them. Or make it like Minecraft building blocks if that's what they're into. They may or may not like the dressing, so feel free to include it or leave it off. I vote to leave it on because I'm *team expose kids to new things*, but you do you boo.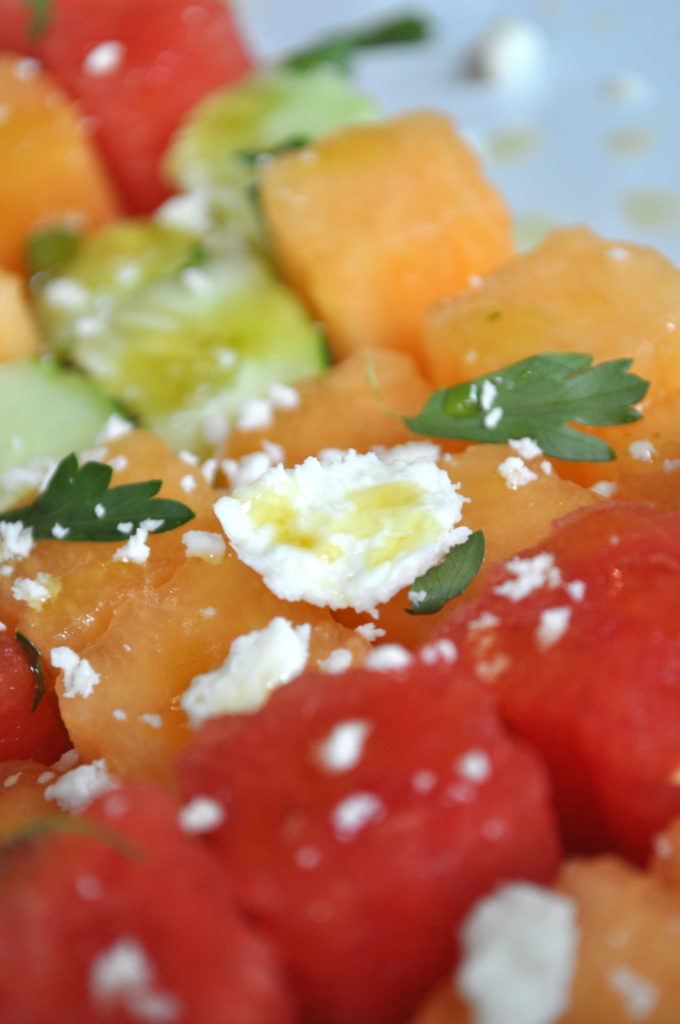 If you want to serve it in a bowl, just cube it up and toss it with my hot honey vinaigrette and some feta because feta makes everything betta. Just make sure you serve it immediately because that feta is best fresh.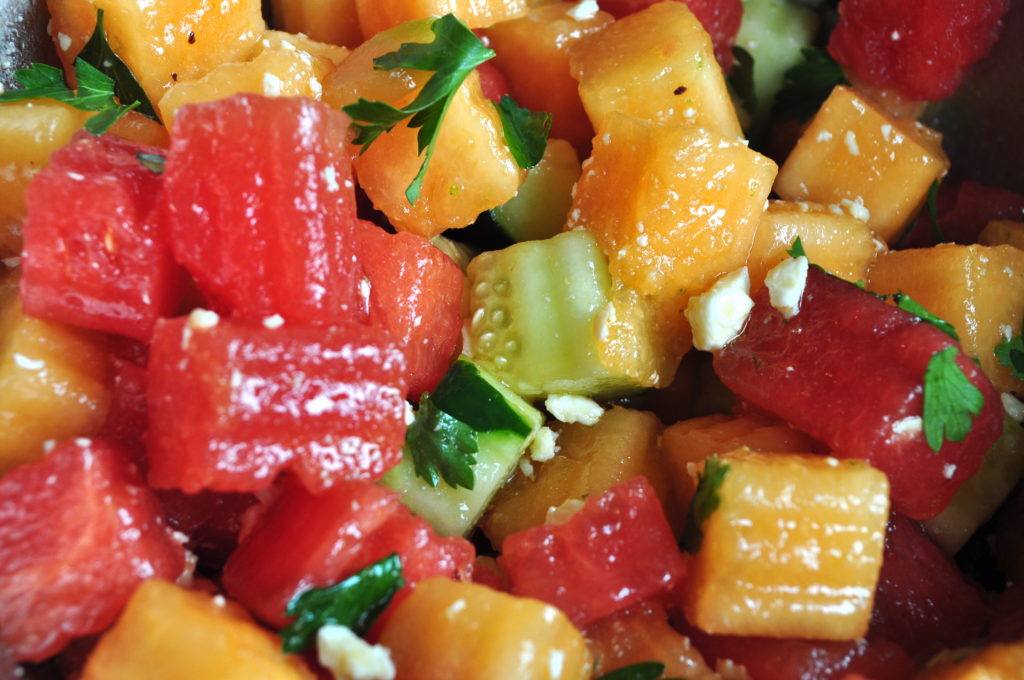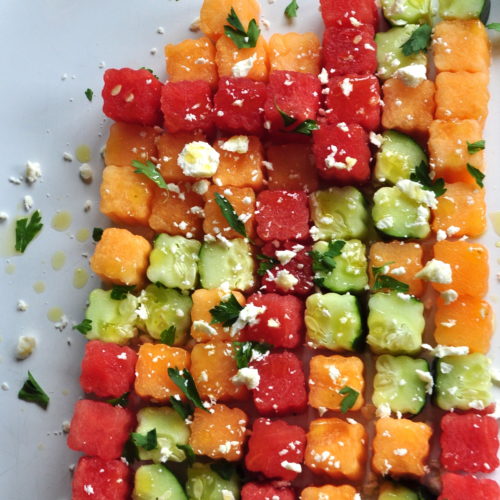 Ingredients
3

cups

cucumber

(cubed)

3

cups

canteloupe

(cubed)

3

cups

watermelon

(cubed)

2

oz

feta

crumbled

1

Tbsp

fresh parsley

(chopped)
Instructions
Arrange cucumbers and melons on a serving platter as desired.

Top with crumbled feta and parsley.

Whisk together ingredients for dressing in a bowl or measuring cup.

Drizzle dressing over top of salad. Serve immediately.
Notes
For the cutter I used to cube, click here. I used the smallest size cutter in the box. I love these! They cut both wavy and straight in 5 sizes. I'm a fan!
It helps to slice off a side of melons when cutting. Slice off the side (pictured) and lay it cut side down to stabilize it to continue cutting.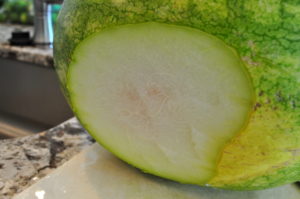 Nutrition
Calories:
107
kcal
|
Carbohydrates:
7
g
|
Protein:
1
g
|
Fat:
9
g
|
Saturated Fat:
2
g
|
Cholesterol:
5
mg
|
Sodium:
65
mg
|
Potassium:
105
mg
|
Fiber:
1
g
|
Sugar:
6
g
|
Vitamin A:
344
IU
|
Vitamin C:
5
mg
|
Calcium:
37
mg
|
Iron:
1
mg