Have you ever made a dutch baby?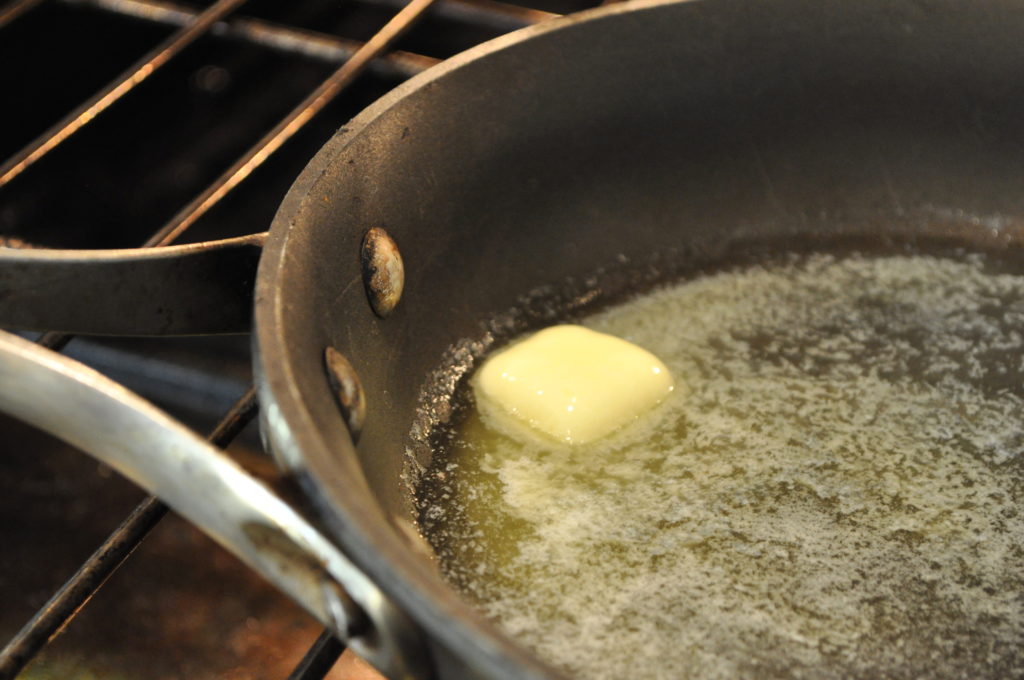 Wait. Let's back the truck up so I can explain. It's not a human infant from the Netherlands–I'm assuming you'd have to be from the Netherlands to make one of those. The dutch baby I'm talking about is a breakfast dish that can be made savory or sweet. It's like a lovechild of a crepe and a popover.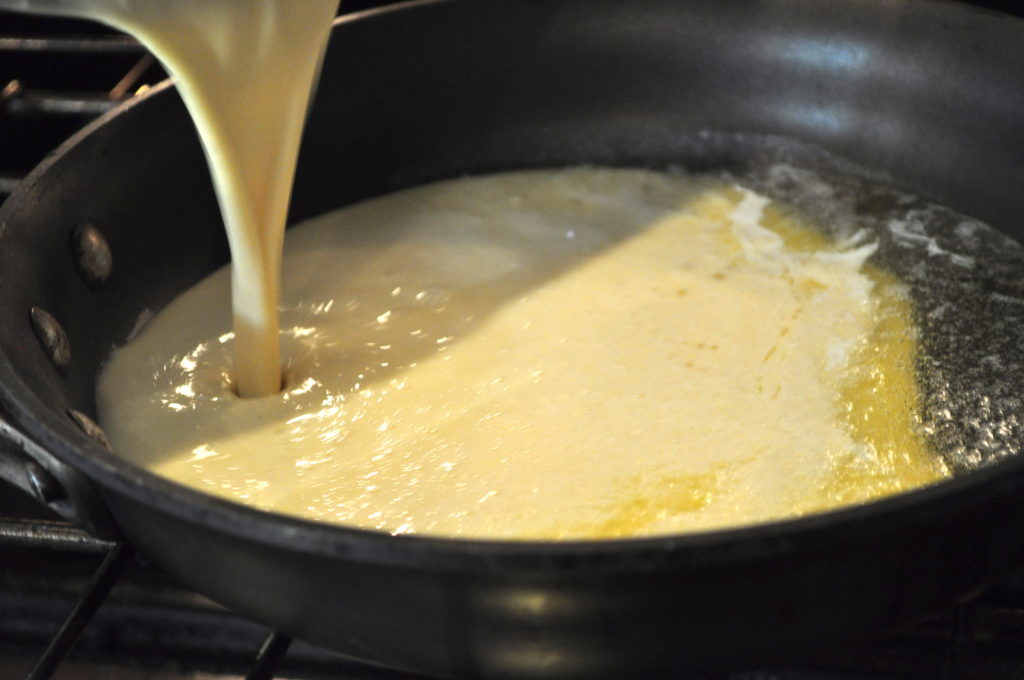 You melt some butter in a skillet in the oven, pour the batter in the butter and let it huff and puff up and blow your house away with a party for your tastebuds.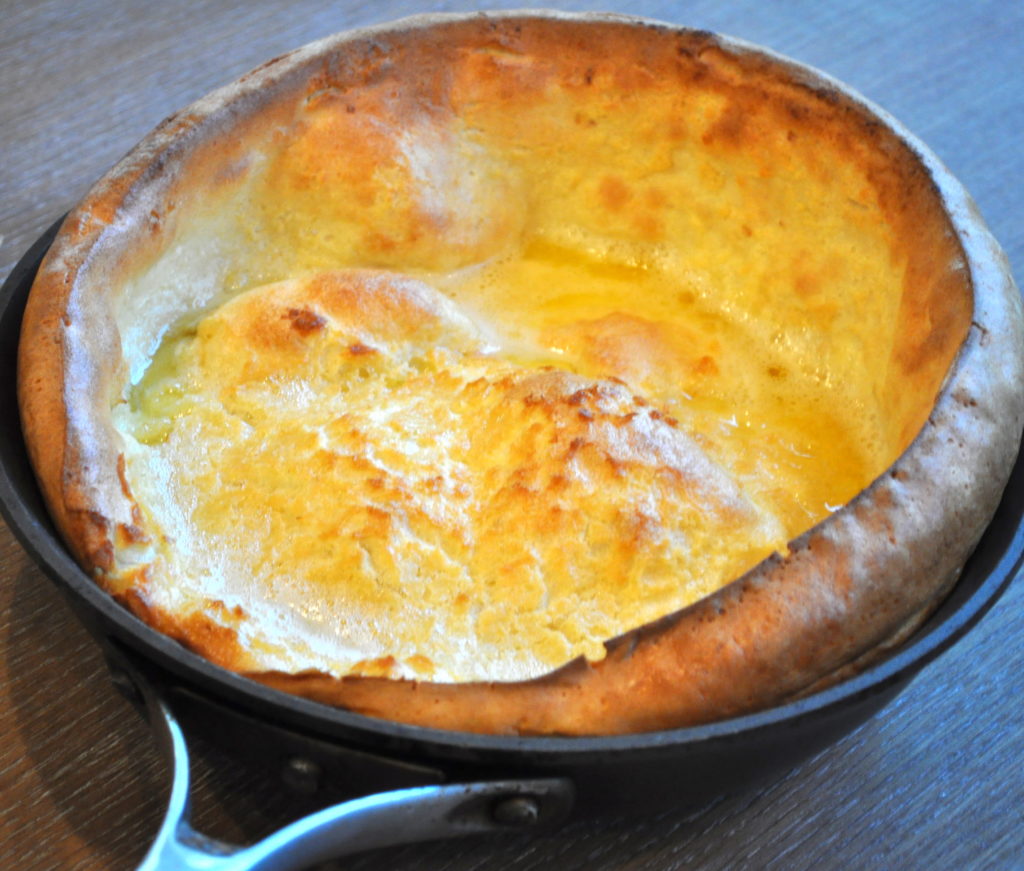 A lot of people just dust it with powdered sugar or pour maple syrup over it, but I like Nutella and coconut because it takes something fantastic and turns it into something indescribably epic.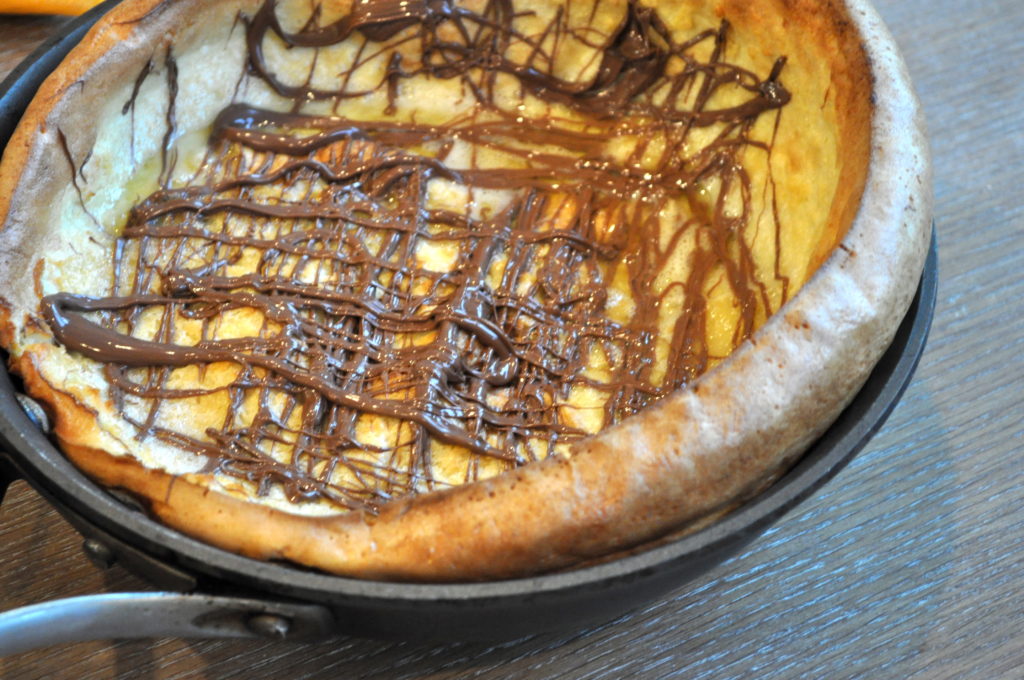 I have eaten an embarrassing amount of these. The combo is just basically all I want in life. Especially life in 2020.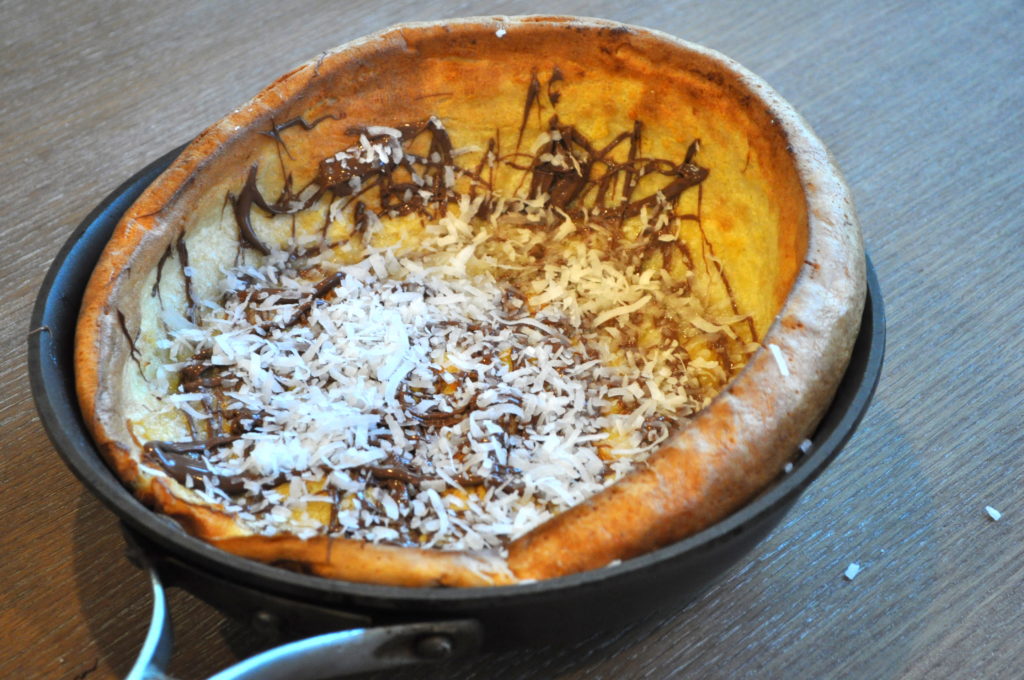 I have a little trick I do that I drizzle a little Nutella over the dutch baby, I sprinkle the coconut over the Nutella, then I drizzle more Nutella over the coconut because I like to live dangerously. It also makes the coconut haters not hate it quite so much.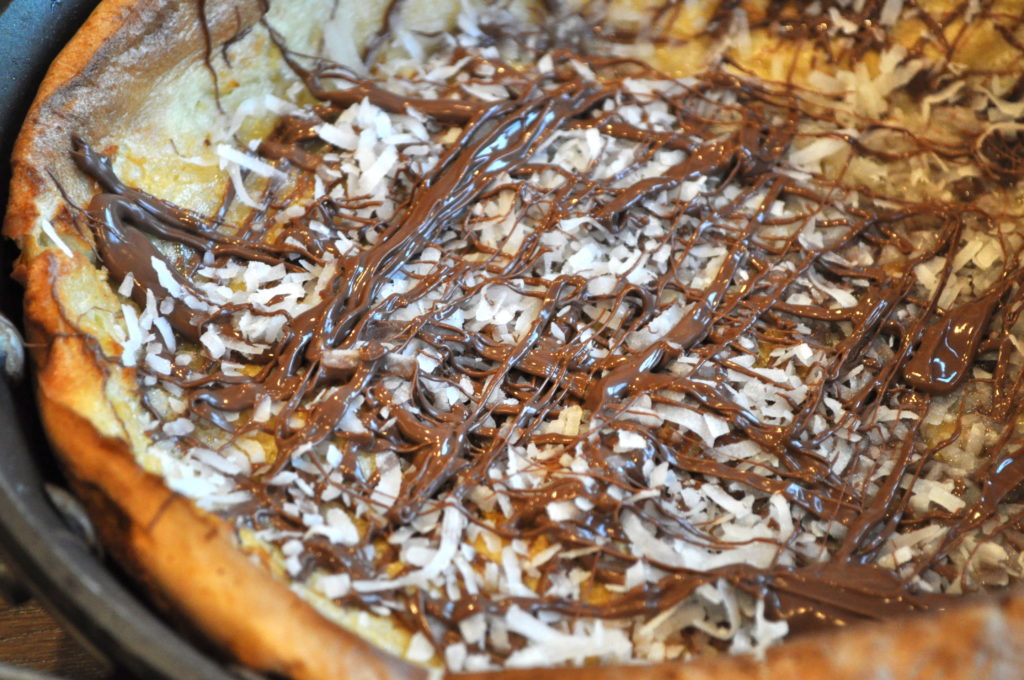 Nutella has that effect on people. Maybe we should just spread a thick layer of Nutella over 2020 and call it a day? I'm down to try anything at this point.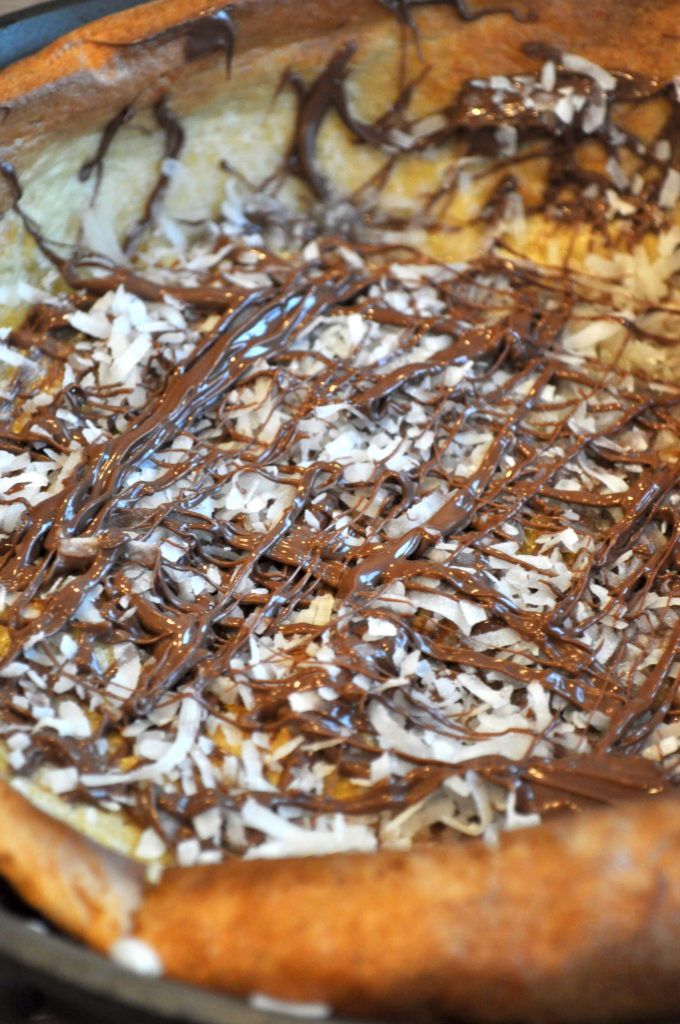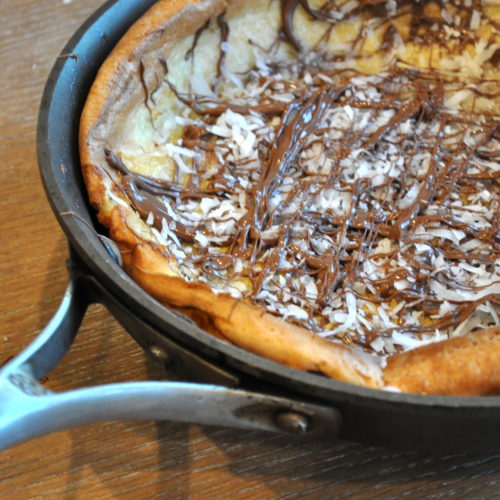 Ingredients
For the dutch baby:
3

eggs

(beaten)

1

tsp

vanilla extract

1

Tbsp

sugar

¾

cup

all purpose flour

¾

cup

milk

(heated for 25 seconds in microwave)

1

Tbsp

unsalted butter

1

Tbsp

coconut oil
To top:
¼

cup

nutella

(heated for 30 seconds in microwave)

3

Tbsp

sweetened coconut flakes
Instructions
For the dutch baby:
Place eggs, vanilla, sugar, flour and milk in blender. Blend for 1 minute. Scrape the sides to get all ingredients incorporated. Blend for 1-2 more minutes or until well blended and frothy. Set aside.

Add butter and coconut oil to 10" nonstick skillet and place in oven. Watch closely to make sure mixture melts but doesn't burn. As soon as the mixture melts, using an oven mitt, swirl the mixture to coat.

Pour mixture from the blender over the butter mixture in skillet. Return skillet to oven and bake for 20 minutes. Reduce heat to 350°F, and bake for 5 more minutes.

Remove from oven and drizzle with half the Nutella, sprinkle with coconut, then drizzle with remaining Nutella. Cut into 4 wedges with a spatula and serve immediately.
Notes
The milk needs to be heated a bit to bring up the temperature of the batter so it's not refrigerator cold when it goes into the oven to make a more stable puff.
The Nutella needs to be briefly heated to thin it out a bit and make it more drizzly. 
Work quickly once the Dutch baby comes out of the oven. I have a trivet ready to go to place the hot skillet on, I heat my Nutella during the last 3 minutes of the baking time so it can be placed within reach of the skillet on the trivet, and I have the coconut ready to go and placed right next to everything as well.
Nutrition
Calories:
382
kcal
|
Carbohydrates:
41
g
|
Protein:
9
g
|
Fat:
20
g
|
Saturated Fat:
15
g
|
Cholesterol:
135
mg
|
Sodium:
107
mg
|
Potassium:
247
mg
|
Fiber:
3
g
|
Sugar:
20
g
|
Vitamin A:
341
IU
|
Calcium:
94
mg
|
Iron:
3
mg