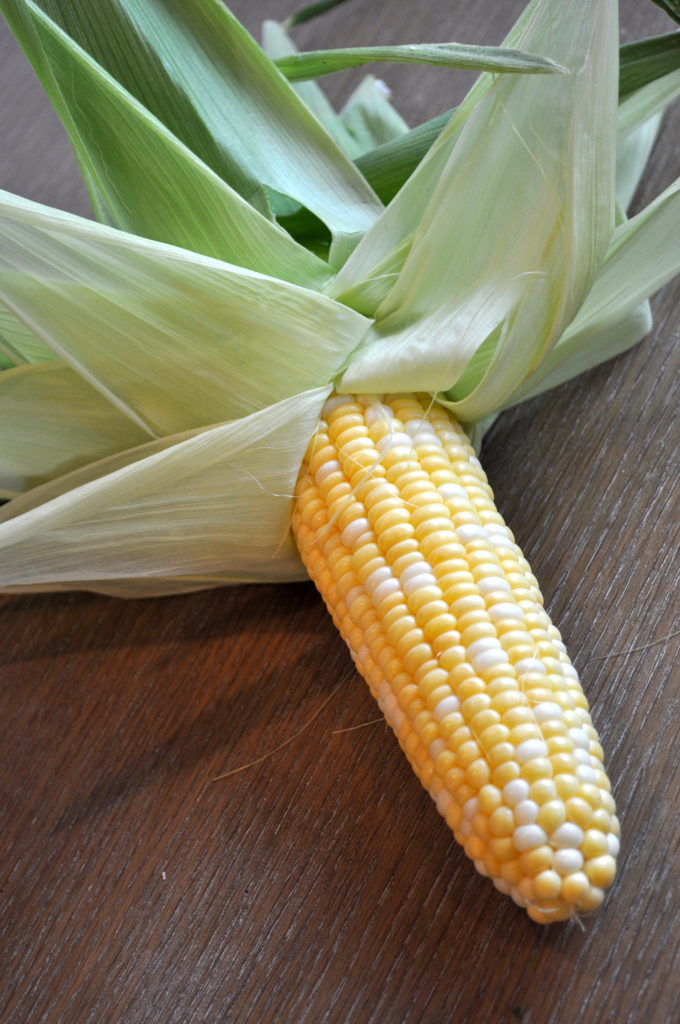 Ravioli and I have had several steamy affairs over the years. It's such a wonderful flavor that can be paired with all kinds of sauces, veggies, or whatever you want. That's my kind of affair. CALM DOWN. It's wink-wink-tongue-in-cheek so get your mind out of the gutter.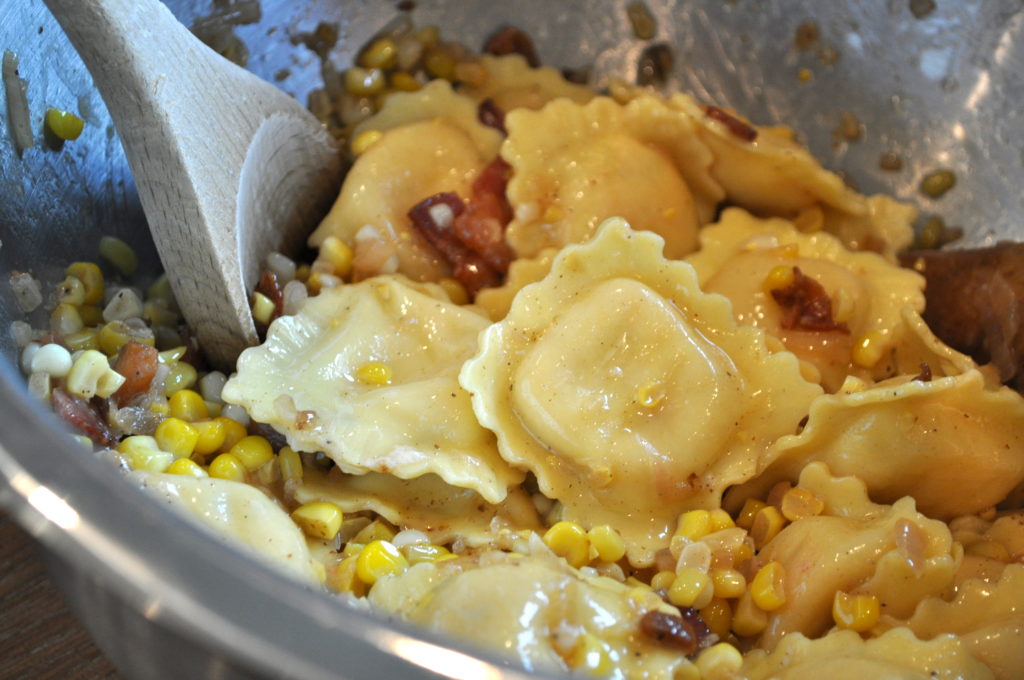 This ravioli?! OMG. It's everything I'm currently crushing on served on one plate. It's perfect for a summer date night at home. I had a rough night last night full of my own ridiculous nonsense of second-guessing, omg-I-suck-at-errthang, and my overall anxious-hot-mess-of-a-probably-undiagnosed-ADHD-brain, and all I wanted to do was stay under the covers indefinitely watching trashy television… but then…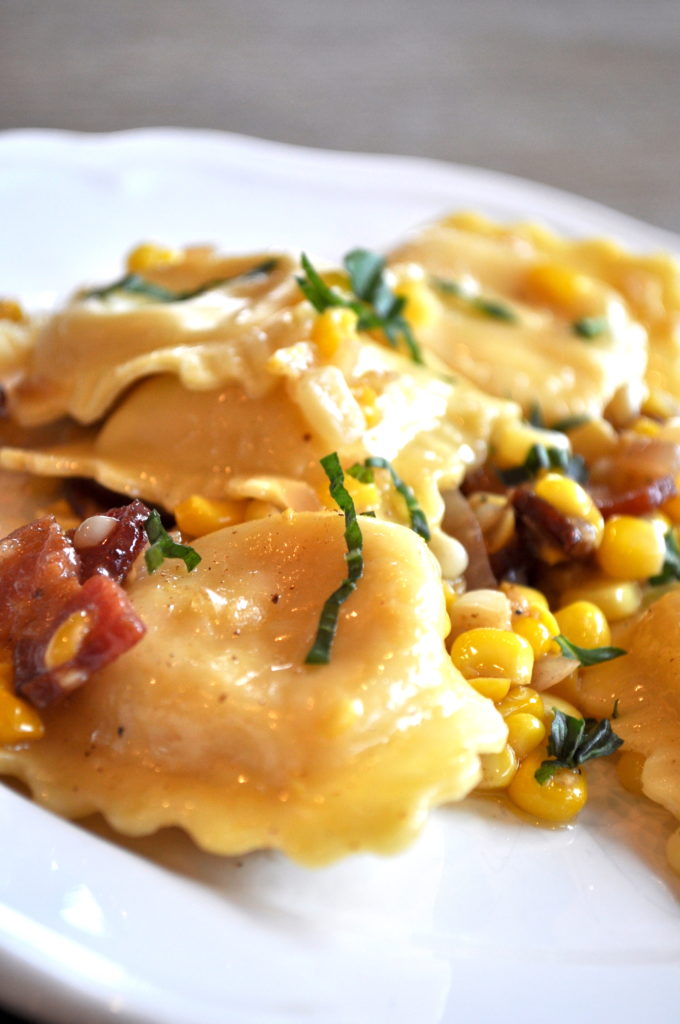 I remembered I had leftover lobster ravioli in my fridge and just like that, up and at 'em. I mean really at 'em. I did laundry and cleaned a little. Instant mood lifter, this ravioli is.
So if you want to eat your emotions, this is the proper way to do it. Perhaps I should start a Master Class on that very subject. I think I will call it: 'Don't waste your emotional eating on some drive-thru nonsense: do it up right!'
Do it with pasta.
Do it with bacon.
Do it with seafood.
Do it with corn.
Do it with fresh basil.
And for heaven's sakes do it with butter.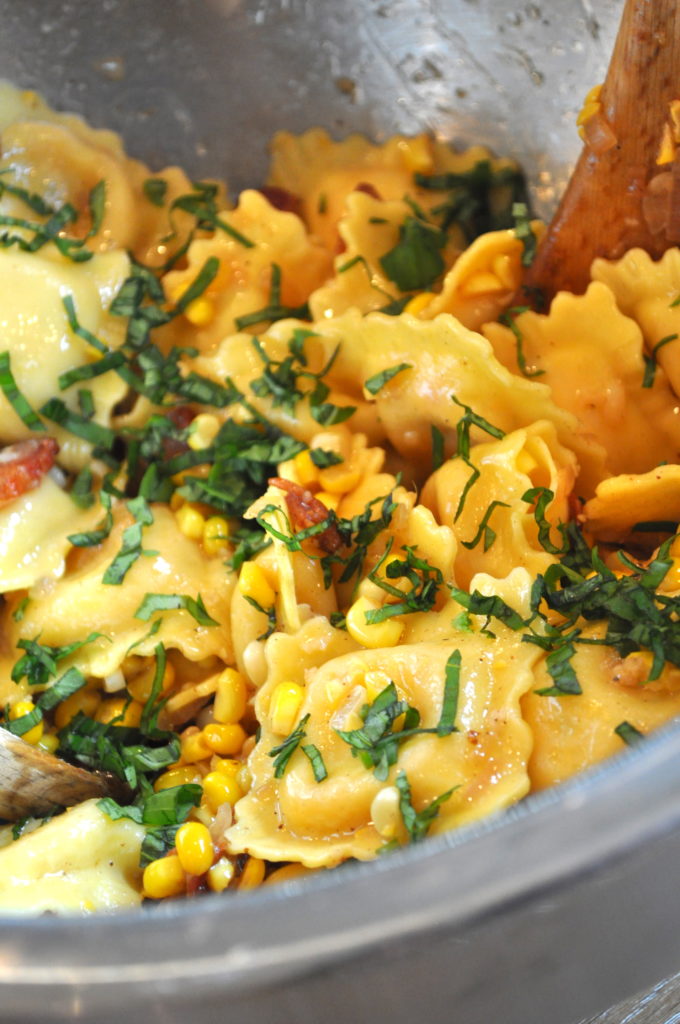 Line forms to the left to sign up for my class, people.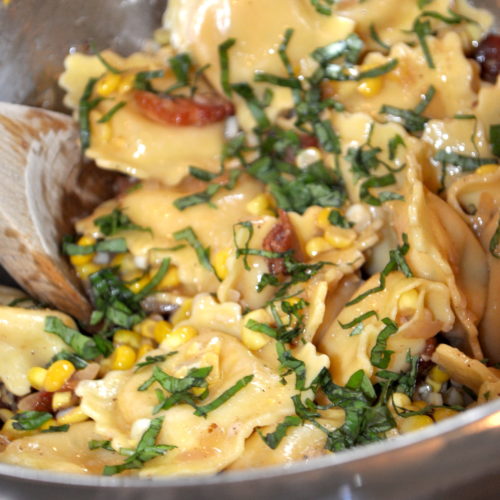 Ingredients
For the ravioli:
13

oz

lobster ravioli

(I found mine at Costco)
For the sauce:
2

slices

thick sliced bacon

(diced)

1

shallot

(very finely diced)

1

clove

garlic

(minced)

½

tsp

lemon oil

¾

cup

corn

(from about 1 cob)

½

cup

dry white wine

(tested with Pinot Grigio)

4

Tbsp

salted butter

(cubed)

¾

tsp

black pepper
To finish:
3

Tbsp

fresh basil

(chiffonaded)
Instructions
For the ravioli:
Cook ravioli according to package instructions. Drain and toss with sauce.
For the sauce:
While waiting for water to come to a boil to cook ravioli, make sauce.

In a very large sauté pan, cook bacon over medium heat until crispy, remove bacon and set aside. Add shallot and cook for 1 minute. Add garlic and cook for 30 seconds.

Add lemon oil and corn. Cook until heated through. Add wine, scraping up browned bits from the bottom of the pan. Cook until most of the wine has evaporated, about 2-3 minutes.

Reduce heat to medium-low, add in butter and pepper, stirring until melted.
To finish:
Toss ravioli with bacon and sauce until well mixed. Top with basil. Serve warm.
Notes
Click here for a great deal on infused oils I use a recommend to find lemon oil.
I do prefer fresh corn over frozen for this recipe. Corn from the freezer just will never compare to in-season corn from the cob. Click here for a corn zipper that makes removing fresh corn from the cob a piece of cake!
If you don't want to purchase one of those corn zippers, a great hack for getting corn off the cob is to do it in a bundt pan. Place the pointy end of the corn in the hole of the bundt pan and stand it up vertically. Carefully stabilize the other end with your not-dominant hand. Use a knife in your dominant hand to cut corn from top to bottom to remove kernels. The kernels should fall right in the pan.
Click here for instructions and pictures on how to chiffonade basil.