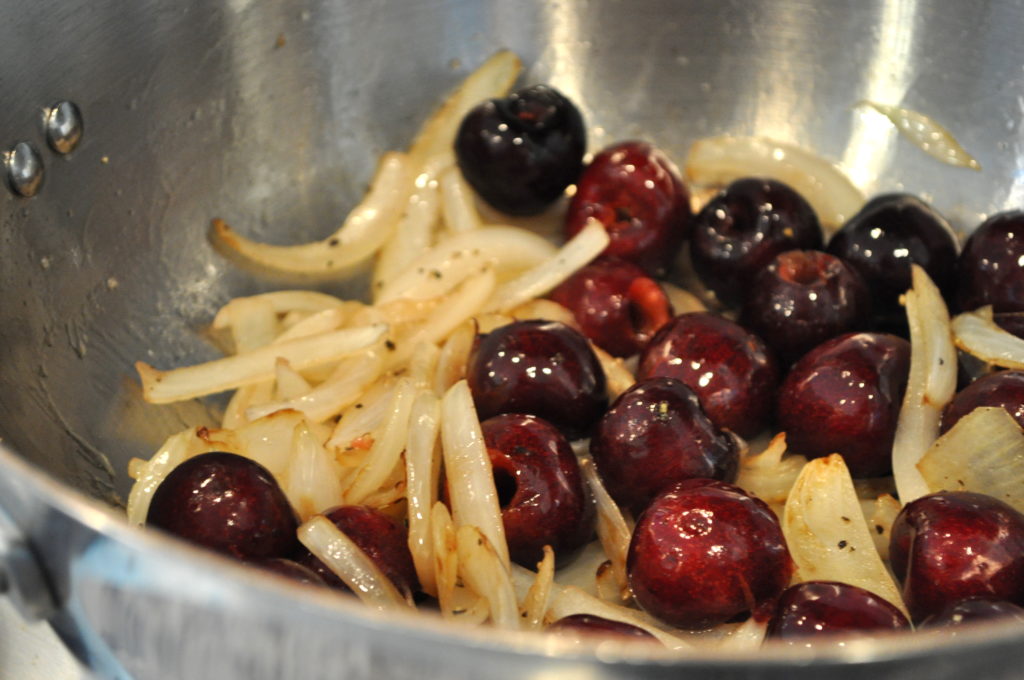 This was a nice little dinner for us. It did take me a wee bit of time, but the results were undeniable.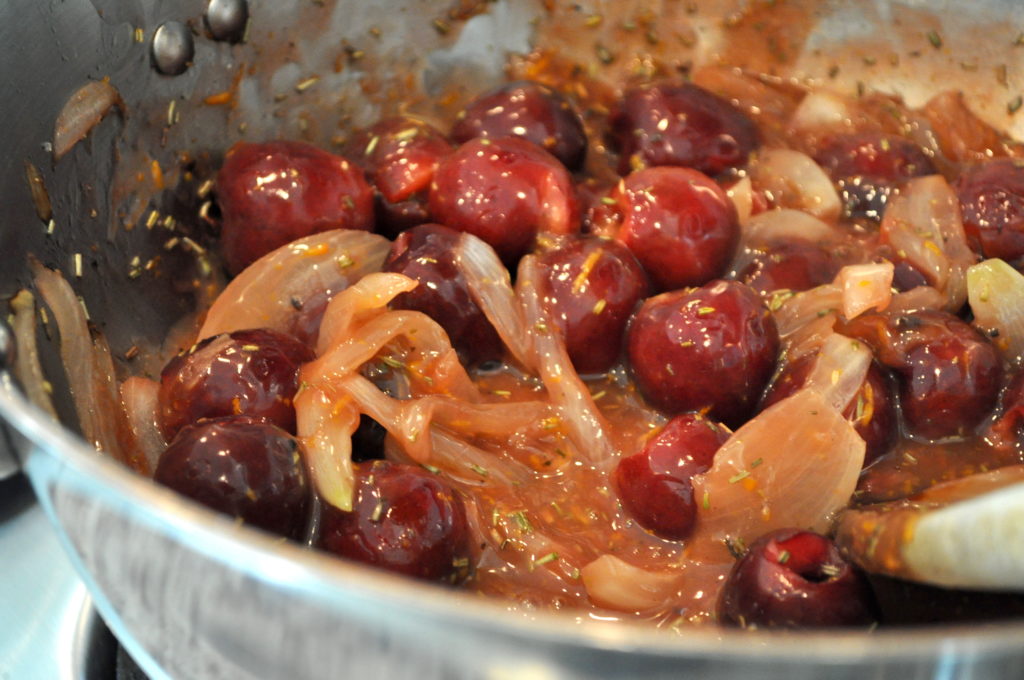 Good things come to those who wait. Or those who brine. A brine is just a salty solution to rest meat in. It swells the cells in the meat and makes the meat hold more fluid. You know how when you eat a super salty meal, you get a little puffy from water retention? Same concept. Except in this case, you get deliciousness instead of imprints where your socks were.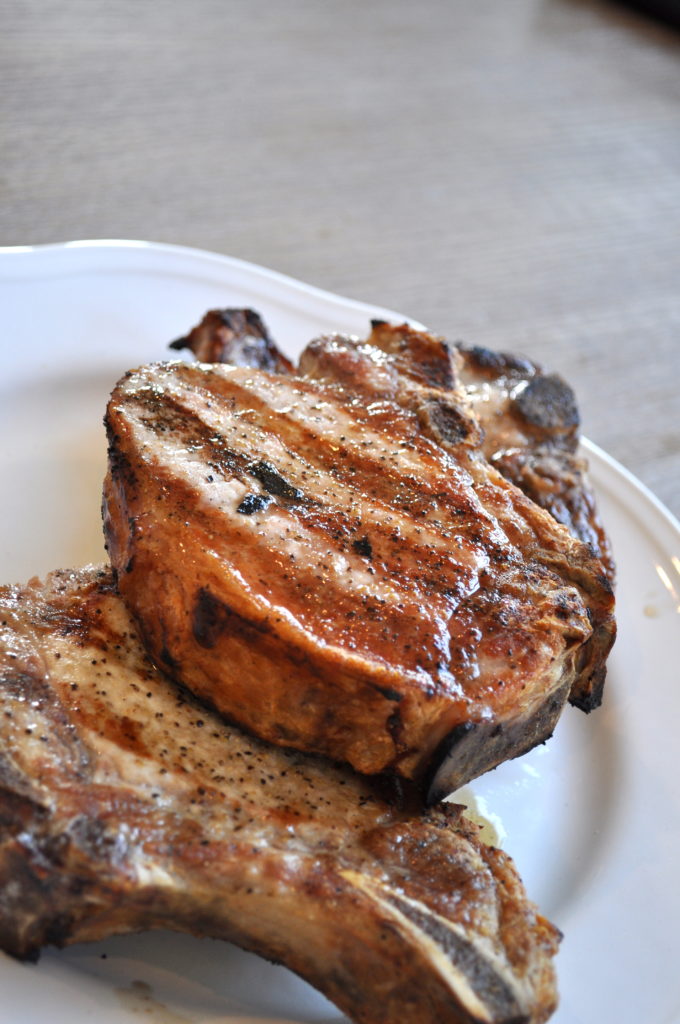 It's osmosis or whatever. IDK. I never paid attention in science class. Maybe if we learned about the science in food rather than the mitochondria being the powerhouse of the cell I would have paid more attention. Apologies to all my science teachers. I guess I was capable of learning in your classroom; I was just unwilling.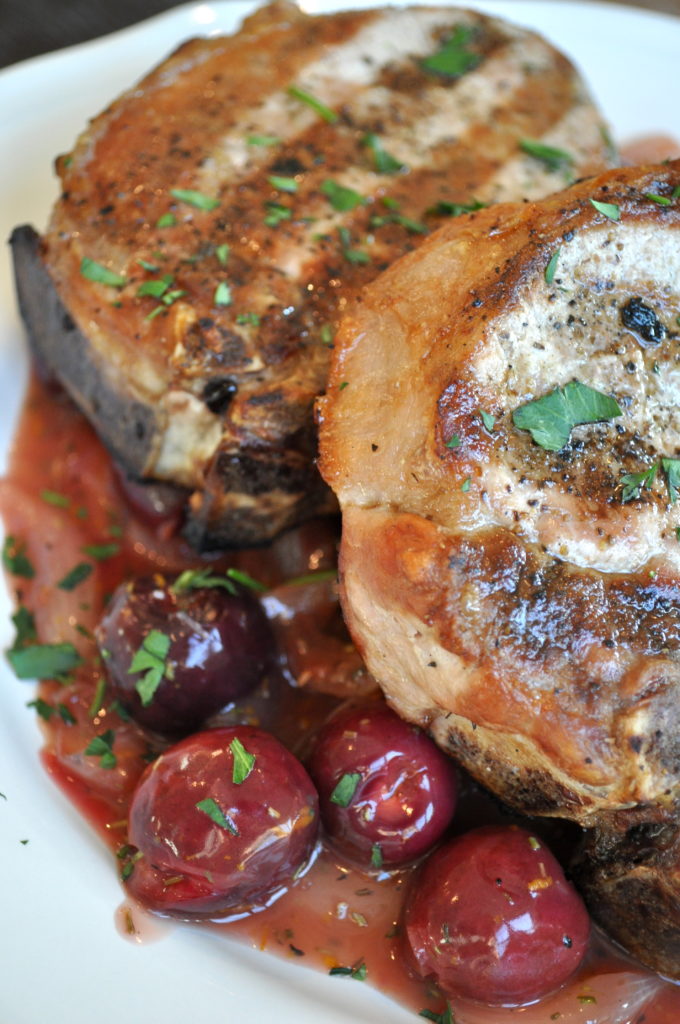 I love to brine things that have a tendency to dry out: my thanksgiving turkey, chicken, and yep… pork chops.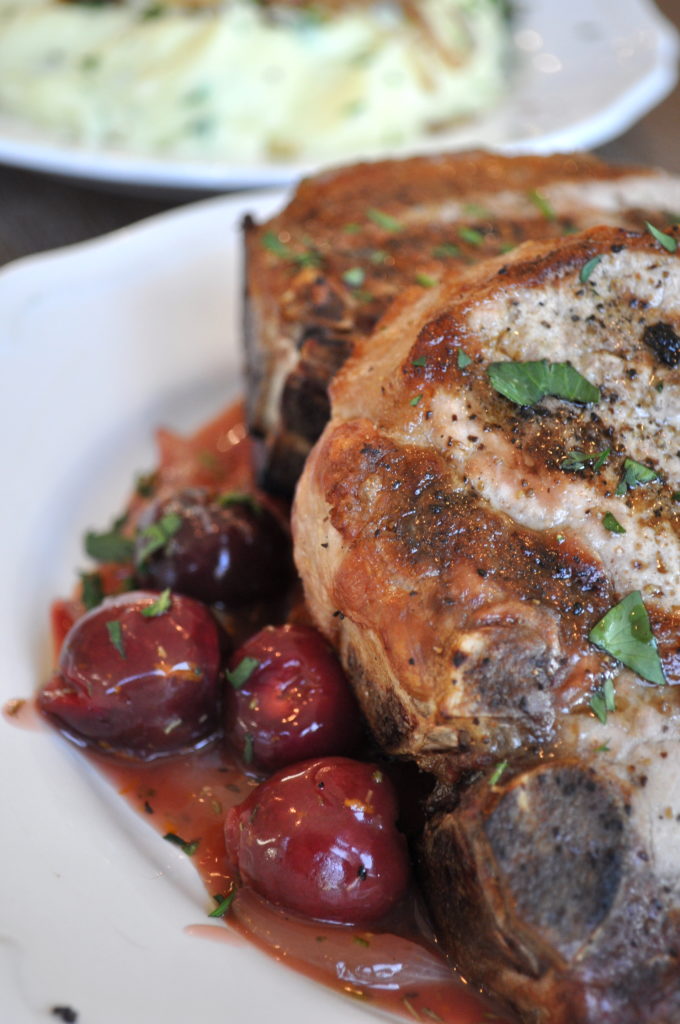 I had some leftover cherries from my dark chocolate cherry scone recipe, and I wanted to make them into something savory rather than another baked good. I succeeded.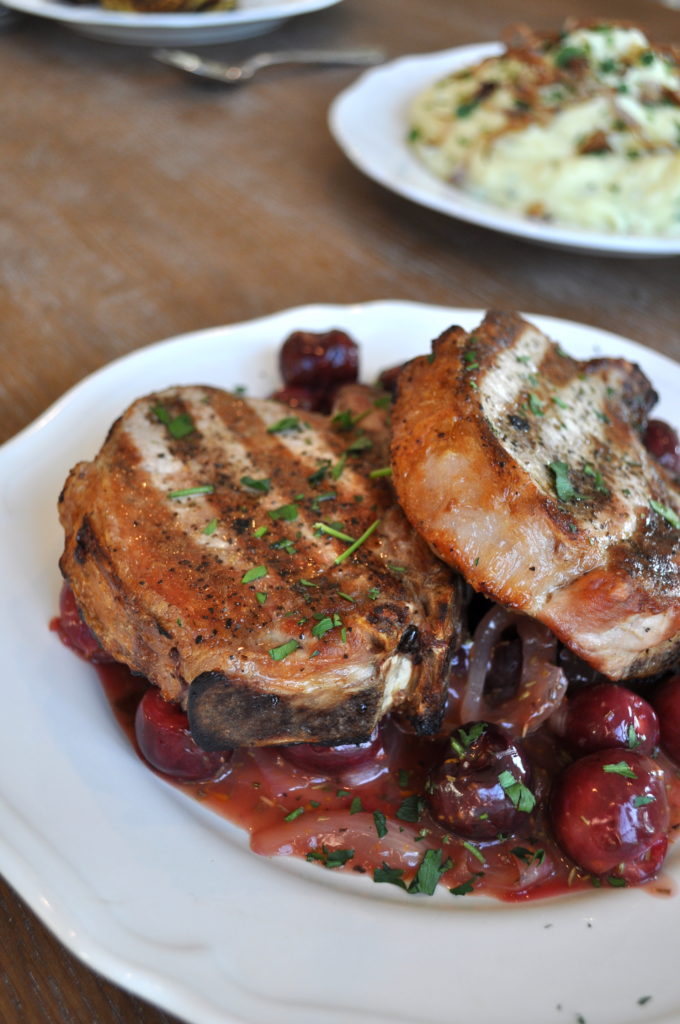 Enjoy!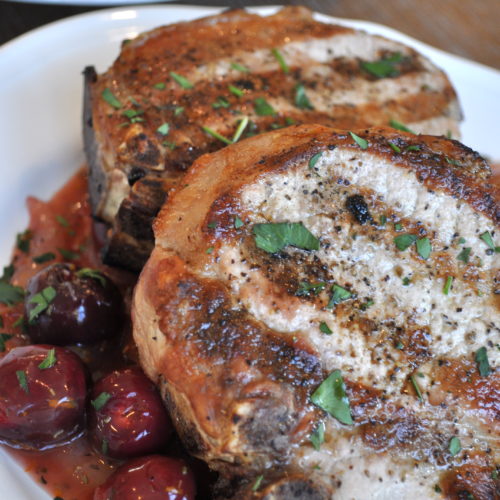 Ingredients
4

1" thick bone-in pork chops
For the brine:
4

cups

water

2

Tbsp

brown sugar

⅓

cup

kosher salt

2

sprigs

fresh rosemary

1

orange

(cut into wedges)

3

cloves

garlic

(roughly chopped)

1

Tbsp

black pepper
For the glaze:
1

small

onion

(sliced vertically)

2

cups

cherries

(pitted)

½

cup

port wine

1

Tbsp

cornstarch

¼

cup

fresh squeezed orange juice

1

tsp

orange zest

1½

tsp

red wine vinegar

1

tsp

dried rosemary
Instructions
For the brine:
Combine all brine ingredients together in a saucepan, cover and bring to a boil. Turn off heat, uncover and cool completely (about 30 to 45 minutes). Add 2 cups of ice.

Place pork chops in a resealable bag or a shallow dish. Pour brine over the pork, cover or seal. Refrigerate for at least 4 hours, or up to 24.
For the glaze:
In a large saucepan, heat olive oil over medium heat. Add onion and cook, stirring ocasionally, until onions are transluscent (about 5 minutes).

Add cherries to the onions and cook for 3 minutes.

Whisk together remaining ingredients in a small mixing bowl. Pour mixture into cherry mixture and cook until thickened. Cover and turn off heat.
To grill the pork:
Preheat grill to medium heat.

Remove pork from brine. Discard brine.

Add pork chops to grill. Grill 4-5 minutes per side.

Remove pork from the grill and let rest 3-4 minutes. Serve with cherry glaze and a sprinkle or fresh parsley, if desired.
Notes
I like to whip together the glaze while my husband is grilling the pork.
Click here for the zester I recommend.
Click here for my cherry pitter. It's like a hole punch for food. It also works to pit olives.
Nutrition
Calories:
396
kcal
|
Carbohydrates:
32
g
|
Protein:
37
g
|
Fat:
16
g
|
Saturated Fat:
5
g
|
Cholesterol:
117
mg
|
Sodium:
9542
mg
|
Potassium:
896
mg
|
Fiber:
3
g
|
Sugar:
22
g
|
Vitamin A:
143
IU
|
Vitamin C:
31
mg
|
Calcium:
91
mg
|
Iron:
2
mg