Some people ask me "do you cook… like… ALL the time?" The answer is simple. Yes. Rain, shine, tsunami, whatever. My son's friends come in like that trampling scene in Lion King begging for home cooking because their moms aren't huge fans of cooking. My son craves and begs for ramen and drive thrus because his mom whips up three course meals nightly. Sometimes he will prefer the drive-thru over the three course dinner. #BlessThatMess
I will say this is one he will ditch drive thrus for, so that's something.
I'm not trying to make you feel bad if you're not like me. I realize I am very much an anomaly. Cooking is just one extra thing for most of you that stresses you out. I get that. Some people find cleaning soothing and I'd sooner have a root canal than do laundry. Some people love shopping in person and my dogs no longer bark when the FedEx guy comes because retail stores overwhelm me. We all have our things that calm us and our things that stress us. For me, cooking calms me.
If you're someone that cooking stresses, I won't lie to you and call this one quick. But it is delicious and very much worth the effort. It helps to do all the prep ahead of time, so all your energy can be spent mixing this without burning anything. I chop my veggies and shred my cheese and add my spice blend to a small bowl so everything is ready and in reach when I'm ready for it. The French call this concept mise en place, and always makes cooking feel easier and less stressful.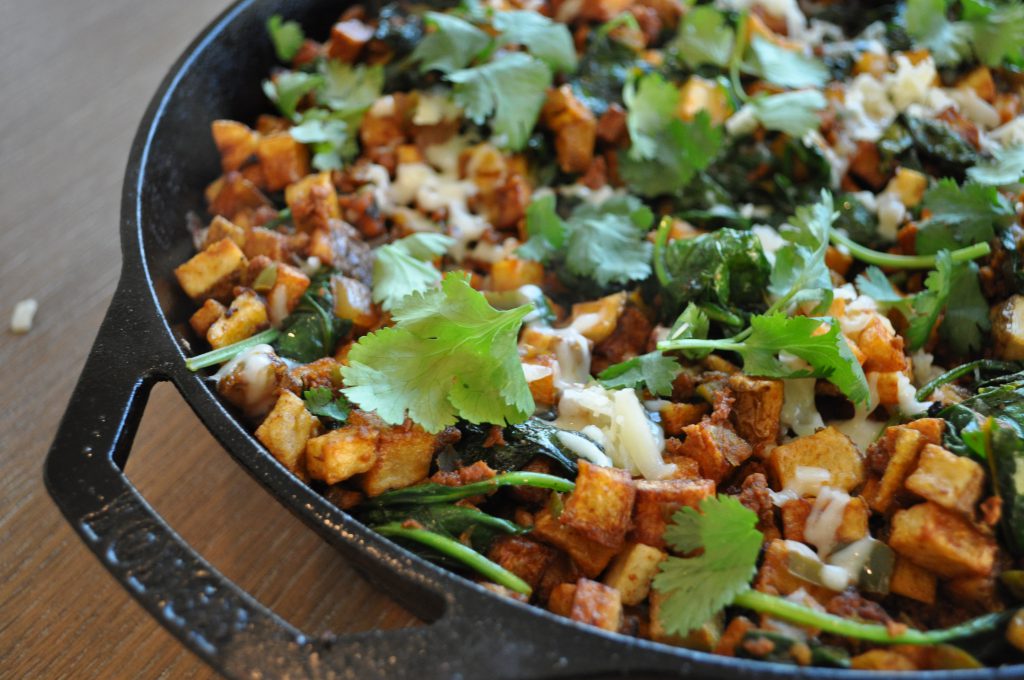 HOT DAMN. So good. It's smoky and salty and just like an out of control party for my taste buds.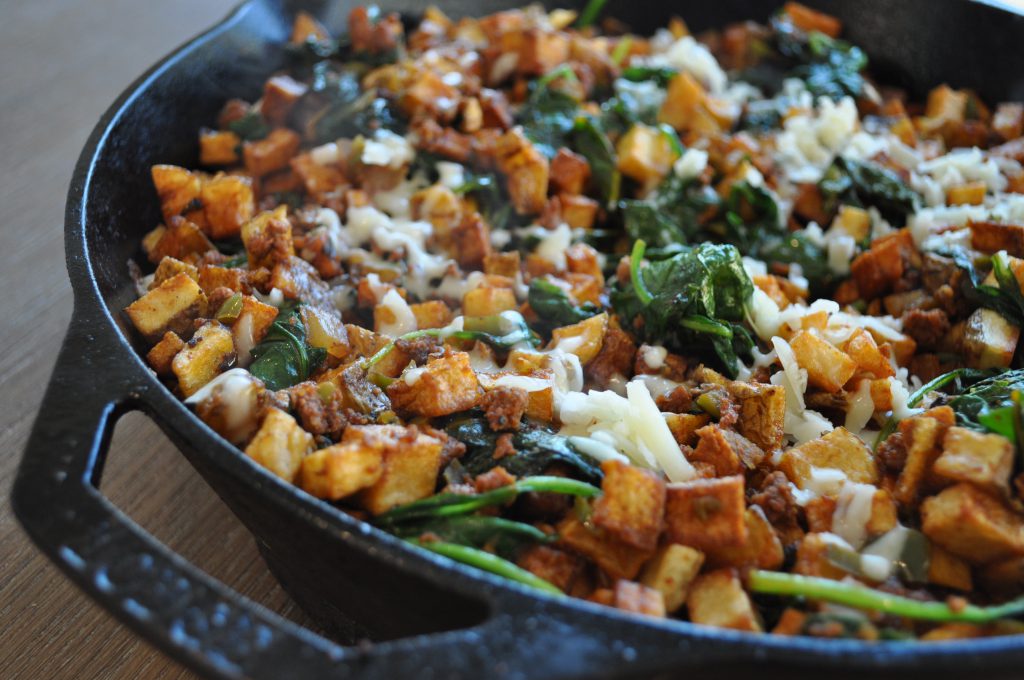 Here it is before the cilantro. I don't ever not show up to a party cilantro is invited to. But I know not everyone feels this way. If this is you… I don't get it, you psycho. Kidding. Kind of. Do what you want. But try to like cilantro unless you're one of those people who have that gene that makes cilantro taste like soap, in which case you can leave it off.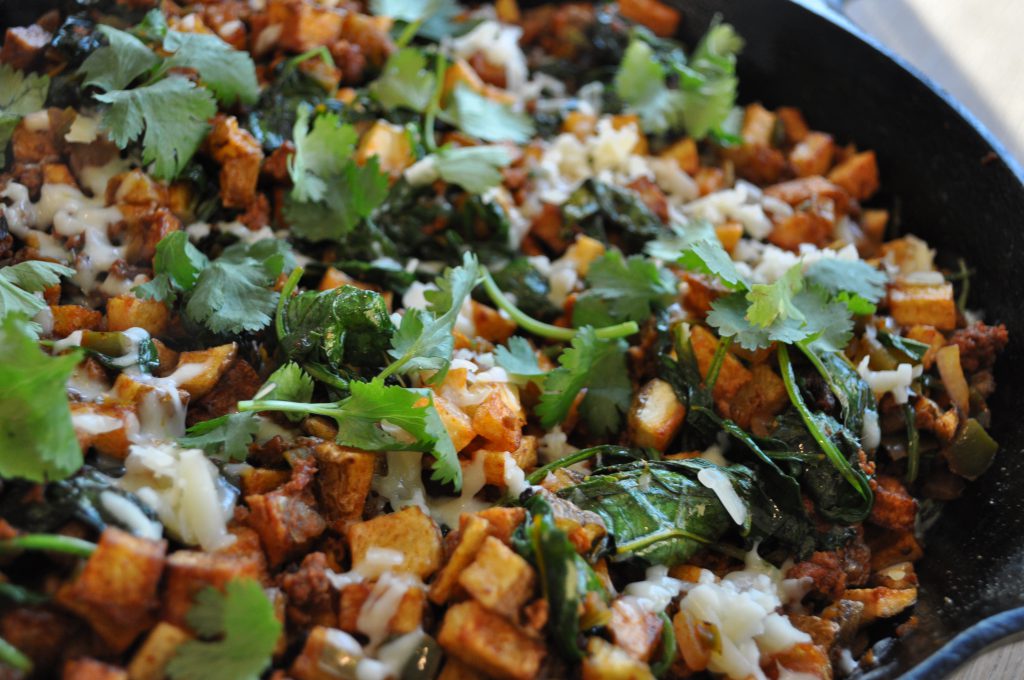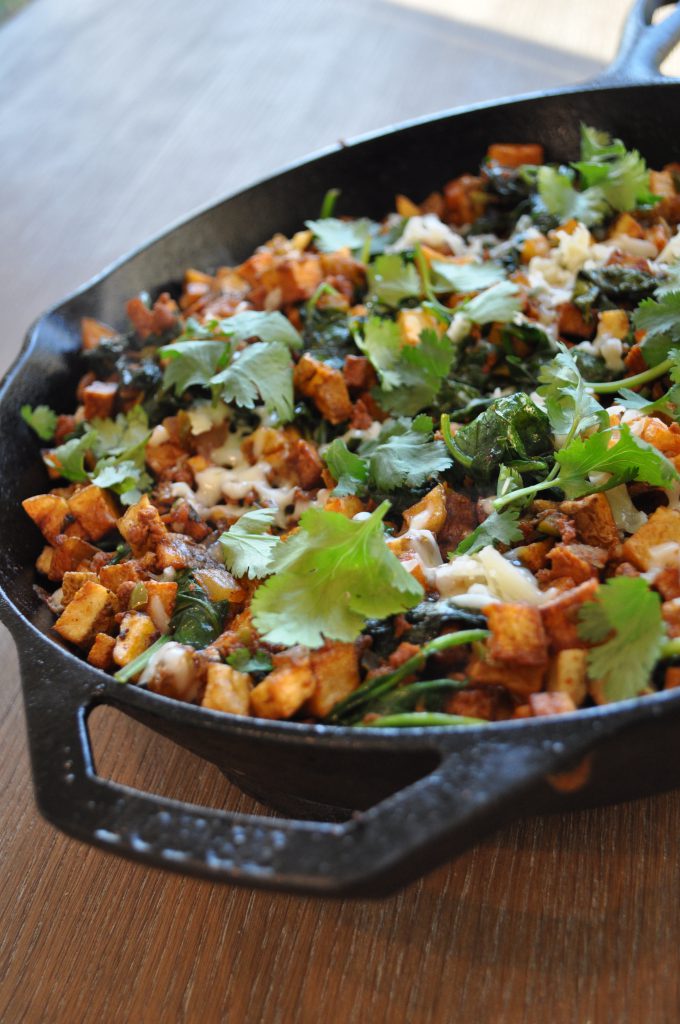 Pro tip: don't google "best hash ever" in front of your middle school aged son. I'm oblivious. It is funny now, but it definitely wasn't then. This is why they call me The Messy Mrs.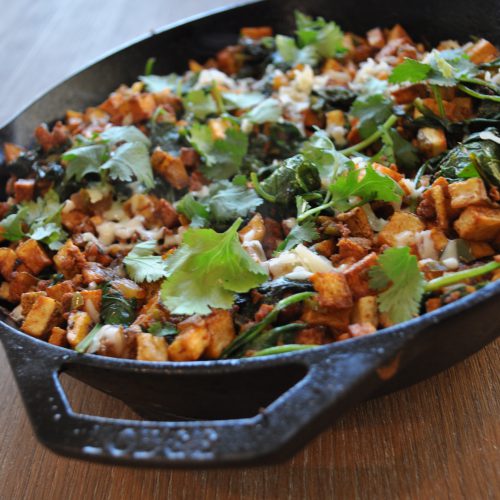 Ingredients
3

pounds

russet potatoes

(rinsed and chopped in 1/2 inch squares)

peanut oil

(for frying)

12

oz

chorizo

1

red onion

(diced)

1

green bell pepper

(seeded and diced)

3

cloves

garlic

(minced)

1

bunch

swiss chard

(rinsed and roughly chopped)

1.5

tsp

smoked paprika

1

tsp

garlic salt

(tested with Lawry's)

1

tsp

season salt

(tested with Lawry's)

1

tsp

ground cumin

1/2

tsp

freshly ground black pepper

1/2

tsp

cayenne pepper

8

oz

monterey jack cheese

(grated)

2

Tbsp

fresh cilantro
Instructions
Heat peanut oil in either a 6 quart saute pan or a large stockpot. Do not fill container by more than half. Heat oil to medium high (350 to 375 F).

Once oil is hot, slowly and carefully add potatoes to oil with a large spider basket. Fry for 12-15 minutes, or until golden brown and crispy. Remove potatoes with the spider basket and drain on a large paper towel lined plate.

While the potatoes are frying, heat a cast iron skillet over medium high heat. Add in chorizo and cook until browned and crumbled.

Add in onion and peppers to the chorizo, cook until onions are translucent (about 3 minutes).

Add in minced garlic. Cook for 30 seconds, or until fragrant.

Add in chard and spices. Cook until wilted and reduced (about 3-4 minutes).

To the cast iron skillet, add in potatoes and mix until well blended. Remove from heat.

Top with cheese and cilantro. Serve hot.
Notes
If you need a spider basket to drop or grab frying food out of hot oil, I highly recommend this set. Click here for them.
Nutrition
Calories:
608
kcal
|
Carbohydrates:
47
g
|
Protein:
25
g
|
Fat:
25
g
|
Saturated Fat:
12
g
|
Cholesterol:
69
mg
|
Sodium:
1777
mg
|
Potassium:
1251
mg
|
Fiber:
5
g
|
Sugar:
3
g
|
Vitamin A:
3949
IU
|
Vitamin C:
46
mg
|
Calcium:
349
mg
|
Iron:
5
mg