Rage with the bread machine. Yep. I think that should be the name of my band. When I'm all in my emotions, dumping some stuff in a bread machine to whip something together just makes my world feel upside right.
If you don't have one, get one! Save $5 or $10 a month until you can get one. You can make jam and dough of any sort in it–not just loaves of bread. Click here for the one I recommend.
Enter this naan. WHOA BABY. So good. What is naan? Naan is just a really dense flatbread that is commonly found in Indian and Middle Eastern Cuisine. It is the crack cocaine for the flatbread world. It's like pita bread but BETTER.
Mine is huge in size and fluffy in texture like a sky-high pancake. Don't panic. It tastes nothing like a pancake. It's just dang good.
If you're a Crock Pot or an Instant Pot person, you're going to love this. You dump the ingredients in the bread machine and walk away for an hour or two before dinner time. Then come back to the kitchen and POOF "YOU'VE GOT MAIL!" Um… I meant dough. I totally meant dough.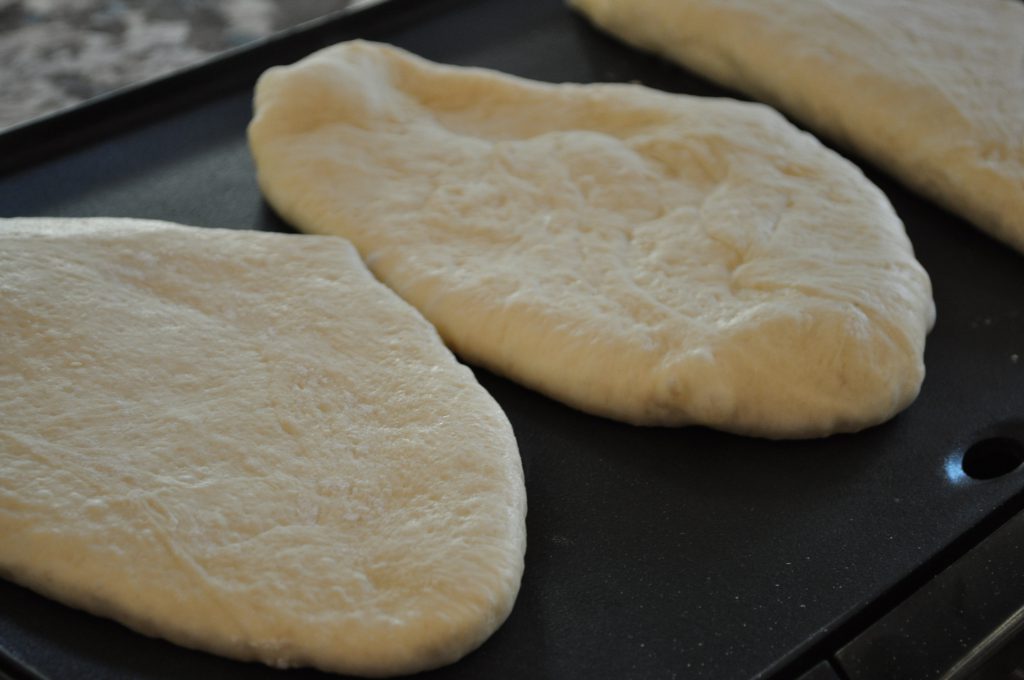 Slap it on a griddle or a pan, and when it gets big bubbles, flip it. Click here for the griddle I use.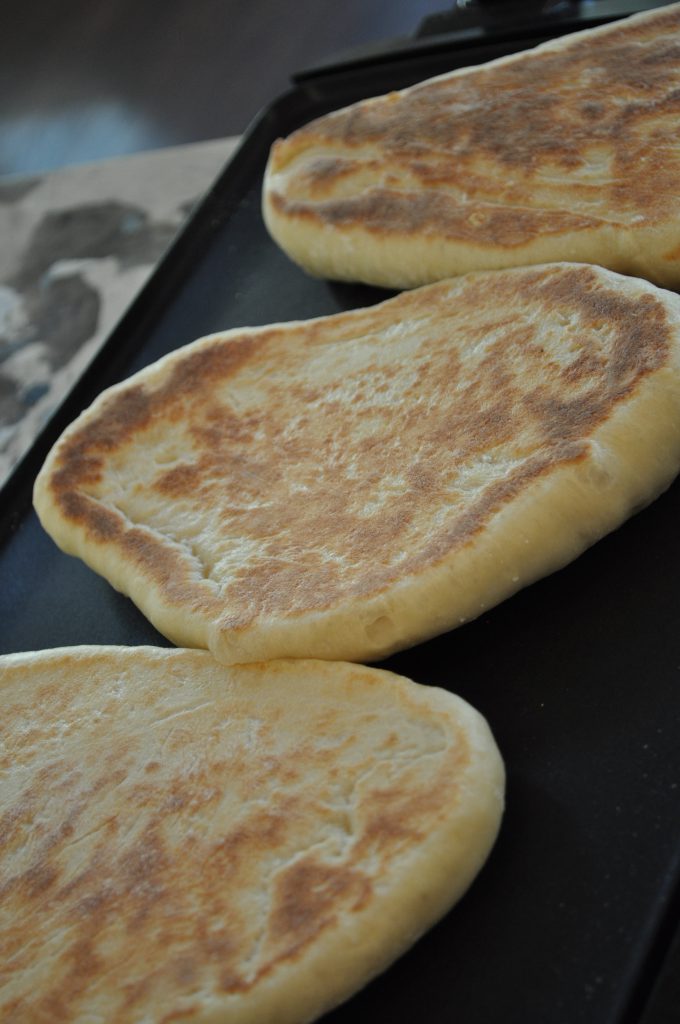 As the Kool Aid guy said: "OOOOOOOOOOHHHHH YEEEEEEEEEEEEEAAAAAHHHHHHH." I totally drank the Kool Aid on eating Naan non-stop. Naan is pronounced like non so that's a weird sentence to say out loud. I still regret nothing. Make it. You're gonna love it!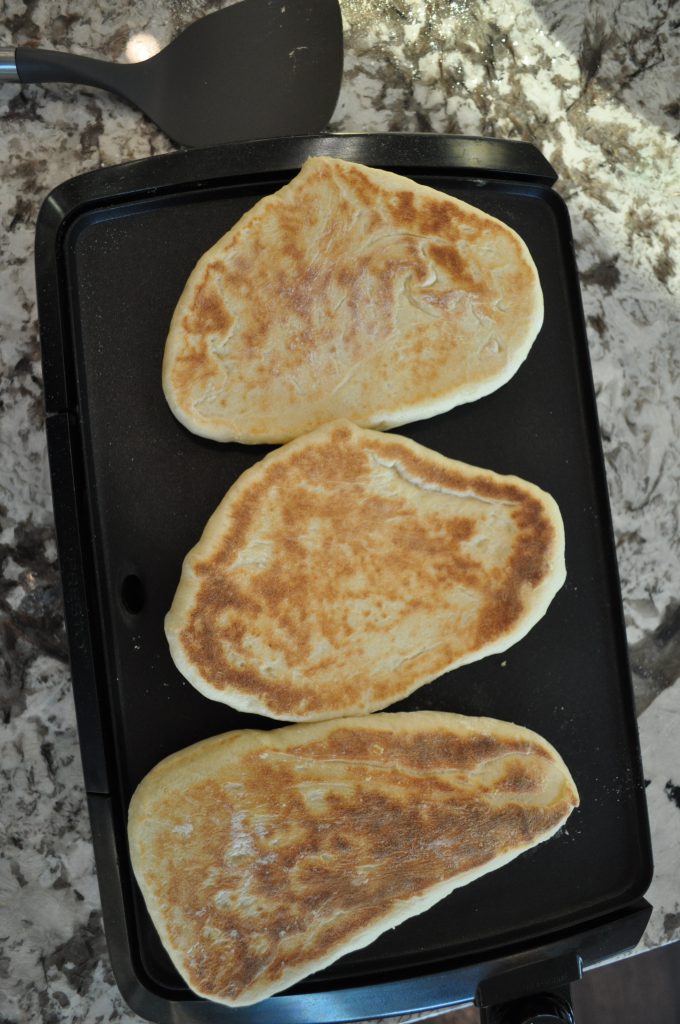 You can make them any shape you want. Mine are rustic and oblong. You can make them round if you want, I just like the oblong and irregular feel. However they come out is how they were meant to be. Rustic is best because you don't have to be all Martha freaking Stewart with the situation. Done and done.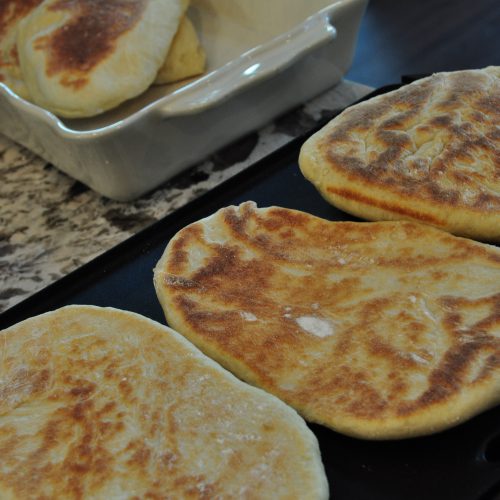 Ingredients
3/4

cup

milk

1

cup

plain greek yogurt

(tested with Fage)

1

egg

(lightly beaten)

2

Tbsp

grapeseed oil

(can sub with canola oil)

2

tsp

active dry yeast

2

tsp

sugar

1

tsp

sea salt

1

tsp

baking powder

1

tsp

baking soda

4

cups

bread flour

(tested with White Lily)
Instructions
Add all ingredients in the order listed above in a bread machine. Close lid and set to "dough cycle".

Once the dough comes together in a ball in the machine (usually no more the 10-15 minutes), if it looks dry or crumbly, add in up to 1/4 cup water. If it looks too wet and sticky, add in up to 1/4 cup more bread flour.

When the bread machine finishes, preheat electric griddle to 350 degrees F. Dump the dough onto a clean and lightly floured surface. Cut round into 6 or 8 equal triangle pieces.

Roll out each individual piece into an oblong shape using a rolling pin.

Coat the griddle with nonstick cooking spray. Place each piece on the hot griddle. When large bubbles for in the dough, it's ready to flip. Cook the other side through. Serve warm.
Notes
Nutrition facts account for this being divided into 6 servings. Dividing it into 8 would change these numbers downward.
When cutting the dough into individual servings, keep the whole ball intact and don't roll out. Slice it into triangle pieces like you're cutting a pizza or a pie. I like using a dough scraper to do this. A pizza cutter works too.
It can take up to 5+ minutes per side, but I've seen it go as quickly as 2. The dough is cooked through when it's medium golden brown on both sides.
When rolling, if the dough is sticking to the rolling pin, lightly flour the tops of the dough pieces as well.
Nutrition
Serving:
1
naan
|
Calories:
410
kcal
|
Carbohydrates:
66
g
|
Protein:
17
g
|
Fat:
8
g
|
Saturated Fat:
2
g
|
Cholesterol:
32
mg
|
Sodium:
680
mg
|
Potassium:
219
mg
|
Fiber:
3
g
|
Sugar:
4
g
|
Vitamin A:
89
IU
|
Calcium:
127
mg
|
Iron:
1
mg