Chicken pot pie. MmMmMmMmMmMmmmmm….. It's like love in a pan. Mine is different in that the crust is on top rather than top and bottom. I don't need to compensate with a lot of crust when the filling so dang good!
I love doing this in a cast iron skillet because that means I only get one pan dirty when I make this. I get to make the filling in the pan and place the crust on top and bake. Below is a link to the exact cast iron skillet I have.
**I do recommend you season your new skillet even though the manufacturer says it's pre-seasoned and ready for use. Swipe some lard inside and out on the skillet and bake empty skillet at 350 degrees F for 1 hour.**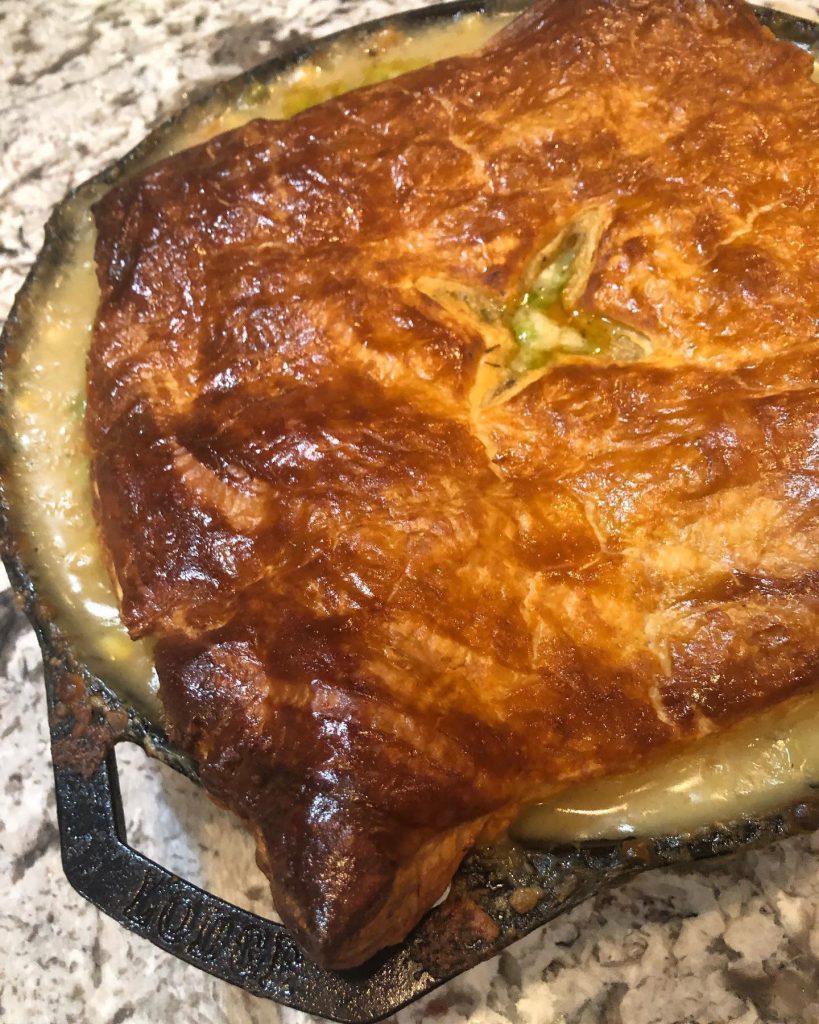 Just look at it. Tell me you don't have a slight urge to lick your screen. No judgement. As long as you don't judge me for only taking one picture of it because I was so excited about eating it.
Side note: If there's one thing I HATE, it's food bloggers that ramble on and on about the ingredients that compose their dish. They talk about what Meyer lemons look like, the sound it makes as they're being zested, and how it makes them feel all warm and cozy inside. They discuss the crisis of picking up the perfect zucchini at the farmer's market. They're all "I remember it well, walking into the Piggly Wiggly on another sleepy dusty Delta day."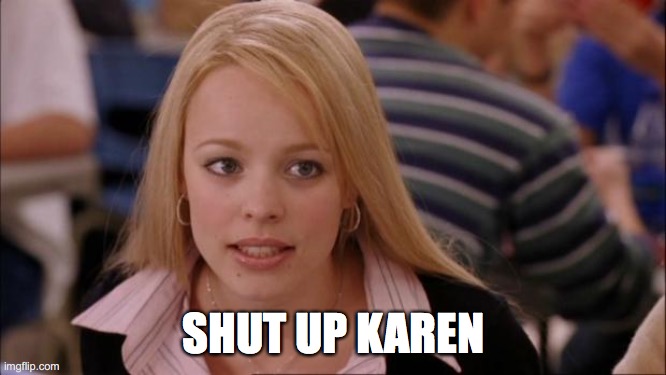 I'm going to try my best not to go all customer service Karen and do that to you.
I know you do not care one bit where I bought my ingredients or how they affect me psychologically.
I want to make you laugh and give you knowledge that you need, but my recipes will be printable on their own so you don't have to ever have to read through my ramblings unless you just want to.
This is about FOOD. Not me. Trust me: I'm not all that interesting anyway, so let's just get to it. This chicken pot pie speaks for itself when you eat it. It doesn't need me to describe in great detail how great it is. My family has gone after the leftover bits of filling and licked their plates clean on more than one occasion. That's all you need to know.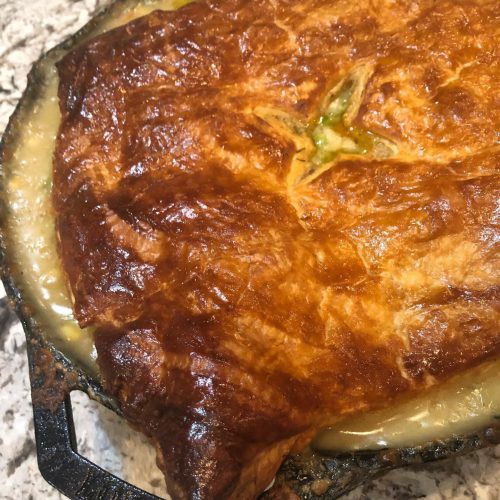 Ingredients
1.5

pounds

boneless, skinless chicken thighs

2

Tbsp

olive oil

salt and black pepper

(to taste)

2

yellow onions

(chopped)

3

cloves

garlic

(minced or pressed)

1/2

cup

dry white wine

12

Tbsp

unsalted butter

3/4

cup

all purpose flour

16

oz

frozen mixed vegetables

2

chicken bouillon cubes

5

cups

chicken stock

1.5

tsp

dried thyme

1/4

cup

flat leaf parsley

(minced)

1/4

cup

heavy cream

1

sheet

frozen puff pastry

(defrosted)

1

egg

beaten

1/2

tsp

water
Instructions
Preheat the oven to 400 degrees Fahrenheit.

Pat chicken dry with paper towels & heat large cast iron skillet over medium high heat. Salt and pepper both sides of the chicken thighs.

Add olive oil to hot skillet and place chicken thighs in the oil. Flip after 4 minutes or until the chicken releases easily, then cook for 4 more minutes. Remove chicken and set aside.

Add in onions to the skillet and cook (stirring frequently) for 3 minutes, or until translucent. Add in garlic and cook for 30 seconds or until fragrant.

Add in white wine and bouillon, scraping the brown bits off the bottom of the pan. Cook for 3 minutes.

Add in butter, reduce heat to medium and stir until mostly melted. Sprinkle flour over the butter and stir until raw flour bits aren't visible. Add in 2 tsp salt and 1/2 tsp black pepper.

Add frozen vegetables, chicken stock and thyme, and bring to a boil, stirring every once in a while. Cook until thickened, anywhere from 2 to 5 minutes. Remove skillet from heat. Stir in heavy cream and parsley until well combined.

Cube up chicken and mix in well to the contents of the skillet.

Lightly flour a clean countertop. Using a rolling pin, roll out creases in puff pastry on floured surface. Make passes up and down and side to side to make keep a square shape. Carefully place pastry over skillet. Make a "x" in the center of the puff pastry to allow steam to escape.

Mix egg with water in a small prep bowl or even a coffee mug to make an egg wash. Using a pastry brush, brush the egg wash in a thin layer all over the pastry.

Carefully skillet in oven for 40-50 minutes, or until pull pastry is golden brown.
Notes
This beauty is a labor of love.  It's definitely not a weeknight kind of thing, but it's perfect for a rainy Sunday dinner.
My son loves it best with mushrooms in it. I know a lot of people don't like mushrooms, so I left them out and made this a pretty classic version of chicken pot pie. If you want to eat them his favorite way and add them, use baby bella mushrooms (also called creminis) and add them before the onion/garlic step. Use a little more olive oil, try to only flip them once to get nice browned color and flavor.
Nutrition
Calories:
589
kcal
|
Carbohydrates:
24
g
|
Protein:
31
g
|
Fat:
39
g
|
Saturated Fat:
19
g
|
Cholesterol:
215
mg
|
Sodium:
727
mg
|
Potassium:
616
mg
|
Fiber:
1
g
|
Sugar:
5
g
|
Vitamin A:
1123
IU
|
Vitamin C:
7
mg
|
Calcium:
58
mg
|
Iron:
3
mg